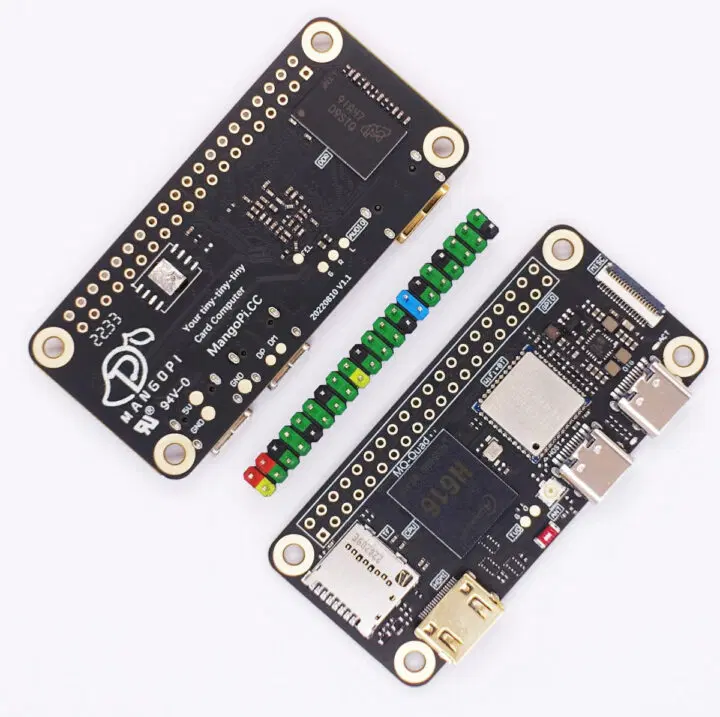 New MangoPi MQ Quad SBC comes with an Allwinner H616 processor and a RPi Zero W form factor
Single board computer specialist Mango Pi, recently announced the launch of its new Mango Pi MQ Quad Single board computer equipped with an Allwinner H616 quad-core Arm Cortex A-53 SoC.
The Allwinner H616 system-on-chip which was launched back in 2017, has so far made its way into various single board computers. The chip features a 4-Core Cortex-A53 ARM CPU running @ up to 1.5 GHz, an ARM Mali-G31 MPU graphics processor running @ 650 MHz with OpenGL 3.2, Vulkan 1.1 and OpenCL 2.0 API support, AES and SHA acceleration engines, and video decoding and encoding hardware. Compared with its counterpart, the Allwinner D1 Risc-v processor found in the company's other MQ Pro SBC, this chip seems to offer better out-of-the-box software due to its ARM-based processor.
The compact MQ Quad SBC also comes with up to 1GB of DDR3L RAM, one HDMI port, WiFi 4, Bluetooth 4.2 support, microSD card reader, a set of ports for connecting power, display, peripherals, and a 40-pin, Raspberry Pi-compatible general purpose input/output (GPIO) header.
The board was designed to mimic the footprint of the Raspberry Pi Zero W form factor, so if you have been struggling to find stock of the popular RPi board, you may just have found a perfect alternative in it.
Features and Specifications Include:
Allwinner H616 quad-core Cortex-A53 processor running at 1.5 GHz
Mali-G31 MP2 GPU running at up to 650 MHz
1GB DDR3L RAM
MicroSD card slot located at the top of the board
Footprint for SPI flash at the bottom of the board
1x mini HDMI 2.0 port up to [email protected] resolution
802.11 b/g/n WIFI 4 and Bluetooth 4.2 support
Ceramic GPS antenna with uFL connector
2x USB Type-C ports (1x OTG and 1x Host)
40-pin Raspberry Pi compatible, color-coded GPIO header
18-pin MISC FPC connector with USB, Ethernet, and additional GPIOs
Power Supply: 5V via USB port; 5V GPIO header and pogo pins; AXP313A PMIC
Dimensions: Raspberry Pi W form factor (65 mm x 30 mm)
Software support for the board includes Ubuntu, Android 10, other GNU/Linux-based OS, and the OpenWRT-based Tina Linux embedded software designed for devices with Allwinner chips.
Further details on the Mango Pi MQ Quad SBC can be found on AliExpress where it currently sells for $26.74 or $29.64 if you want it with an all aluminum heatsink/case, so that while heat is only drawn from the SoC, it is dissipated into the decently sized piece of metal.
The product page of the company's website also has other useful resources such as the board schematics, the reference design, and the datasheet.
Subscribe to Blog via Email
Join 97,571 other subscribers
Archives