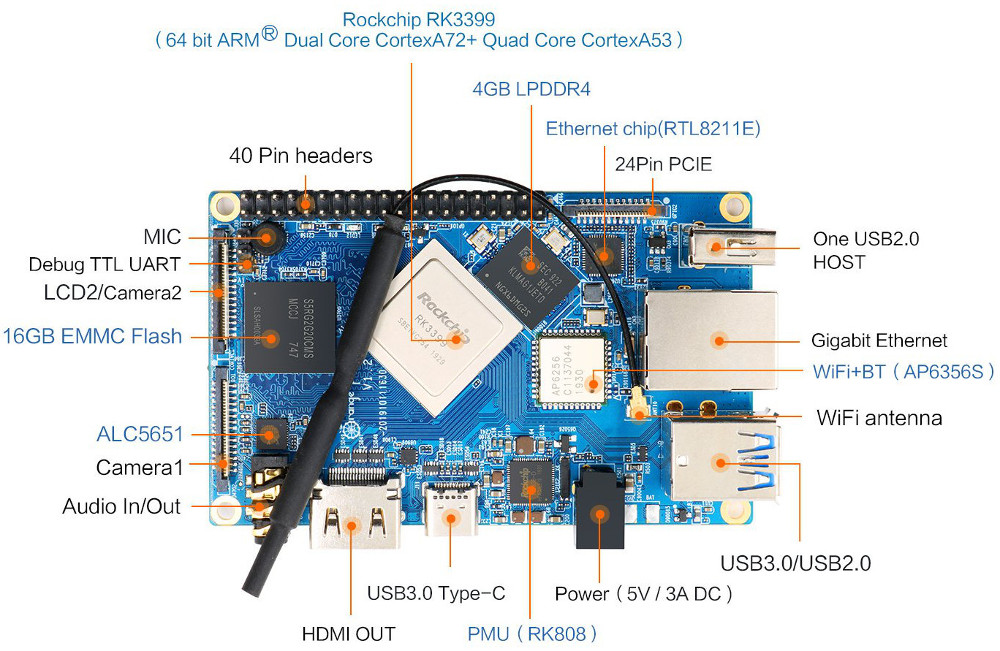 The new Orange Pi 4 has two new variants with RK3399
Shenzhen Xunlong has released introductory specs for a Rockchip RK3399 based Orange Pi 4 SBC. It is seemed to be smaller, more affordable than the Orange Pi RK3399, faster and more feature-rich than the Orange Pi 3. There is also an Orange Pi 4B variant which adds a Lightspeeur 2801S AI chip.
The new Orange Pi 4 utilizes the same RK3399 SoC as the Orange Pi RK3399 but it is designed to be smaller and more compact. The Orange Pi 4B variant adds a Lightspeeur 2801S (or SPR2801S) NPU from Gyrfalcon Technology, Inc (GTI). It is the 2.8 TOPS at 0.3 Watts (or 5.6 TOPS @ 100MHz) AI accelerator.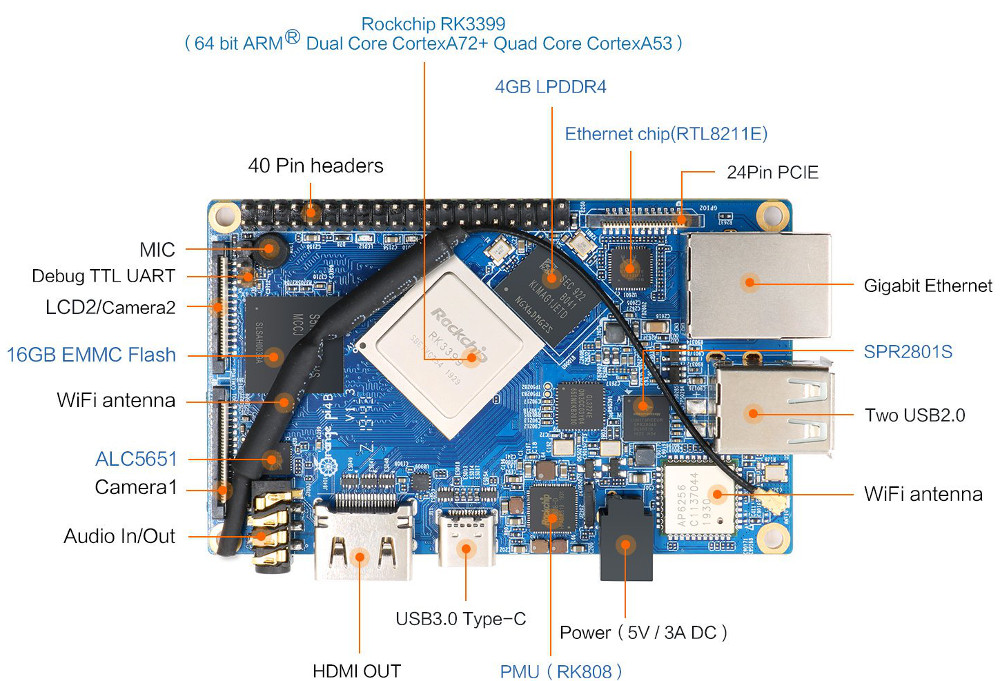 The Orange Pi 4 and Orange Pi 4B have a dimension of 90 × 64mm which makes it a little smaller than Orange Pi 3. These boards are powered by the RK3399, which houses two Cortex-A72 cores, typically clocked at 1.8GHz to 2.0GHz, as well as four Cortex-A53 cores at up to 1.42GHz. There's also an ARM Mali-T864 for handling graphics.
The Orange Pi 4 is provided with HDMI, USB 3.0 Type-C, USB 3.0 host, single GbE (RTL811E) and USB 2.0 host ports. The Orange Pi 4B's NPU connects to the RK3399 via USB 3.0 so, the 4B switches the USB 3.0 host port to a second USB 2.0 host port. Otherwise, the two models appear to be the same except for a minor change in layout. Both models have a microSD slot, dual LCD connectors, a camera header, a serial debug interface, a mic, and an audio I/O jack. Expansion can be managed with a 24-pin PCIe interface and Raspberry Pi like a 40-pin GPIO header.
The Orange Pi 4 has an Ampak AP6356S wireless module with dual-band 802.11ac and Bluetooth 4.1. The SBC has a 5V/3A DC jack, a PMIC (Rockchip RK808), and recovery and reset-button. Like the Orange Pi 4, the 4B model ships with 4GB LPDDR4 and 16GB eMMC. The Orange Pi 4 will be another community-backed, open-spec board with downloadable 64-bit Linux and Android images.
More information about the pricing and availability may be found on the Shenzhen Xunlong Twitter teaser and eventually on the Orange Pi website when they update the index page.
Join 97,426 other subscribers

Archives