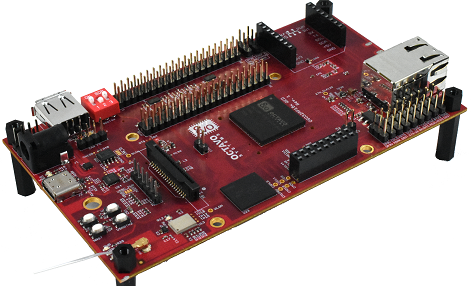 OSD32MP1-RED – A Full Featured Development Platform
The OSD32MP1-RED is a full-featured Reference, Evaluation, and Development platform for the STM32MP1 based SiP, the OSD32MP15x.  It provides access to a number of standard communication interfaces like WiFi and Bluetooth, 1Gb Ethernet, and CAN.  It supports HDMI or DSI displays and has a connector for a camera. The OSD32MP1-RED expands easily by providing connectors that are compatible with Raspberry Pi, MikroElektronika mikroBUS™ Click, and STMicroelectronics Motor Control Header.
The onboard eMMC comes preloaded with an Opensource Linux Distribution allowing you to begin development straight out of the box.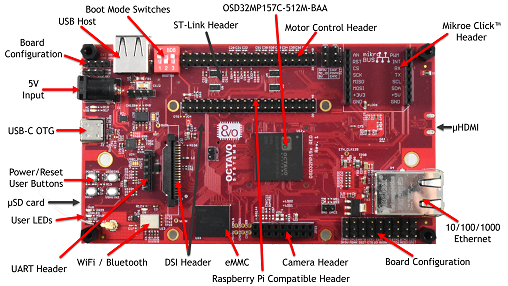 OSD32MP1-RED Features
Full Featured Reference, Evaluation, Development Platform
 OSD32MP157C-512M-BAA

STM32MP157C Dual Arm® Cortex® A7 + M4
512MB DDR3 Memory
STPMIC1A Power Management
EEPROM
Oscillator
Passives

Connectivity

WiFi/Bluetooth
10/100/1000 Ethernet
CAN FD
USB Host
USB-C OTG
UART
JTAG (STLink)

Memory
Display
Camera
Expansion

Raspberry Pi Compatible Header
MikroElektronika Click Header
Motor Control Header

4 Layer Design
Block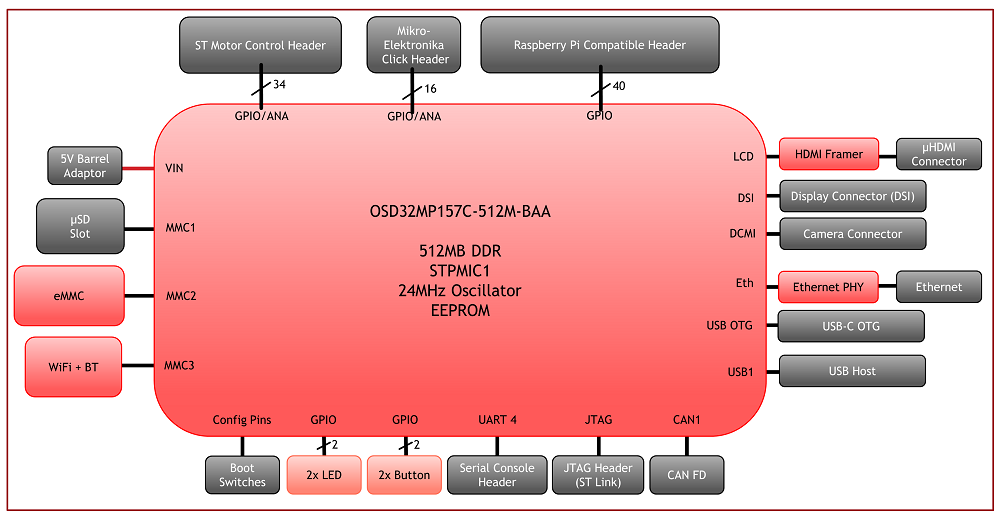 With its communication interfaces, peripherals, and expansion capabilities, the OSD32MP1-RED is a perfect platform for quickly developing IOT, high-end HMI, or real time control applications.
more information: https://octavosystems.com/octavo_products/osd32mp1-red/