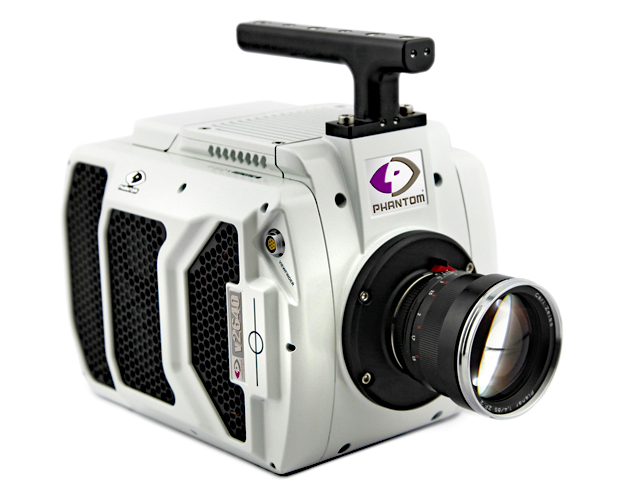 Phantom v2640 – The World's Fastest High Speed Camera Captures 303,460 fps
Vision Research's latest addition is the new Phantom v2640 model to its array of products. This is seemingly the world's fastest video capturing camera, able to record up to 11,750 fps in color and HD or 25,030 fps in monochrome. The maximum resolution is 2,048 x 1,952 pixels with up to 6,600 fps.
At maximum resolution, it can only manage 6,600 images per second but this is enough to provide smooth x100 slow motion replay. HD (1920×1080) mode offers reduced resolution but accomplishes an impressive 11,750 fps. Things can get really breathtaking in monochrome 'binning mode' where up to 25,030 fps are possible. Playing the footage at the standard 24 fps gives out at more than a thousand times slow motion.
Apart from scientific applications and materials research, the capabilities of the camera would make it valuable for recording low-frequency sound events in high resolution. One obvious application could be making it a useful tool to study the movement of a bass speaker or subwoofer cone to determine membrane stability and surface resonances. Although it would not be quite fast enough to do the same job for tweeters operating at the upper limits of audibility. There is a special very high-speed mode in the camera which pushes up the frame rate up to 303,460 fps, providing images with a 1792 x 8 pixels format. This would be enough to record tweeter membrane movement but only along a very thin slice of the motion.
This camera is a technical marvel. A pixel rate of up to 26 Gpx/second suggests there are some fairly extreme high-speed electronics, resulting in a data rate reaching way in the GB/s range. As a result, the camera requires a massive internal frame-buffer to record footage of more than just a few milliseconds. Regards this, there is up to 288 GB of RAM installed which is enough to capture at least 7.8 seconds of footage. There is also a fast Ethernet interface of 10 Gb/s and other alternative data transmission connections. Battery operation is available but not necessarily too practical because the camera draws 280 Watts of power. Availability and pricing information is not available yet.
Join 97,426 other subscribers

Archives