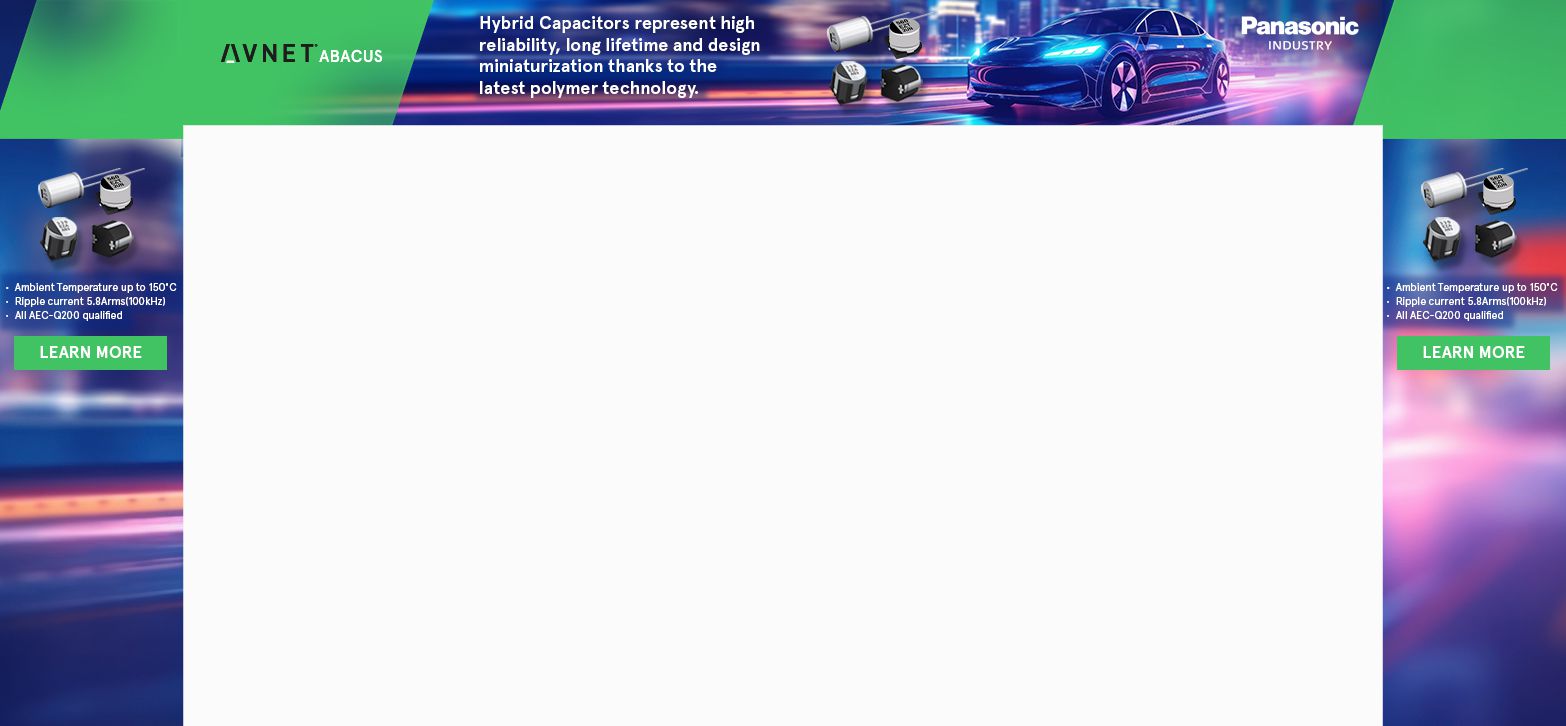 Continuous Conduction Mode Pre-Converters Module for Power Factor Controller
Rajkumar Sharma

76 Views

medium

Tested

SKU: EL135307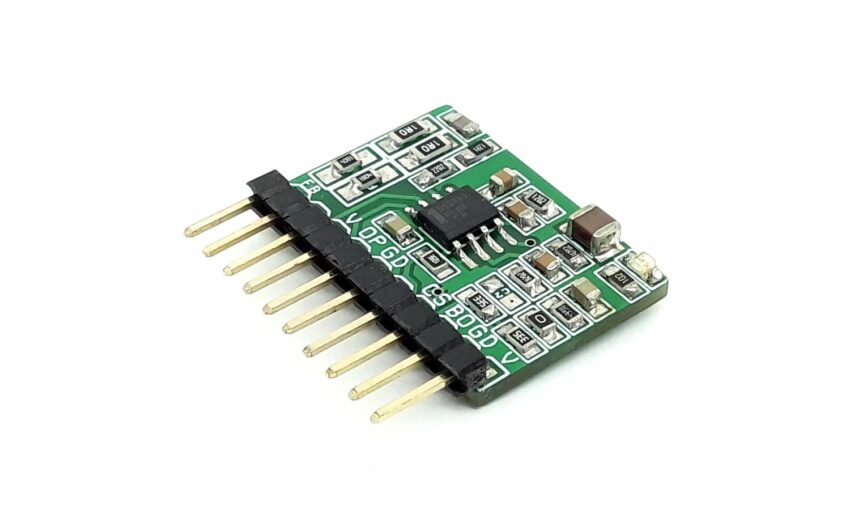 This compact module shown here is a Continuous Conduction Mode (CCM) Power Factor Correction Step up Pre-Converter. All-important inputs and output pins are broken out for use in your application, making this board hackable! Please refer to the datasheet of the NCP1654 chip for easy alteration and configuration of the board as per requirements. This board controls the power switch conduction time (PWM) in fixed frequency mode and is dependent on the instantaneous coil current. This module drastically simplifies the PFC implementation scheme. It also integrates high safety features that make the NCP1654 module ideal for robust and compact PFC stages like an effective input power runaway clamping circuit. Please refer to the application schematic to create a powerful PFC using this pre-driver module. The chip is available with various options for frequency such as 65Khz, 133Khz, and 200Khz. Choose the appropriate chip as per frequency requirement This project is tested with a 65Khz oscillator chip.
Features
Supply 15V DC
±1.5 A Totem Pole Gate Drive, can drive TO247 and TO220 MOSFETS
Average Current Continuous Conduction Mode
Fast Transient Response
Very Few External Components
Very Low Startup Currents (< 75 uA)
Very Low Shutdown Currents (< 400 uA)
Low Operating Consumption
Accurate Fully Integrated 65
Latching PWM for cycle−by−cycle Duty−Cycle Control
Internally Trimmed Internal Reference
Undervoltage Lockout with Hysteresis
Soft−Start for Smoothly Startup Operation
Shutdown Function
PCB Dimensions 26.04 x 17.94mm
Safety Features
Inrush Current Detection
Overvoltage Protection
Undervoltage Detection for Open Loop Detection or Shutdown
Brown−Out Detection
Soft−Start
Accurate Overcurrent Limitation
Overpower Limitation
Connections Connector CN1
Pin 1 = VCC 15V DC, Pin 2 = GND, Pin 3 = BO Brown-Out/IN, Pin 4 = CS, Pin 5 = NC, Pin 6 = GND, Pin 7 = Output (MOSFET Gate), Pin 8 = VCC 15V DC, Pin 9 = NC, Pin 10 = FB/Feedback Voltage
D1 Power LED
VCC
This pin is the positive supply of the IC. The circuit typically starts to operate when VCC exceeds 10.5 V and turns off when VCC goes below 9 V. After start−up, the operating range is 9 V up to 20 V.
CS (Current Sense)
This pin sources a current ICS which is proportional to the inductor current IL. The sense current ICS is for overcurrent protection (OCP), overpower limitation (OPL) and PFC duty cycle modulation. When ICS goes above 200 uA, OCP is activated and the Drive Output is disabled.
BO (VBO) Brow-Out/In
BO pin detects a voltage signal proportional to the average input voltage. When VBO goes below VBOL, the circuit that detects too low input voltage conditions (brown−out), turns off the output driver and keeps it in low state until VBO exceeds VBOH. This signal which is proportional to the RMS input voltage Vac is also for overpower limitation (OPL) and PFC duty cycle modulation.
VFB (Voltage Feedback/Shutdown)
This pin receives a feedback signal VFB that is proportional to the PFC circuit's output voltage. This information is used for both output regulation, overvoltage protection (OVP), and output Undervoltage protection (UVP) to protect the system from damage at feedback abnormal situations. When VFB goes above 105% VREF, OVP is activated and the Drive Output is disabled. When VFB goes below 8% VREF, the device enters a low−consumption shutdown mode.
OP (Drive Output)
The high current capability of the totem pole gate drive (±1.5 A) makes it suitable to effectively drive high gate charge power MOSFET
Schematic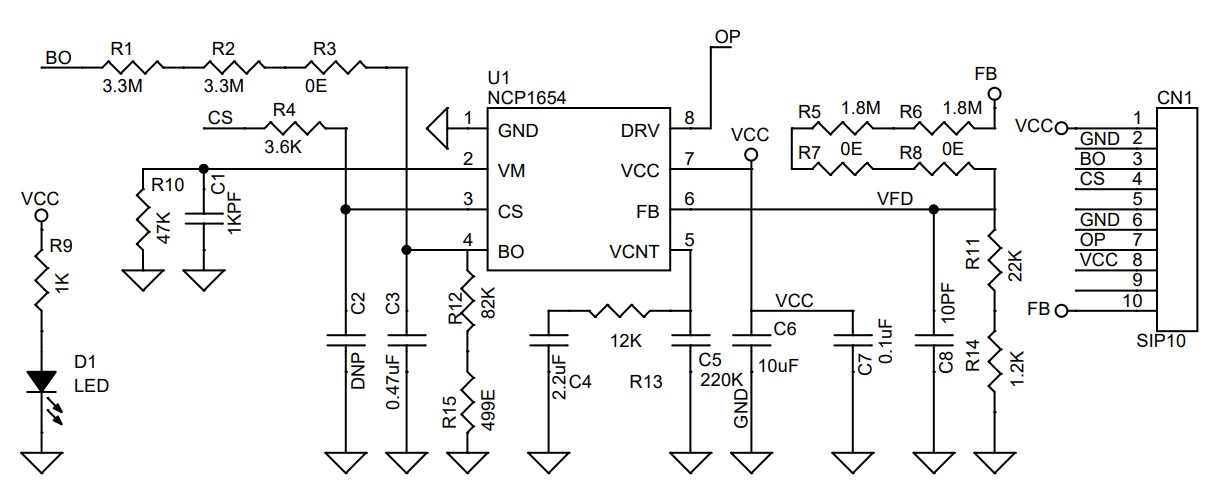 Parts List
| NO. | QNTY. | REF. | DESC. | MANUFACTURER | SUPPLIER | SUPPLIER'S PART NO |
| --- | --- | --- | --- | --- | --- | --- |
| 1 | 1 | CN1 | 10 PIN MALE HEADER RIGHT ANGLE PITCH 2.54MM | WURTH | DIGIKEY | 732-2670-ND |
| 2 | 1 | C1 | 1KPF(1nF)/50V CERAMIC SMD SIZE 0805 | YAGEO/MURATA | DIGIKEY | |
| 3 | 1 | C2 | DNP | | | |
| 4 | 1 | C3 | 0.47uF/50V CERAMIC SMD SIZE 0805 | YAGEO/MURATA | DIGIKEY | |
| 5 | 1 | C4 | 2.2uF/50V CERAMIC SMD SIZE 0805 | YAGEO/MURATA | DIGIKEY | |
| 6 | 1 | C5 | 220KF(0.22uF)/50V CERAMIC SMD SIZE 0805 | YAGEO/MURATA | DIGIKEY | |
| 7 | 1 | C6 | 10uF/25V CERAMIC SMD SIZE 1210 OR 1206 | YAGEO/MURATA | DIGIKEY | |
| 8 | 1 | C7 | 0.1uF/50V CERAMIC SMD SIZE 0805 | YAGEO/MURATA | DIGIKEY | |
| 9 | 1 | C8 | 10PF/50V CERAMIC SMD SIZE 0805 | YAGEO/MURATA | DIGIKEY | |
| 10 | 1 | D1 | LED RED SMD SIZE 0805 | OSRAM | DIGIKEY | 475-1278-1-ND |
| 11 | 2 | R1,R2 | 3.3M 5% SMD SIZE 0805 | YAGEO/MURATA | DIGIKEY | |
| 12 | 2 | R7,R8 | 0E SMD SIZE 1206 | YAGEO/MURATA | DIGIKEY | |
| 13 | 1 | R4 | 3.6K 1% SMD SIZE 0805 | YAGEO/MURATA | DIGIKEY | |
| 14 | 2 | R5,R6 | 1.8M 5% SMD SIZE 1206 | YAGEO/MURATA | DIGIKEY | |
| 15 | 1 | R9 | 1K 5% SMD SIZE 0805 | YAGEO/MURATA | DIGIKEY | |
| 16 | 1 | R10 | 47K 5% SMD SIZE 0805 | YAGEO/MURATA | DIGIKEY | |
| 17 | 1 | R11 | 22K 5% SMD SIZE 0805 | YAGEO/MURATA | DIGIKEY | |
| 18 | 1 | R12 | 82K 1% SMD SIZE 0805 | YAGEO/MURATA | DIGIKEY | |
| 19 | 1 | R13 | 12K 5% SMD SIZE 0805 | YAGEO/MURATA | DIGIKEY | |
| 20 | 1 | R14 | 1.2K 5% SMD SIZE 0805 | YAGEO/MURATA | DIGIKEY | |
| 21 | 1 | R15 | 499E 1% SMD SIZE 0805 | YAGEO/MURATA | DIGIKEY | |
| 22 | 1 | U1 | NCP1654BD65R2G | ONSEMI | DIGIKEY | NCP1654BD65R2GOSCT-ND |
| 23 | 1 | R3 | 0E SMD SIZE 0805 | YAGEO/MURATA | DIGIKEY | |
Connections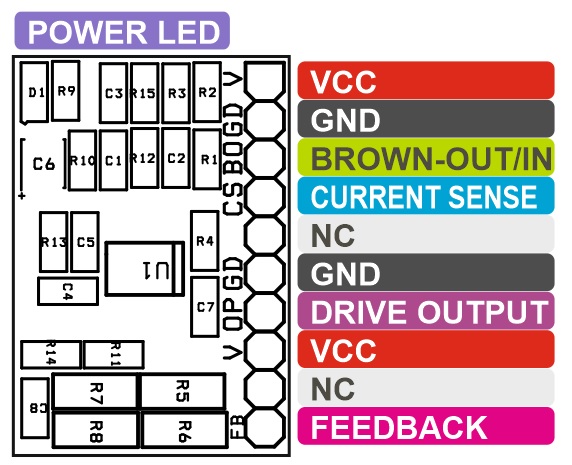 Block Diagram

Application Schematic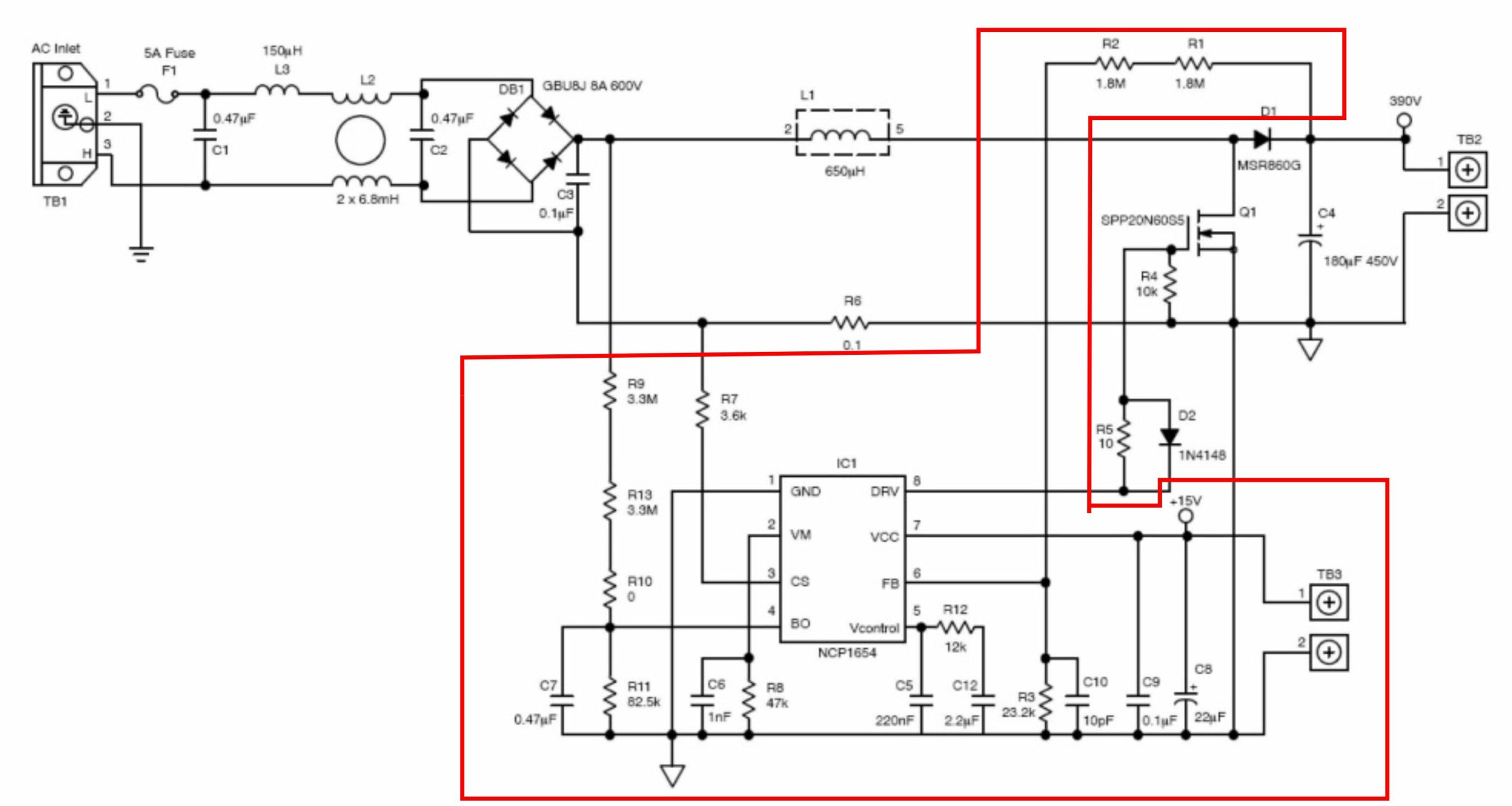 Functional Block Diagram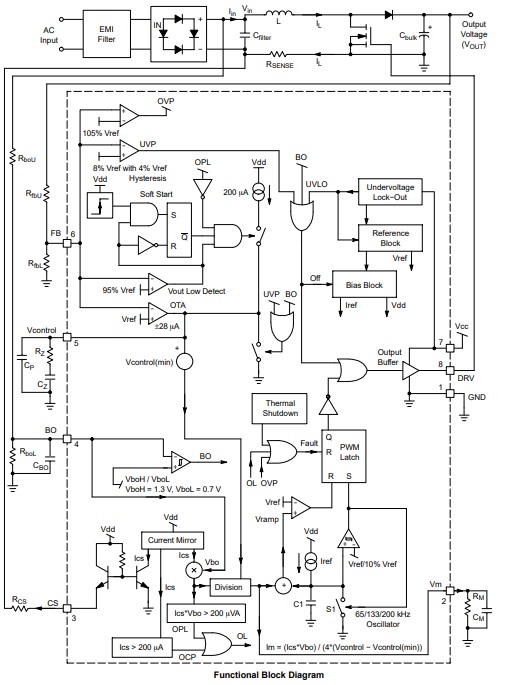 Gerber View
Photos
NCP1654 Datasheet