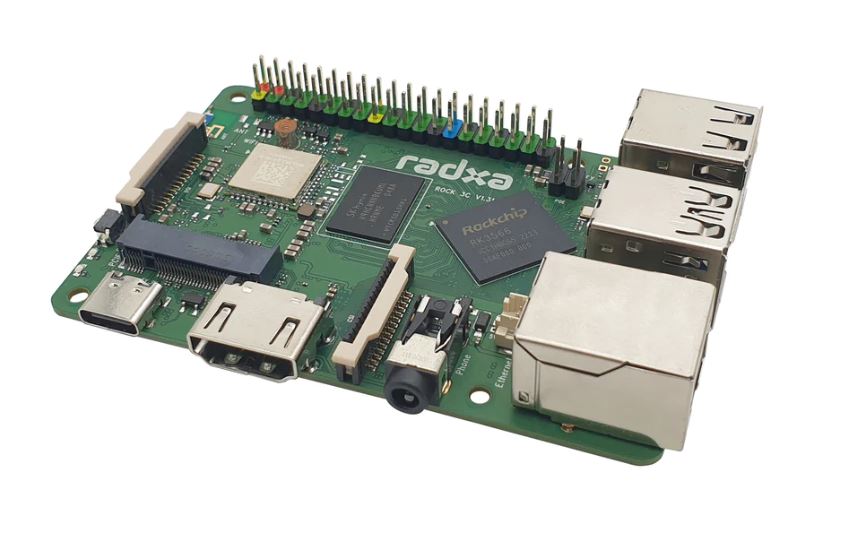 Radxa's ROCK 3C Supported by Rockchip RK3566 Processor
Radxa's ROCK 3C (Radxa's latest single board computer) features a Rockchip RK3566 64-bit quad-core Cortex-A55 ARM processor, 32-bit 3200Mb/s LPDDR4, and up to 4K@60 HDMI. Because of their low cost, wide range of interfaces, and top-notch design and performance, these single-board computers are perfect for use in both personal and professional endeavors. Additionally, it has a frequency of up to 1.6GHz, as well as a Mali G520 GPU and an 8TOPS NPU.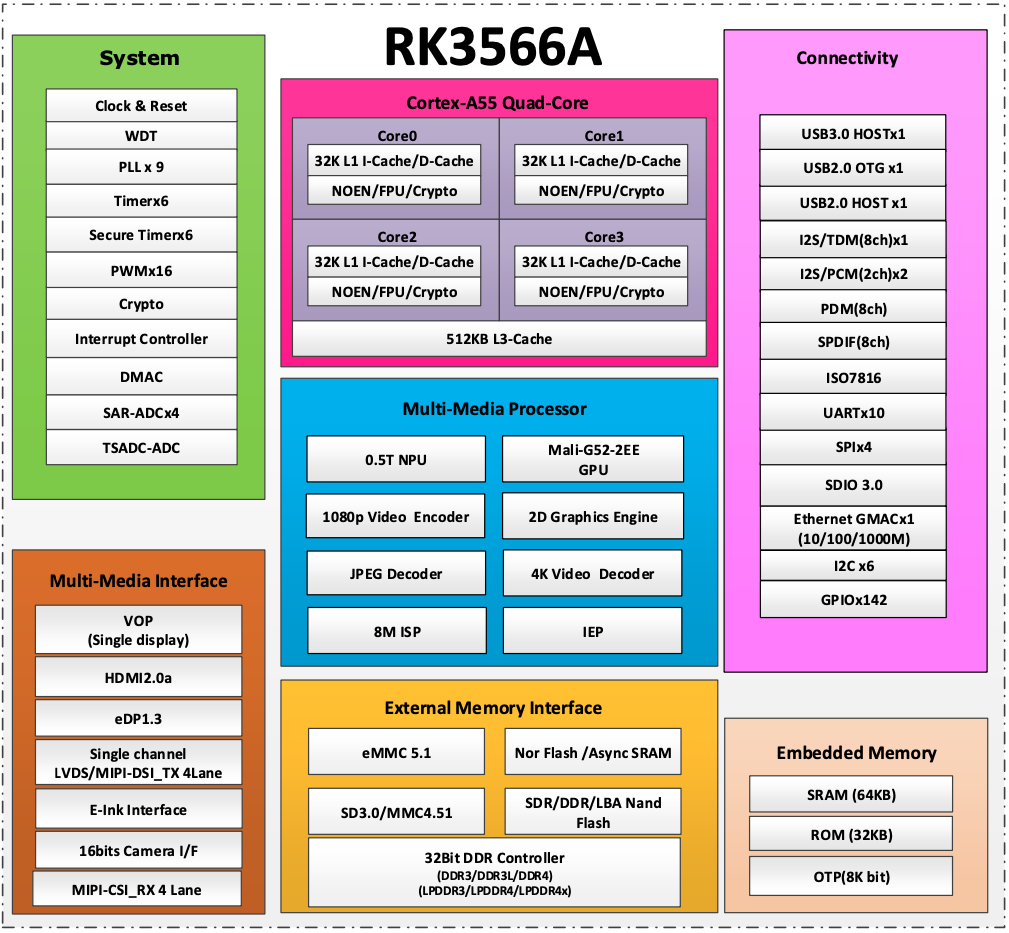 It has HDMI with a resolution of up to 4K@60, MIPI DSI and MIPI CSI, a 3.5mm jack with microphone, a USB port, GbE LAN, PCIe 2.0, and a 40-pin color extension header. Power over Ethernet (PoE) is supported by the Gigabit LAN, but an extra HAT is needed to get power from PoE. The website states that it can mechanically fit many of the existing Raspberry Pi 4 accessories.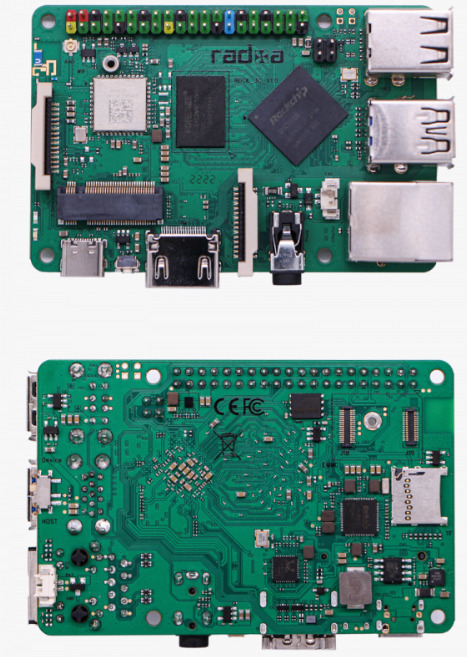 The "Getting Started" page has a lot of information, such as what parts are needed, how to prepare, how to write an image, how to access the host, and so on. The official images for Debian Bullseye, Ubuntu Server 20.04, and Android11-20220408_1204 can be found on the Download page. There are also images from third parties and images made by the community.
Specifications
Processor: RK3566 64bit quad-core processor
Quad-core Cortex-A55, frequency 1.6Ghz
GPU: Mali G52
NPU: 0.8TOPS NPU
Memory: LPDDR4, LPDDR4@2112MT/s, 1/ 2/ 4/ 8GB variants
Wifi/BT Antenna: Wifi/BT with external antenna support (uFL)
Storage: eMMC module (optional), Optional industrial level high-performance eMMC module, 16G/32G/64G/128G available (click on module bottom side)
Micro SD card: uSD card slot supports up to 128GB uSD card,
M.2 SSD: M.2 (M) 2230 up to 1T M.2 NVME SSD.
Display HDMI: HDMI 2.0 up to 4k x 2k@60, MIPI DSI 2 lanes via FPC connector, HDMI and MIPI DSI can not work at the same time.
Audio: Audio 3.5mm jack with mic with improved mechanics, HD codec that supports up to 24-bit/96kHz audio.
Camera: MIPI CSI 2 lanes via FPC connector, support up to 800 MP camera.
Wireless: Wireless 802.11 ac
WiFi 5 / Bluetooth 5
USB: USB 3.0 HOST x1, USB 2.0 OTG port x1 (middle upper one), USB 2.0 HOST x2, default – DEVICE, activate – HOST via serial command GPIO header.
Ethernet: GbE LAN (with Power over Ethernet (PoE) support via additional PoE HAT)
IO 40-pin expansion header :
– 5 x UART
– 1 x SPI bus
– 2 x I2C bus
– 6 x PWM
– 1 x ADC
– 6 x GPIO
– 2 x 5V DC power in
– 1 x 3.3V power in
Others:
-RTC
-RTC battery connector for time backup (optional)
-Power button
-Dual pin PWM fan header (controller chip onboard)
Power USB-C recommended 5V/3A (5V/5A is recommended when using with SSD)
Dimension: Size 85mm x 56mm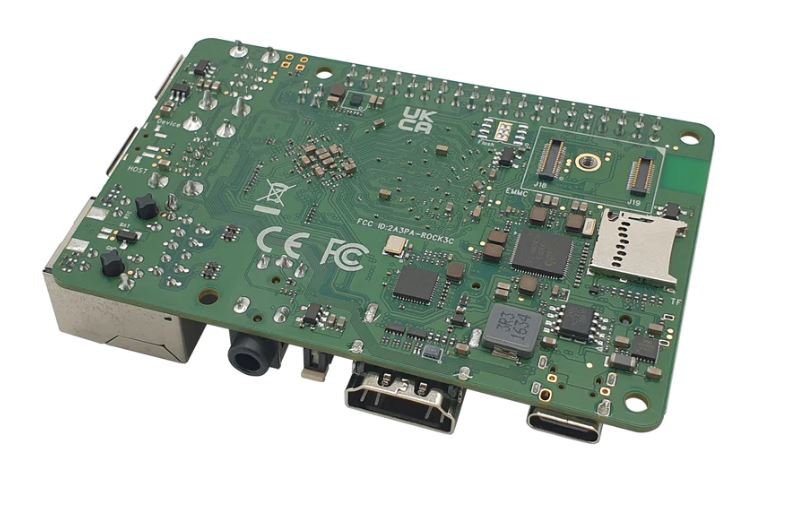 Essentials For Getting Started
ROCK 3 Model C
Power adapter with USB type C port equal to or larger than (5V3A) 15W (or -5V5A – 25W with mounted SSD)
MicroSD Card or eMMC module with eMMC-to-uSD adapter board
Keyboard & Mouse
Monitor with HDMI input
Purchase Information
The product page sells ROCK 3C 1GB for $39.00, 2GB for $44.00, 4GB for $54.00, and 8 GB for $74.00. Currently, 2GB,4GB, and 8 GB are out of stock.
Join 97,426 other subscribers

Archives