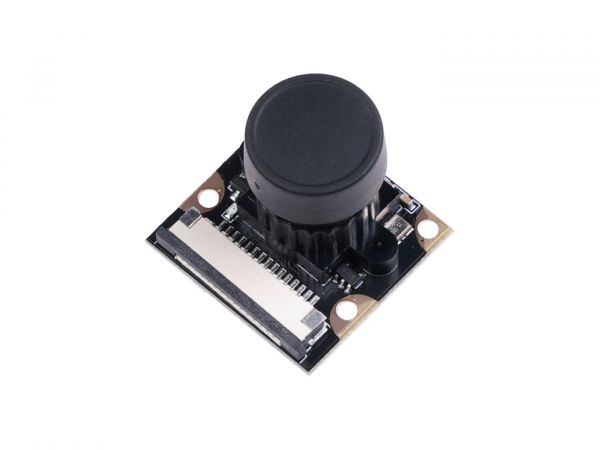 Seeed Studio unveils two camera modules with Fisheye Lens to support night landscape surveillance
Seeed Studio has provided two camera modules to support Raspberry Pi single-board computers. The camera module comes with a 5-megapixel OmniVision OV5647 sensor that has a 2592×1944 active array size image show. The OV5647 sensor module benefits from the fisheye lens to achieve 160- and 75-field of view. A fisheye lens is a camera component used for shooting wide angles, typically 180 degrees. They are also referred to as super-wide or ultra-wide lenses.
The only difference between the two new camera modules is the field of view. The hardware platform supports infrared fill light and is ideal for high-quality large landscapes or night surveillance. The camera module comes with 4 screw holes and an adjustable 3.6mm focus length lens for easy mounting. The OV5647 sensor is designed to operate on Raspberry Pi 3B/3B+/4.
The fisheye lens produces visual distortion, projecting a convex appearance– displayed on the hemispherical screens. That is one of the reasons why the fisheye lens offers a wider field of view capturing function to the RPi compared to a rectilinear lens. Seeed Studio has chosen the perfect camera sensing module from OmniVision, which gives them a competitive edge over other camera module manufacturers.
As previously mentioned, the camera module supports infrared fill light which provides an auxiliary light when shooting under conditions of lack of light. The main function of the infrared fill light is to provide a clear image of night vision, which it targets to be deployed in night surveillance applications. The camera module can surveil any unusual activity or movement on private property. However, it is important to note that even though the OV5647 camera sensor module supports IR, the user is required to get an external IR camera.
If the user requires to capture a more specific or higher detailed vision, the manufacturer recommends buying– a Raspberry Pi high-quality camera 12.3 megapixel or M12/CS mount IMX 219 CMOS camera module 8 megapixel. This gives us an idea that the OV5647 camera module is not suitable for detailed night vision and lacks clarity.
The OmniVision OV5647 sensor comes with automatic image control functions– automatic exposure control, automatic white balance, automatic band filter, automatic 50/60Hz luminance detection, and automatic black level calibration. The sensor supports the output format of 8-/10-bit raw RGB data. The sensor also has an embedded 1.5V regulator for core power.
Seeed Studio OV5647 sensor module with 160o field of view is priced at $12.90, while the 75o field of view is sold for $9.90. For more information on the OV5647 sensor, head to the official documentation.
Join 97,426 other subscribers

Archives