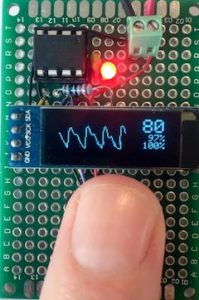 tinyPulsePPG – ATTiny85 Pulse oximeter with photoplethysmogram
tinyPulsePPG, an ATTiny85 Pulse Oximeter with Photoplethysmogram (PPG) display by Jeff Magee:
This project implemented on an ATTiny85 displays a moving Photoplethysmogram together with pulse rate and estimates of SpO2 – blood oxygen percentage. It uses an SSD1306 128×32 OLED display and a Max30102 sensor. It is emphasized that this should not be used for medical purposes. The computation of SpO2 is very approximate and not calibrated in any way. The project is an exercise in software and hardware parsimony.
tinyPulsePPG – ATTiny85 Pulse oximeter with photoplethysmogram – [Link]