Shenzhen Xunlong Orange Pi boards are low price boards and have huge support on communities such as Armbian, but two new Orange Pi boards might make the company even more relevant in the development board space.
First, the company has released the tiny, and hopefully ultra cheap, Orange Pi Zero board with Allwinner H2+ processor and 256MB/512MB DDR3 SDRAM. It's an open-source 48 mm × 46mm single-board computer that can run Android 4.4, Ubuntu, and Debian.
Orange Pi Zero is similar to NanoPi NEO board but with difference in the processor and both Ethernet and wireless connectivity. It comes with these hardware specifications:
CPU: H2 Quad-core Cortex-A7 H.265/HEVC 1080P.
GPU: Mali400MP2 GPU @600MHz, Supports OpenGL ES 2.0
Memory (SDRAM): 256MB/512MB DDR3 SDRAM (shared with GPU)
Onboard Storage: Or Flash(2MB Default not posted)
Onboard Network: 10/100M Ethernet RJ45 POE is default off.
Onboard WIFI: XR819, IEEE 802.11 b/g/n
Audio Input: MIC
Video Outputs: Supports external board via 13 pins
Power Source: USB OTG can supply power
USB 2.0 Ports: Only One USB 2.0 HOST, one USB 2.0 OTG
Buttons: Power Button
Low-level peripherals: 26 Pins Header, compatible with Raspberry Pi B+, 13 Pins Header, with 2x USB, IR pin, AUDIO (MIC, AV)
LED: Power led & Status led
Key: POWER
Supported OS: Android, Lubuntu, Debian, Raspbian
Linaro has announced that an Orange Pi i96 board is coming soon. It is a good choice for making smart gadgets, robots, or drones with wireless capabilities on cheap development board.
The board has features not found on competitive boards. It won't be based on any Allwinner processors however, but instead it features an RDA Micro Cortex-A5 processor with 256 MB on-chip RAM, 512 MB on-chip NAND flash, a microSD card, two USB 2.0 ports, a CSI camera connector, and WiFi 802.11 b/g/n connectivity.
"We can't wait to see what developers are going do with this in the areas of vision and recognition systems and robotics," said George Grey, CEO of Linaro.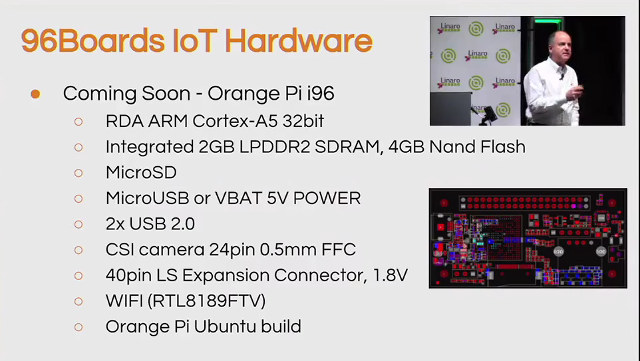 The Orange Pi i96 also has a camera interface, which is important to give computer vision to robots and drones. The board is based on specifications set by 96boards, an organization encouraging the development of ARM-based board computers. The exact shipment date for Orange Pi i96 is not yet available.
"Linaro is also encouraging the development of other IoT boards. In the near future, there will be billions of IoT devices collecting and sending information, and more boards will be used to support this growing ecosystem", Grey said.
Source: CNXSoftware