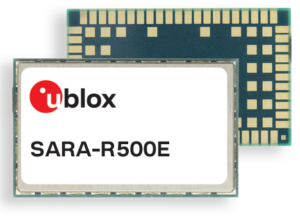 u-blox Unveils New LTE-M Cellular Module with eSIM — Targets Size-constraint IoT Projects
The evolving embedded SIM technology in IoT devices offering cellular connectivity is increasingly becoming popular. More companies are adapting the concept of eSIM, especially for devices that reside in difficult-to-access locations or those that require you to pay a field technician to help change SIM cards in order to change carriers.
u-blox, a Swiss company expert in positioning and wireless communication technologies and services, has announced its first cellular module designed for size-constrained applications with high requirements in robustness and security. The SARA-R500E comes with an embedded SIM (eSIM) that lets you connect IoT devices to cellular networks thus eliminating the need for a separate SIM card and supporting components.
"SARA-R500E greatly simplifies logistics for device makers, as the eSIM is already integrated inside the module," says Samuele Falcomer, Product Manager, Product Center Cellular at u-blox. "All the customers have to do is activate connectivity and choose the data plan that best fits their needs via the u-blox Thingstream IoT service delivery platform. Particularly those customers that are too small to negotiate dedicated data plans with mobile network operators will benefit from a competitively priced offering."
The eSIM embedded in the module offers product developers and end-users some advantages: 
Security of devices is increased since the eSIM cannot be stolen or removed.
End users do not need to insert the eSIM in by themselves, so product developers can build tightly sealed devices that meet the demanding IP67 and IP68 criteria (resistance to external forces like dirt, dust, sand and water).
IoT designs will use less board space as there will be no need for supporting hardware that normally holds and connects plastic SIM cards.
The SARA-R500E streamlines sourcing as it offers the module, data plans, and the SIM from one house.
Key Features of the SARA-R500E module include:
eSIM with various connectivity plans
Improved robustness and reliability
Reduced total solution footprint (cost-effective and power efficient)
Does not require external SIM or SIM holder
Pin-to-pin compatible with all the other modules in the u-blox SARA family
Uses the SARA-R5 AT command interface
Offers the option to access u-blox's MQTT Anywhere service (this reduces bandwidth requirements for cellular data transfer, saving cost and power)
First variants to offer out-of-the-box connectivity on a North American LTE-M cellular network.
The module is suitable for rugged IoT applications such as smart meters, environmental sensors, surveillance cameras, etc.
Software protocol support:
Dual stack IPv4 and IPv6
PPP over IPv4 and IPv6
Embedded TCP/IP, UDP/IP, FTP, HTTP, DNS
Embedded MQTT and MQTT-SN
Embedded CoAP and LwM2M
Embedded TLS/DTLS
SIM provisioning (BIP)
u-blox has said that the first batch of the SARA-R500E modules will be available in September, this year. Other useful details on the module can be found on the product page.
Join 97,426 other subscribers

Archives