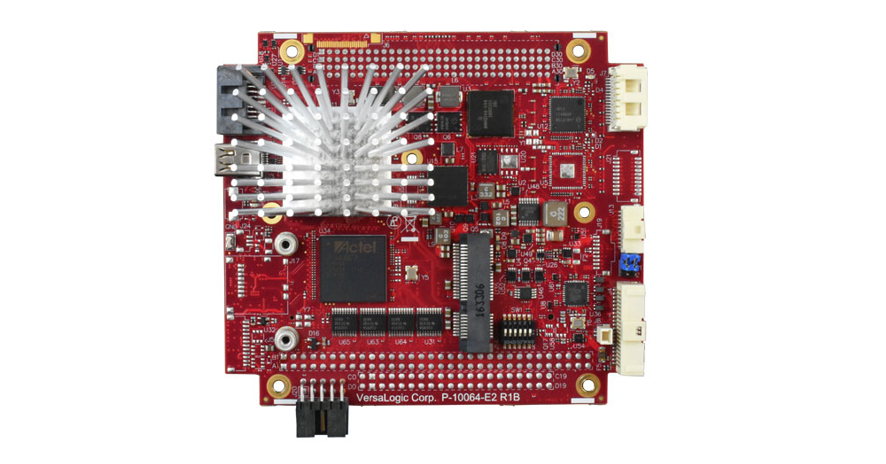 VersaLogic Releases Low-Cost Intel Bay Trail SBC
VersaLogic has released a rugged, PC/104-Plus form-factor "SandCat" SBC with a dual-core Intel Bay Trail SoC, -40 to 85℃ support, plus SATA, GbE, mini-PCIe and more, with starting price of $370 in volume. VersaLogic has created a simpler, more affordable alternative to its BayCat single board computer, which similarly offers a Linux supported Intel Bay Trail SoC in a PC/104-Plus form-factor board. The rugged new SandCat is restricted to a dual-core, 1.33GHz Atom E3825, and offers a bit of reduced feature set, but sells at less than half the price of the dual-core version of the BayCat.
The "highly placed" PC/104-Plus spec has a combination of ISA- and PCI-based self-stacking bus expansion. VersaLogic has made use of it on some other SBCs, including one of the boards on its double-board, Kaby Lake-based Liger. The SandCat SBC supports Linux, Windows, and other x86 platforms including VxWorks and QNX. The 108 x 96mm SandCat has a long 42mm profile as a result of its standard heat sink. The fanless SBC has an industrial -40 to 85℃ operating range and features MIL-STD-202G rated vibration (Methods 204 and 214A) and shock resistance (Method 213B), and also tolerance of humidity and thermal shock. The board also provides long-term, typically 10-year, availability.
The SandCat is available with up to 8GB DDR3L-1067 RAM through a single socket and offers a 3Gbps SATA II port. Like most PC/104 family boards, the SandCat doesn't offer much in terms of real-world ports. A mini-DisplayPort with 1920 x 1080 and audio support and an optional adapter card for LVDS touch-panels are available. The SandCat is fitted with a GbE interface with remote boot support, as well as 4x USB 2.0, 2x RS-232/422/485, 8x DIO, and single I2C and audio interfaces. For expansion features, a full-length mini-PCIe slot with optional WiFi, GPS, mSATA, GbE, and I/O modules, as well as dual PC/104-Plus interfaces, with support for both ISA and PCI based modules are available. Available also, is a 5V input with ACPI 3.0 sleep modes.
Additional features include hardware monitoring, support for RTC backup battery, and the VersaAPI board I/O interface. A host of optional cables and other add-ons are available, and VersaLogic is providing extensive hardware and software customization services for 100+ volume orders.
Highlights
Intel Bay Trail Processor 1.33 GHz clock rate dual-core processor. Low power consumption.
High-performance Video Integrated Intel Gen 7 graphics core supports DirectX 11, OpenGL 4, and H.264, MPEG-2 encoding/decoding. Mini DisplayPort video output.
RAM Up to 8 GB DDR3L socketed memory (one SO-DIMM).
Network Ethernet interface, autodetect 10BaseT / 100BaseTX / 1000BaseT with remote boot support.
Industrial I/O Dual RS-232/422/485 serial ports; four USB 2.0 ports support keyboard, mouse, and other devices. three 8254 timer/counters, I2C, and audio support.
Digital I/O Eight 3.3V digital I/O lines.
SATA 3 Gb/s SATA port. Supports rotating or solid-state SATA drive.
Mini PCIe socket Supports Wi-Fi modems, GPS receivers, flash data storage with auto-detect mSATA flash storage support, and other mini PCIe modules.
Main Power Input 5V Input ±5%.
PC/104 Expansion Legacy PCI connector, stack-down.
PC/104 Expansion Legacy ISA connector, stack-down.
Industrial Temperature -40° to +85°C operation for harsh environments.
PC/104 Form Factor Industry-standard PC/104-Plus expansion.
MIL-STD-202G Qualified for high shock and vibration operation.
More information may be found in VersaLogic's SandCat announcement and on the SandCat product page.
Join 97,426 other subscribers

Archives