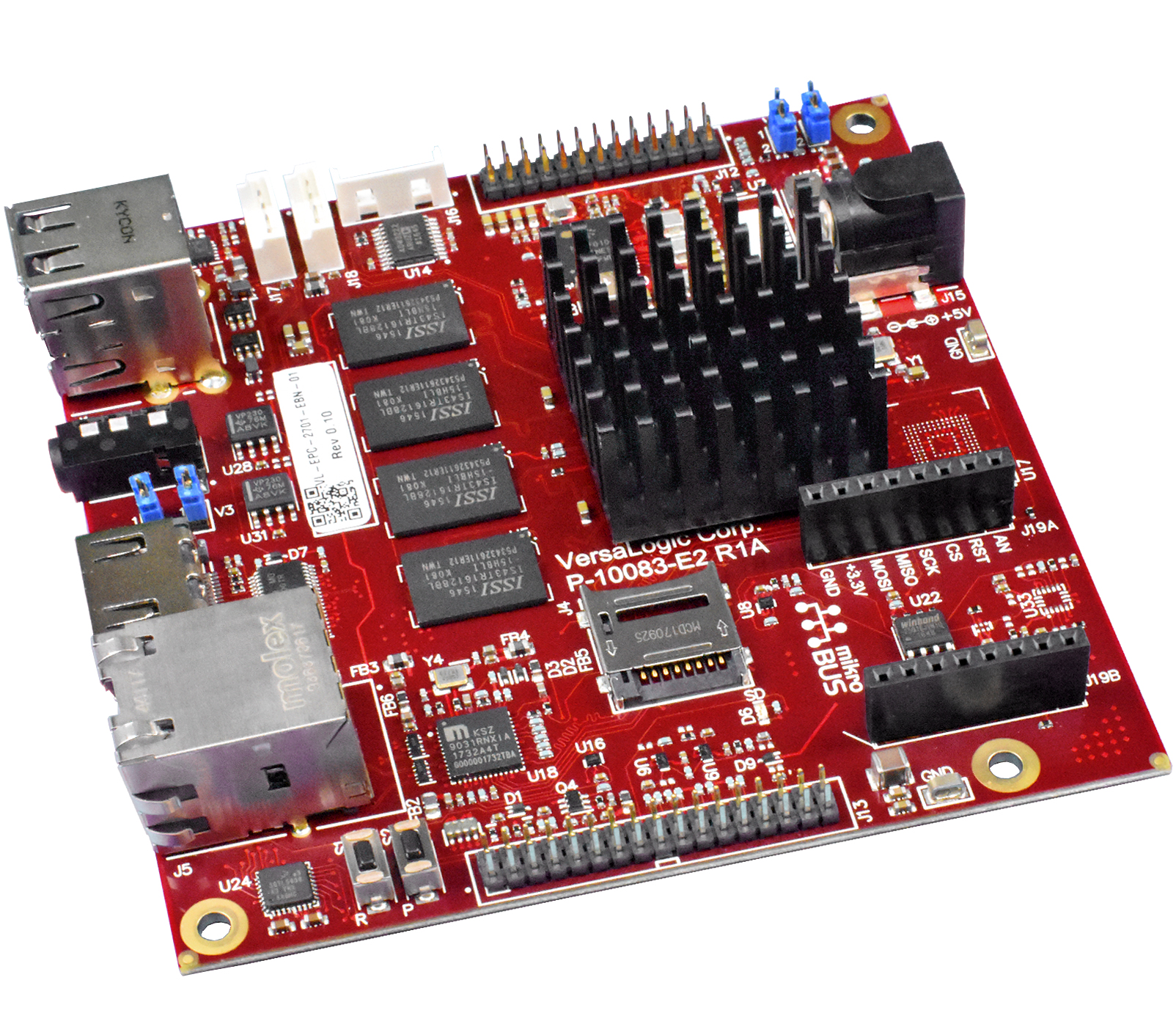 Zebra SBC – ARM based Single Board Computer from VersaLogic
VersaLogic has released a rugged, lasting, simple-to-use and ready-for-deployment Zebra VL-EPC-2701 board. The Zebra single board computer is a complete Arm-based embedded computer. It features several models that are available with power-efficient, single- or dual-core i.MX6 CPUs. The Arm-based Single Board computer comes in two models; which features either NXP i.MX6 Solo (single core), or the i.MX6 DualLite (dual core) processors.
With its 95 x 95 mm size, the compact board is easy to mount and perform future upgrades. Not only that, Zebra conforms to the size and mounting points of the industry standard COM Compact format. The Zebra NXP's single-core i.MX6 Solo comes with an onboard 512MB DDR3L RAM, while the dual-core DualLite comes with a built-in 1GB RAM, both of which are expandable up to 4GB RAM. The Zebra offers an optional 8GB microSD card with Linux and supports Linux distributions and OSes that are compatible with the Cortex-A9 based i.MX6.
This embedded computer boards provide connectivity via Gigabit Ethernet, USB, and CAN bus interfaces, as well as HDMI video support. They also provide a MikroBUS socket for expandability, and additional on-board I/O including I2C, audio, SPI, and GPIO. The Zebra embedded computer board has been programmed for a ready off-the-shelf deployment into demanding industrial, defense, and aerospace applications requiring rugged, durable, power efficient, industrial temperature.
Unlike many Arm-based modules, VersaLogic's Zebra comes uniquely in some ways. The new product is a complete board-level computer. It requires neither additional carrier board nor, companion boards nor, connector break-out boards, or other add-ons to function. Since it was built to be exceedingly efficient, rugged and lasting, Zebra is rated for full industrial temperature operation of -40° to +85°C. Even at that, it consumes less than 3W of power during operation.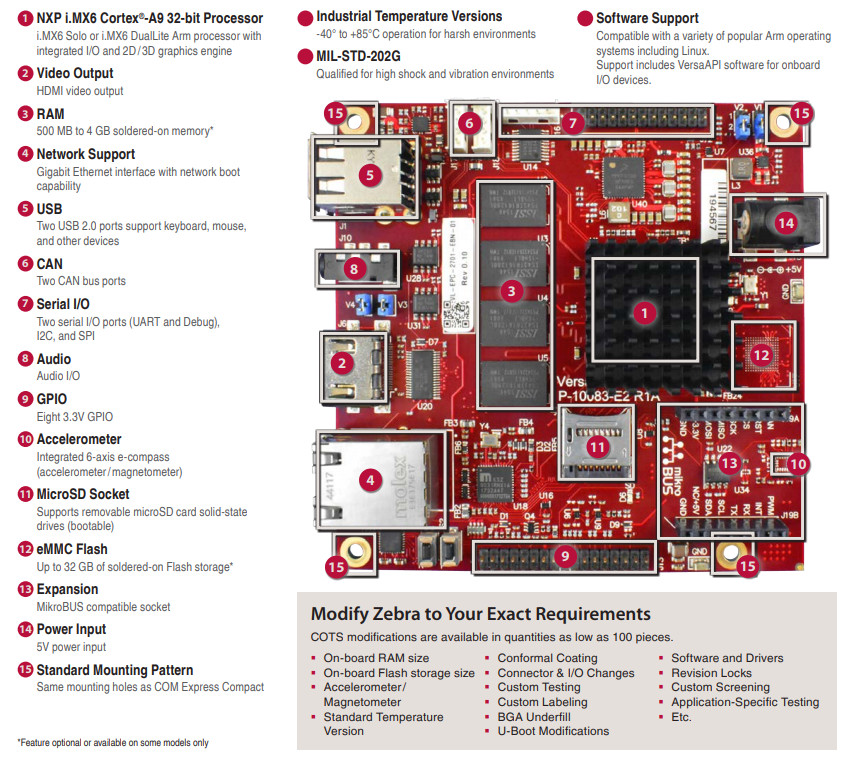 Here are the specifications of the Zebra SBC:
Processor — NXP i.MX6 Solo or DualLite (1x or 2x Cortex-A9 cores @ up to 800MHz);
Graphics – Vivante GC2000 GPU
Memory/storage:

512MB (Solo) or 1GB (DualLite) DDR3L SDRAM soldered, expandable to up to 4GB
MicroSD slot (bootable) with an optional 8GB card containing Linux
eMMC (MLC) socket with up to 32GB optional bootable storage

Networking — 1x Gigabit Ethernet port with network boot, latching connector
Other I/O:

HDMI v1.4 port
Audio in/out jack
2x USB 2.0 host ports
2x CAN 2.0B ports
2x serial interfaces (1x 3.3V UART; 1x RS-232 debug)
8x GPIO/DIO (3.3V)
1x SPI, 2x I2C, and up to 3x PWM (reduces GPIO lanes)
MikroBUS expansion interface for Click boards

Other features —

6-axis accelerometer/magnetometer
10-year lifecycle support
optional cables
HW customization service available on 100+ unit orders

Operating temperature — -40 to 85°C with 0.5 linear meters per the second airflow
Shock/vibration resistance — per MIL-STD-202G (vibration Method 204/214A; shock Method 213B)
Altitude resistance — to 4,570 meters
Power — 5 VDC input;

Consumption: 2.2W idle, 2.7W (Solo) or 3W (DualLite) typical

Dimensions — 95 x 95 x 20mm; compatible with COM Express Compact footprint and mounting holes
Weight — 62 g
Operating system – bootable Linux OS; compatible with other Linux and Android.
VersaLogic's is offering an amazing 10+ year product life support for the board; this will ensure a long-term deployment in the field, free from expensive upgrades and migrations that come from products with a short disposable lifecycle.
The Zebra SBC is available for purchase starting at $196 for Solo with 512MB (VL-EPC-2701-EAK-005) or $239 for DualLite with 1GB (VL-EPC-2701-EBK-01), or $168 and $205 in OEM quantity. More information about the product is available on the product page.