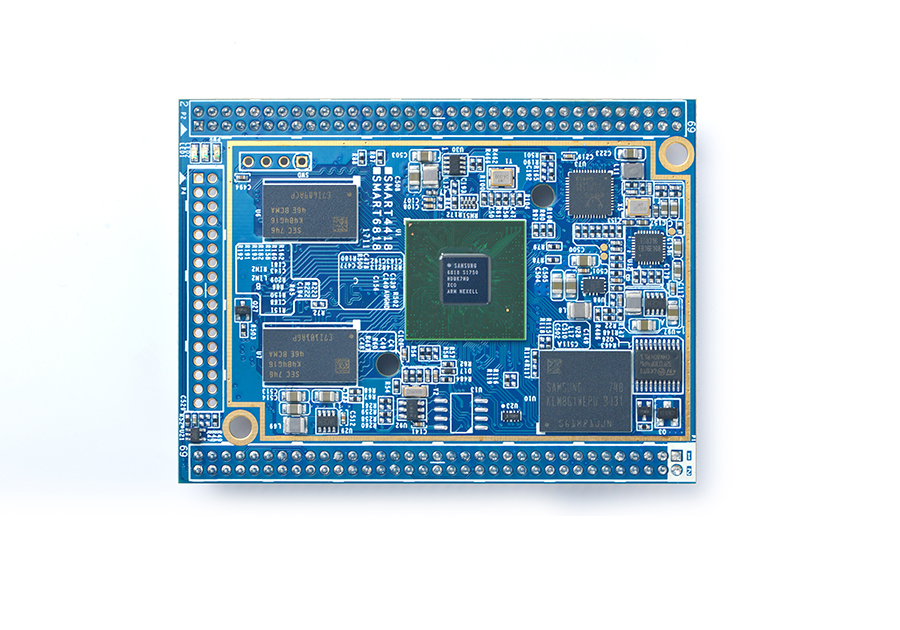 FriendlyELEC Launches a new Samsung Powered Octa-Core Board
Smart6818 is a board built for industrial applications and is a successor to the Smart210 board. At the heart of the Smart6818 is the powerful Samsung Octa-Core Cortex-A53 S5P6818 SoC which is able to have a dynamic scaling frequency of up to 1.4Ghz unlike the 1GHz provided by Samsung S5PV210 for the Smart210 board.
The Smart6818 board has an interesting 2.0mm pitch double row pin headers (P1, P2, and P4) containing a whopping 174 pins in total. These pins contain pretty popular interface pins. By default, it has the 2 opposites pin rows (P1 and P2) soldered on the board leaving P4 for user's applications.
The standard version of the board comes packed with 1GB DDR3 RAM and an 8GB eMMC, with support for software power-off and Real Time Clock (RTC) alarm power-on functions. In Linux, the real-time clock alarm can be set or retrieved using /proc/acpi/alarm or /sys/class/rtc/rtc0/wakealarm.
Also, its Gbps Ethernet and audio jack make it super duper suitable for various industrial applications. It works with various FriendlyELEC LCDs such as the 3.5″ LCD, 4.3″ LCD, 5″ LCD, 7″ LCD like a Lenovo tablet and the larger 10.1″LCD screen.
Below are some of the board core specs:
SoC: Samsung S5P6818 Octa-Core Cortex-A53, 400MHz – 1.4GHz
PMU Power Management: Implemented by an MCU, support software power-off, and RTC alarm power-on functions
DDR3 RAM: 1GB 32bit DDR3 RAM
Ethernet: Gbps Ethernet(RTL8211E) with unique MAC
eMMC: 8GB
Audio: 1 x audio codec chip, 1 x onboard Microphone and 1 x audio jack
LED: 1 x Power LED, 2 x GPIO LED
PCB Dimension: 74 x 55 mm, Six-Layer
Power: DC 5V, up to 2A
Temperature measuring range: -40℃ to 80℃
OS/Software: u-boot, Android5.1/4.4, Debian8, ubuntu-core
PINS: 3 x 2.0mm pitch double row pin header, 174 pins in totals
USB: USB 2.0 – Host x1, OTG x1
Video output/Display: RGB Parallel I/F (24-bit), LVDS and HDMI 1.4a
Video input: DVP Camera interface, ITU-R BT 601/656 8-bit and MIPI-CSI
Audio input: Microphone
Audio output: Audio jack (with headset detection) and HDMI audio
Ethernet: 10/100/1000Mbps Ethernet x 1
ADC (Analog-to-Digital Converter): CPU internal ADC, 7 channels, 12-bit, range: 0 ~ 1.8V
External interface: SDIO/MMC x2, SPI x2, I2C x3, UART x5, PWM x3, GPIOs x24
Others: Power key input, RESET input, RESET output, RTC battery input
An SDK carrier board is available for the Smart6818 which enables the smart6818 CPU board's various ports and interfaces. The carrier board has a SATA interface and a mini PCIe interface that supports an external 4G module. One incentive with this board is that it offers compatibility with the Raspberry Pi's interface.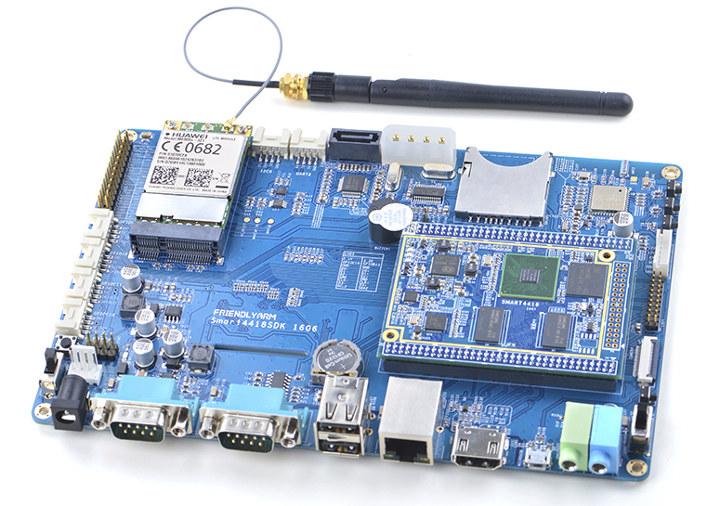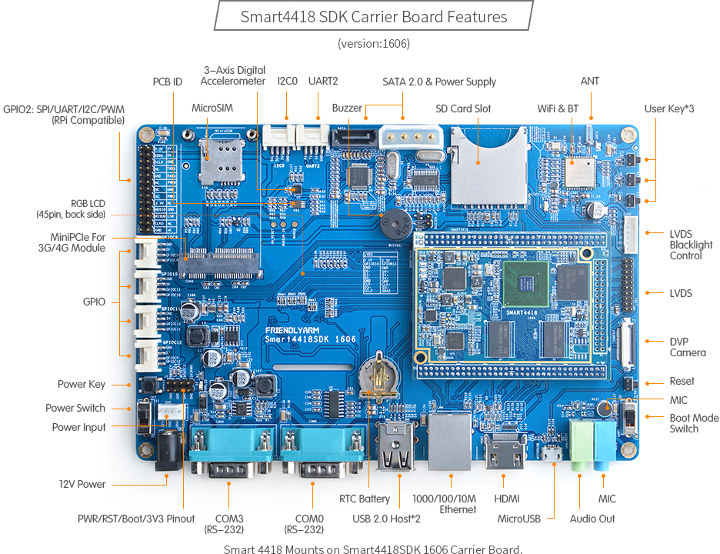 Before start to use the Smart6818, one will need to get the following items ready:
Smart6818 CPU board and Smart 6818 SDK carrier board
Standard SD card: Class10 or above 8GB SDHC card
A DC 12V/2A power is a must.
HDMI monitor or LCD
USB keyboard and mouse
A host computer running Ubuntu 14.04 64 bit system
The Smart6818 board is available for purchase on the friendly arm store for about $49.00. The board also comes with other add-ons which will add extra features to it. More information about the product is available on the product page.