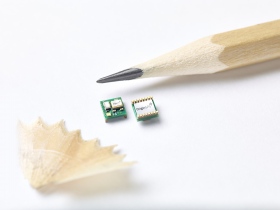 4 x 4 mm GPS module for wearables, portables, in distribution
by Graham Prophet @ edn-europe.com:
Distributor Acal BFi has the Nano Spider from OriginGPS; the miniature module makes it possible for manufacturers to bring accurate GPS to tiny devices.

Claimed as the world's smallest GPS module, Nano Spider is a fully integrated, sensitive GPS receiver module. Measuring 4.1 x 4.1 x 2.1 mm and with low power consumption, it is suitable for smart watches, wearable devices, trackers, and digital cameras. A double-sided circuit design reduces footprint size and makes the Nano Spider 47% smaller than previous solutions.
4 x 4 mm GPS module for wearables, portables, in distribution – [Link]