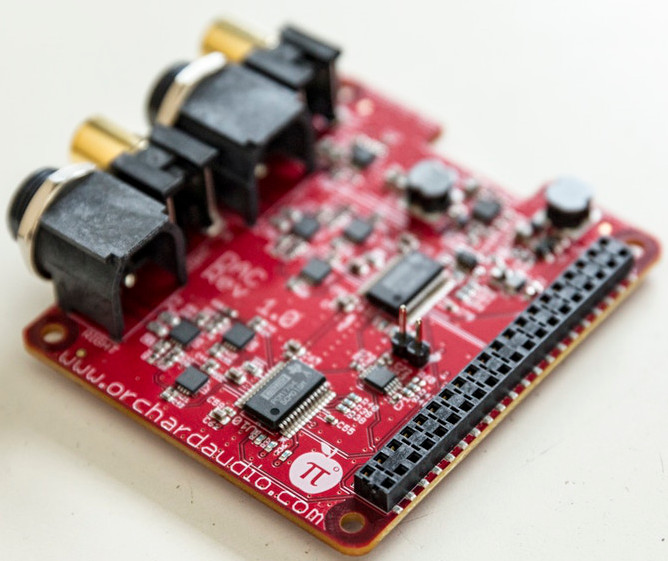 ApplePi DAC Audio HAT Add-on For The Raspberry Pi Features 24-bit DAC And A 128dB SNR
Orchard Audio quickly exceeded its $5K Kickstarter goal for its ApplePi DAC HAT board, which it is promoted as "the most advanced and highest performance sound card hat for the Raspberry Pi." You can order the add-on board from May 13 starting at $175. Options include a $5 stacking header and a $25 5.25V, 3A power supply. The ApplePi DAC supports the Asus Tinker Board and Allo.com's Sparky in addition to the Raspberry Pi.
A fully assembled $374 system provides the new HAT board, header, and power supply plus a Raspberry Pi 3 SBC, an acrylic stand, and an SD card with a choice of preconfigured Volumio, Rune Audio, or Raspbian. For $574, you get the assembled system plus a 7-inch touchscreen. All the products ship in July.
The board is powered by dual TI Burr-Brown DACs (PCM1794A) configured in monaural mode. The system has a dynamic range of >135dB and a signal-to-noise ratio (SNR) of 128dB, which can bump up to 132dB. Total Harmonic Distortion + Noise (THD+N) is listed as an impressively low <0.0005% (-106dB). The board supports both 16- and 24-bit bit rates, as well as sample rates of 44.1, 48, 88.2, 96, 176.4, and 192kHz.
Orchard highlights the board's ultra-low noise linear regulation and low jitter PLL clock generation. The mentioned derives are not from the usual crystal, but rather from a CS2300 IC from Cirrus Logic. This clock chip integrates a crystal, PLL, and clock multiplier into a single device, the input jitter is attenuated by 60dB (1/1000). It is remarkable that the onboard balanced (Mini XLR) and unbalanced (RCA) outputs are driven by dual differential output circuit stages. Orchard says that most competing boards offer only single-ended outputs. So, this feature really makes it stand out.
The ApplePi DAC runs at 4.5W and can be powered by a Raspberry Pi, but the manufacturer recommends using the optional 5V adapter. In addition to Volumio and Rune Audio, the ApplePi DAC supports moOde Audio, piCorePlayer, and Roon Network Endpoint software.
The ApplePi DAC is available on Kickstarter through May 13 starting at $175, with shipments due in July. More information may be found at the ApplePi DAC Kickstarter page and Orchard Audio's ApplePi DAC product page.
Join 97,426 other subscribers

Archives