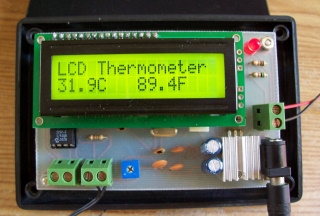 89S52 Thermistor Thermometer: LCD version
by Wichit Sirichote:
This is the 2nd version of Thermistor Thermometer Project done by another group of my student. The 1st version having 4-digit 7-segment LED shows the use of simple display device. For applications that needs text display, this LCD version is more suitable and easy to adapt for many kinds of measuring devices.
89S52 Thermistor Thermometer: LCD version- [Link]
Join 97,426 other subscribers

Archives