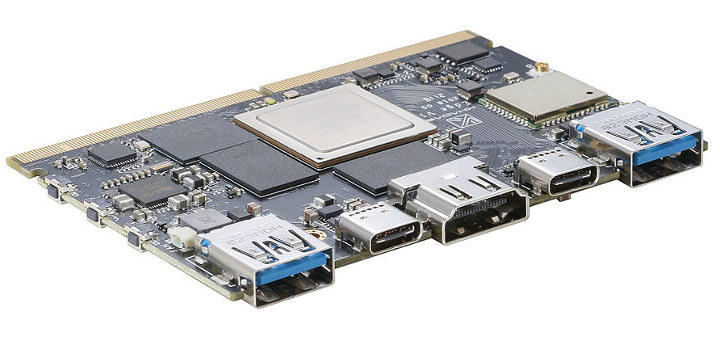 A Blend of Two Worlds – A SBC and a System-on-Module Powered by Rockchip RK3399
The Raspberry Pi 3 and other boards like the Asus Tinker Board are Single Board Computers (SBCs) that gives the user the full power of a computer without the need of any external parts. SBC offers a ready-to-use embedded development platform and helps to accelerate the time to market for a new product with mitigating risks. The Raspberry Compute Module 3, on the other hand, is a Computer on Module/System on Module that usually designed to be used in an embedded product.
Unlike SBCs that usually comes with fixed computing, resources, memory, peripherals, and I/O sections, CoM/SoM gives engineers and developers the full ability to customize their board as per the needs of the application. You can decide on what you want, the GPIO ports you need to extend out, or even the memory options. Another significant use of SoM is they are usually future proof, unlike SBCs.
So what if we don't have to choose between both worlds, get the smooth deployment of the SBCs plus the customization of the SoM without necessarily having to purchase 2 different boards. The Khadas Edge is an upcoming product that is going to make this realization possible.
The Khadas Edge board is a board that attempts to combine both worlds. A single standalone board and system on module powered by the Rockchip RK3399 SoC. It combines a USB receptacle and HDMI output as well as 314-pin MXM3 edge connector to connect to a Khadas Captain baseboard or any other custom compatible baseboard.
The Khadas Edge will be a different step from their usual Amlogic based SBC as found on the Khadas Vim and Khadas Vim2 SBC. It is powered by a hexa-core Rockchip RK3399 SoC carrying Big Cluster CPU; a Dual-core Cortex-A72 running at up to 1.8GHz, and a Little Cluster CPU; a quad-core Cortex-A53 running at up to 1.5GHz with a Mali T864 GPU.
The Khadas Edge is expected to come in three variants; the Basic, the Pro, and the Max. The Khadas Edge can plug into the Khadas Captain baseboard to act as a full standalone SBC.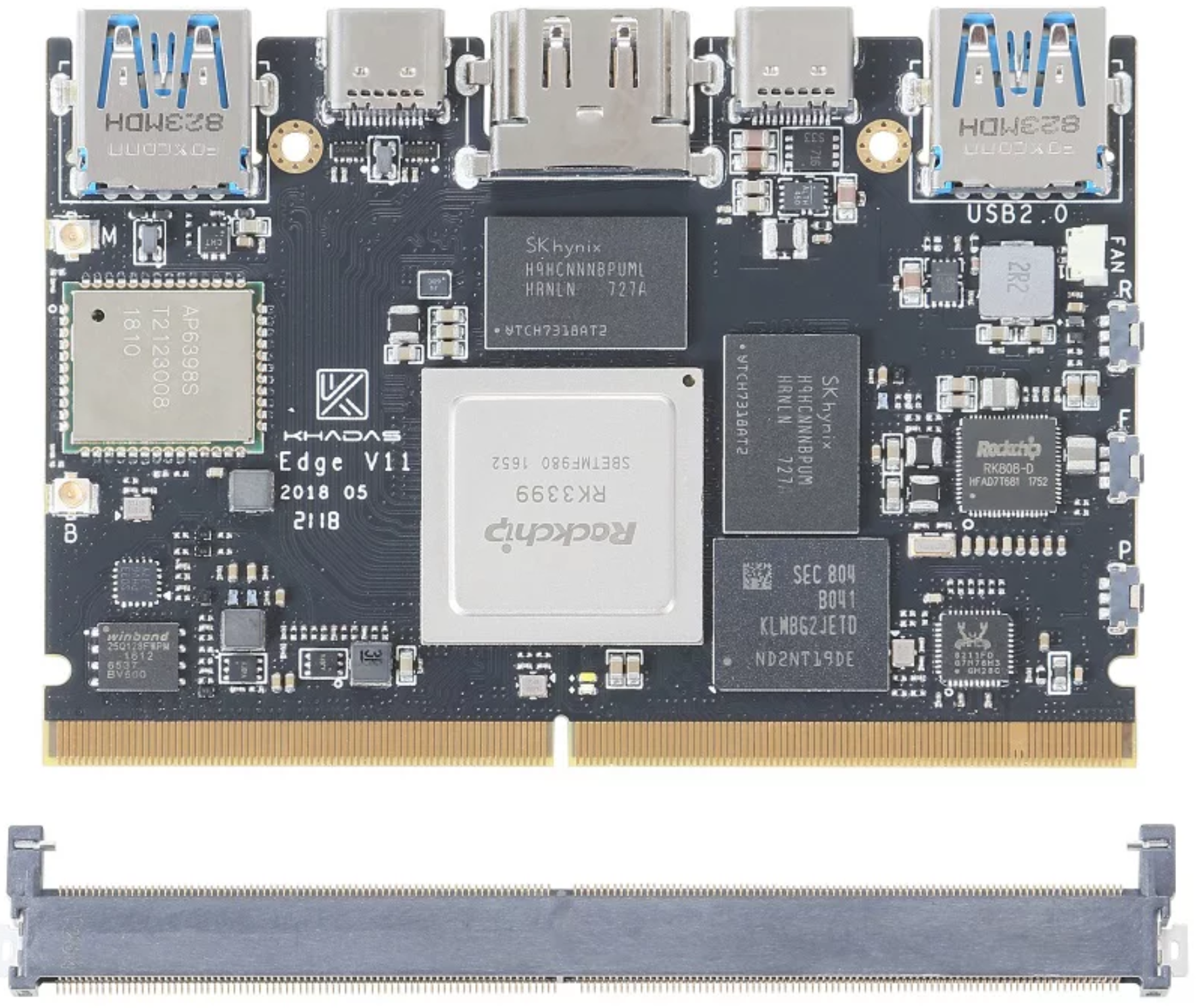 Below are the specification listed for the Khadas Edge board:
Processor — Rockchip RK3399 (2x Cortex-A72 at up to 1.8GHz, 4x Cortex-A53) with Mali-T860 GPU; 8-bit STM8S003 with programmable EEPROM
Memory:

Basic — 2GB LPDDR4 RAM, 16GB eMMC 5.1
Pro — 4GB/32GB
Max — 4GB/64GB
All models — 16MB SPI flash

Wireless:

Basic — 802.11b/g/n/ac 2.4GHz/5GHz 2×2 MIMO with Bluetooth 4.1 (Broadcom AP6356S)
Pro and Max — 802.11b/g/n/ac 2.4GHz/5GHz 2×2 MIMO with RSDB and Bluetooth 5.0 (Broadcom AP6938S)
2x WiFi antennas

Networking — GbE controller with WoL (PHY only, no port)
Display/camera:

HDMI 2.0a port with CEC for up to up to 4K@60Hz, HDCP 2.2
DisplayPort 1.2 available via 1x USB Type-C
Simultaneous dual display support

Other I/O:

2x USB 3.0 Type-C ports (1x power only, 1x with DP and USB support)
USB 3.0 host port
USB 2.0 host port
Fan header

Expansion:

FPC connector A — UART, I2C, SPI, SD/MMC, ADC, PWM, IOs
FPC connector B — USB, I2S (8 ch.), I2C, MCU IOs
314-pin MXM3 board-to-board connector

Other features — 3x buttons; 2x LEDs; heatsink (TBC); optional Edge IO and Khadas Captain boards
Power — 5-20V DC input via USB Type-C, Pogo Pads, MXM3; 2-cell battery module
Weight — 25 gm
Dimensions — 82.0 x 57.5 x 5.7mm
Operating system — Android Oreo, Ubuntu 18.04, Debian 9.0, etc. with mainline Linux and U-Boot; support for TensorFlow and Android NN (Neural Networks API)
The board should ship with two Wi-Fi antennas and a heatsink. Operating systems support includes Android Oreo, Ubuntu 18.04, and Debian 9.0 with mainline Linux, as well as AI features such as TensorFlow, Android NN (Neural Networks API).
The Khadas Edge and Khadas Captain are expected to launch in a crowdfunding campaign in August, and more information should be available on the product page by then.
Join 97,426 other subscribers

Archives