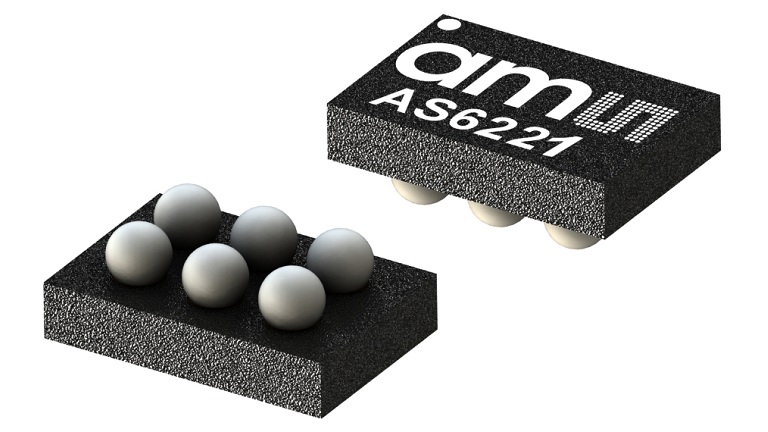 Accurate Digital Temperature Sensor? Meet the AMS AG AS6221
Temperature sensors, alone, or on their own, have infinite applications, however, one of the challenges typically experienced with their use is the varying degree of accuracy obtainable with the sensors available in the market. Adding to the growing list of precision temperature sensors in the market, Austria based sensor manufacturer ASM AG recently introduced the AS6221 temperature sensor.
The AS6221 is a highly accurate digital temperature sensor with accuracy levels of up to 0.09 °C, which is around the usual ideal accuracy level desired for applications that require high-performance thermal information.
A complete digital sensor system, the AS6221 requires no calibration or linearization and comes in an ultra-small form factor (WLCSP 1.5 x 1.0 mm) that enables accurate body/skin temperature measurements in health and lifestyle monitoring products. Design with the current standards in mind, in addition to the high accuracy and the small form factor, the AS6221 also offers very low power consumption which makes it ideal for battery-based applications, with a current consumption of around 6μA for 4 samples per second (SPS) measurement.
AS6221 has 4 different automatic data acquisition modes and communication with connected MCU is over dedicated I2C interfaces.

Some highlight features of the sensor include:
High-temperature accuracy of ±0.09 °C (20…42 °C)
Ultra-low-power consumption: 6 µA at 4 SPS (typ.) and 0.1 μA in standby (typ.)
Small form factor WLCSP package: total size 1.5 × 1.0 mm
No calibration or linearization required
A fully-digital system with up to eight I²C addresses
Programmable Alert OUT pin:
No need to constantly poll the sensor
Best-in-class accuracy
Space-saving with ultra-small integration size
Superior power efficiency for better battery endurance
Easy-to-use solution for fast go-to-market
Enables multi-device application development
Easy to integrate with a standard serial bus connection
Alert functionality for advanced system power reduction
The application of the S6221 cuts across all fields including medical, wearables, mobile health, fitness trackers, and all sort of electronic devices.
To make working with the AS6221 easy, ASM has created an evaluation kit to give developers an opportunity to experiment with the sensor and develop firmware for use in their project. The board features the AS6221 temperature sensor, along with a decoupling capacitor, and pull-up resistors. It also comes with jumpers that make it easy to set the eight I²C addresses of the sensor. A 5×1 pin header with a 2.54 mm pitch offers all necessary interfaces to connect the adapter board to your application processor. The evaluation board is listed on ASM's website with the order code AS6221-EK.
More information on the sensor can be found on the product page on AMS's website.
Join 97,426 other subscribers

Archives