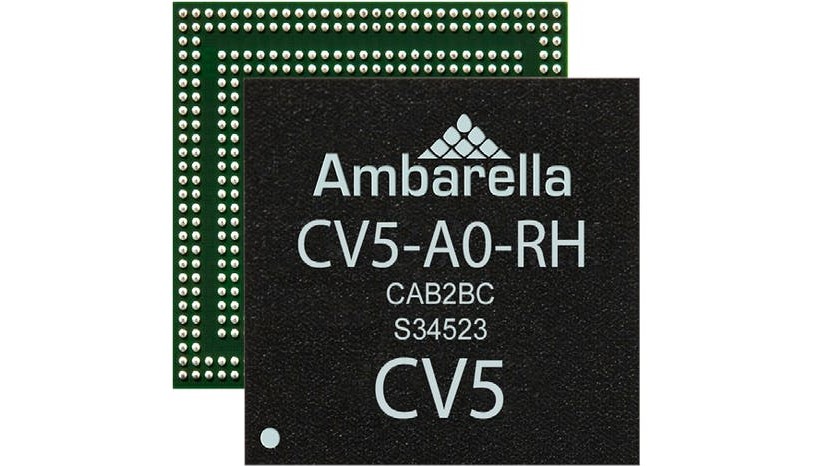 Ambarella CV5 AI Vision SoC for Low Power Computer Vision Applications
Ambarella announced the CV5 AI Vision SoC for AI applications using its specialized computer vision technology. The AI Vision SoC features 8K video or 4K video processing along with video encoding/decoding, and CVflow computer vision processing in a single, low-power design. The SoC is fabricated using 5nm technology and allows the development of intelligent automotive camera systems, consumer cameras (drone, action, and 360°), and robotic cameras.
Talking about its low power design, the SoC can function below 2W for 8K video recording at 30 fps, and below 5W for 8K video recording at 60 fps. The CVflow architecture of the device offers the DNN (Deep Neural Network) processing hence, compatible for intelligent cameras in numerous AI applications.
The target applications of the SoC include sports and robotics cameras. It also offers advanced image processing for VR cameras. It supports multi-channel drive recorders and data loggers. The SoC is expected to grow in the automobile industry for ADAS systems with multiple cameras for driver assistance. This includes lane departure warning, forward collision warning, and driver monitoring.
Key Features of CV5 AI Vision Processor
High-Efficiency Video Encoding with H.265 and H.264 video compression
Flexible multi-streaming capability and 8KP60 video performance
Multiple CBR and VBR bit rate control modes for encoding
CNN / DNN-based processing for detection and classification
Computer Vision engine for conventional CV operations
CNN toolkit for easy porting of neural networks implemented in Caffe, TensorFlow, PyTorch, or ONNX frameworks
Advanced image processing includes multi-exposure HDR and EIS
LED flicker mitigation and 3D motion-compensated temporal filtering (MCTF)
RGGB / RCCB / RCCC / RGB-IR / monochrome sensor support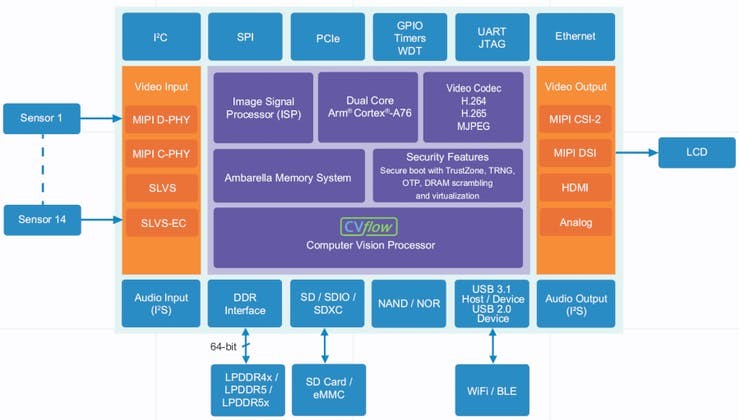 The image signal processor (ISP) of the SoC can perform imaging in low-light conditions. Also, the high dynamic range (HDR) processing functions for optimized withdrawal of image details in high contrast conditions. "The CV5's CVflow architecture provides computer vision processing at full 8K, enabling image recognition over long distances, with high accuracy."
"The SoC also combines Ambarella's powerful CVflow AI engine with dual Arm A76 CPUs to provide the performance necessary for a wide range of AI-based algorithms. CV5's CVflow AI engine can accelerate simultaneous localization and mapping (SLAM), path planning, and obstacle detection, and avoidance algorithms for navigation and autonomous operation."
For using customized neural networks for dedicated use cases there on the CV5 AI Vision SoC, Ambarella's software development kit offers a complete set of tools for software and AI implementation. This development kit is also compatible with the company's previous version CV28M SoC. The software ecosystem includes a compiler, debugger, and support for various ML frameworks, such as PyTorch, ONNX, Caffe, and TensorFlow.
For more information visit the official company page. Currently, the pricing information of the SoC is not available. Images and technical specifications have also been taken from the company page and announcement.
Subscribe to Blog via Email
Join 97,590 other subscribers
Archives