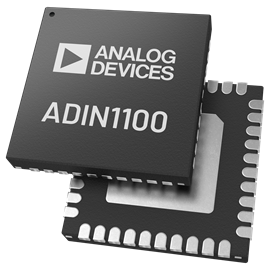 Analog Devices launched two Ethernet chips for up to 1.7km distance communication
Ethernet cables are commonly applicable in local area networks (LANs) and wide-area networks (WANs). The ethernet cables support higher bit-rates and longer link distance than other wired LAN technologies such as ARCNET and Token Ring. Ethernet cables are practical when wiring your house. But if you want to connect corporate campuses with them, fiber optics are a better choice to get around the limits of Ethernet cable. There are a few different versions of ethernet cable, but they all have a maximum distance of 90-100 meters. This limit is because the faster we push data, the more sensitive the data becomes to degradation. With lower bit rates up to 100 Mbps or 10 Mbps, we can get a much longer cable. Ethernet cables with a bandwidth of 100 Mbps are tested to go further at 400+ feet with no errors.
A new ethernet physical layer standard (IEEE 802.3cg-2019) was approved by the IEEE on November 7, 2019, to allow for cables over one kilometer using a single twisted-pair cable. These new variants of ethernet cables support ten megabits per second Ethernet over a single twisted pair. The 10BASE-T1L ethernet standard is preferred for long-range industrial IoT applications as well as short-distance applications where substantial electrical noise is present.
Analog Devices has launched two 10BASE-T1L Ethernet chips with ADIN1100 Ethernet PHY and ADIN1110 Ethernet MAC-PHY. The chips are compliant with the IEEE 802.3cg Ethernet standard. The ADIN1100 is a robust low-power single port 10BASE-T1L transceiver designed for long-range industrial applications.
It integrates an Ethernet PHY core with all the associated analog circuitry, input and output clock buffering, the management interfaces control register and subsystem registers, and the MAC interface and control logic to manage the reset and clock control and pin configuration. The chip has 1V peak to peak operation mode, independent Rx/Tx pins, external termination resistors for intrinsic safety applications.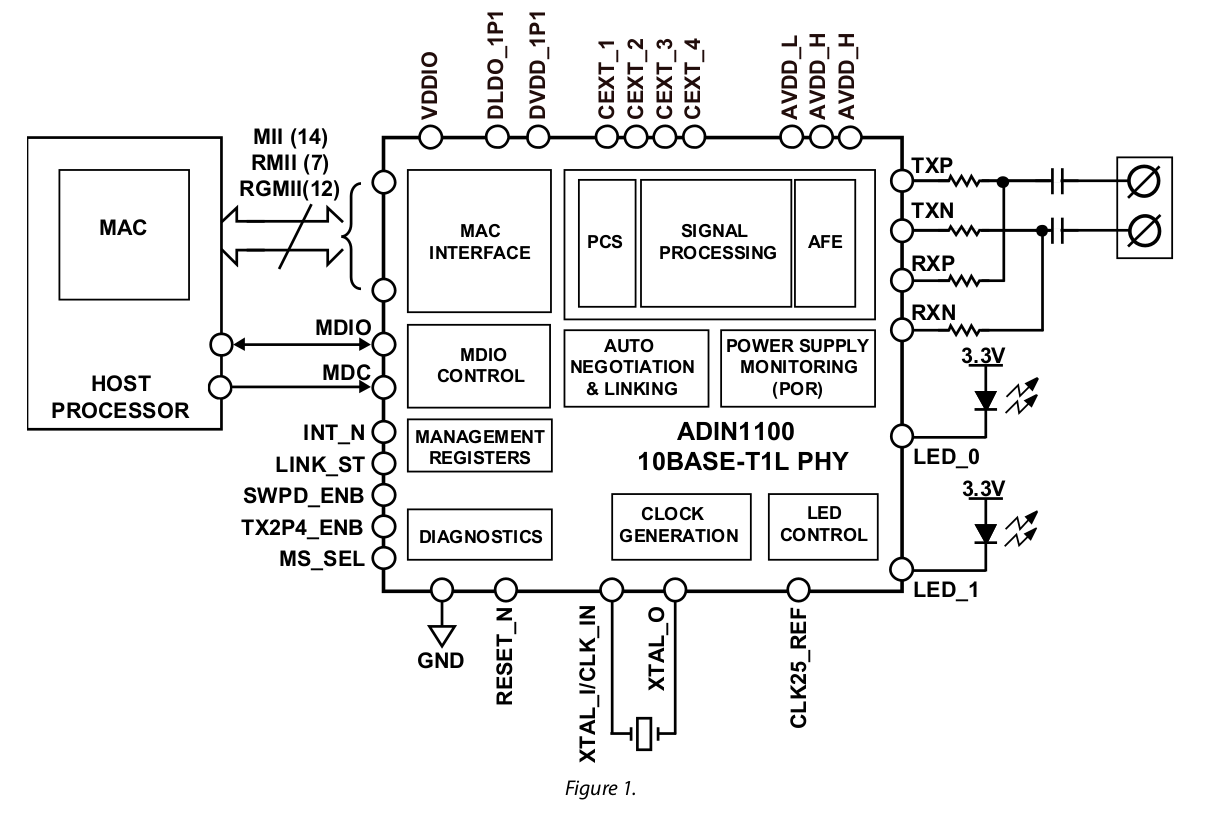 ADIN1100 features:
10BASE-T1L IEEE® Std 802.3cg-2019™ compliant
Supports 1.0 V pk-pk & 2.4 V pk-pk transmit levels
Auto-Negotiation capability
Supports intrinsic safety applications
MII, RMII & RGMII MAC interfaces
MDIO Management Interface
Unmanaged configuration using pin strapping including:

Master/Slave selection
Transmit amplitude
PHY address

25 MHz crystal oscillator/25 MHz external clock input (50 MHz external clock for RMII)
Single supply 1.8 V/3.3 V operation (model dependent)
EMC test standards

IEC 61000-4-4 electrical fast transient (EFT) (±4 kV)
IEC 61000-4-2 ESD (±8 kV contact discharge)
IEC 61000-4-2 ESD (±15 kV air discharge)
IEC 61000-4-6 conducted immunity (10 V)
EN55032 radiated emissions (Class A)

Cable Reach

1700 meters+ with 1.0 V pk-pk
1700 meters+ with 2.4 V pk-pk

Low power consumption

Single supply 1 V pk-pk – 45 mW typ
Dual supply 1 V pk-pk – 39 mW typ
Single supply 2.4 V pk-pk – 109 mW typ
Dual supply 2.4 V pk-pk – 81 mW typ
Triple supply 2.4 V pk-pk – 75 mW typ

3.3 V/2.5 V/1.8 V MAC interface VDDIO supply
Integrated power supply monitoring and POR
Start of packet detection for IEEE 1588 timestamp support
Diagnostics

Frame Generator and Checker
Multiple Loopback Modes
IEEE Test Mode Support
Cable Diagnostics

Link/Activity LED
Small package 40-lead (6 mm x 6 mm) LFCSP
Industrial temperature range -40°C to 105°C
The ADIN1100 transceiver chip enables up to 1.7km long ethernet cables for applications like Process Control, Factory Automation, and Building Automation. The ADIN1100 is available in a 6 mm x 6 mm 40-lead package. Further, no additional software, no customized TCP/IP stack and no special drivers are necessary for 10BASE-T1L ethernet cables.
More information about the chip is available on the ADIN1100 product page.
Join 97,426 other subscribers

Archives