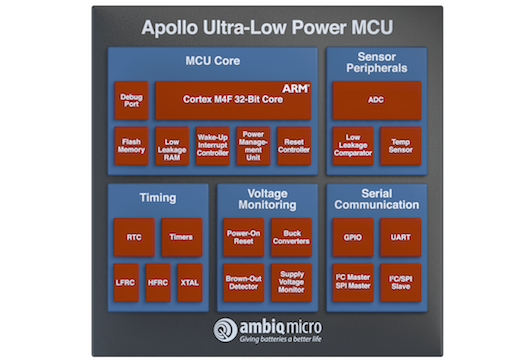 Ambiq Micro, the leader in ultra-low power solutions, launched  the Apollo 2 Wearables and IoT Platform. The Platform offers breakthrough power consumption of under 10 μA/MHz, which allows for double the battery life in wearable devices. Apollo 2's performance will lead to longer battery life, enhanced intelligence and improved functionality in wearables and IoT consumer electronics (CE) products. Ambiq Micro's Apollo 2 Platform provides dramatic reductions in energy consumption through its patented Subthreshold Power Optimized Technology (SPOT™) technology.
"The incredible pace of Moore's Law disrupted computing every year or two and took us from room-sized supercomputers to billions of pocket-sized mobile phones," said Scott Hanson, founder and CTO, Ambiq Micro. "Ambiq Micro's SPOT technology will bring a similar pace of innovation to the IoT. As the foundation of our Apollo MCU, SPOT allows us to drive energy consumption below what we previously imagined was possible. With Apollo 2, we extend the SPOT technology to achieve new efficiencies for the next wave of IoT and connected devices."
Apollo 2 MCU key features and specifications
Ultra-low supply current

<10 μA/MHz executing from flash at 3.3 V

<10 μA/MHz executing from RAM at 3.3 V

ARM Cortex-M4 Processor up to 48 MHz with FPU, MMU, wake-up interrupt controller with 32 interrupts

Ultra-low power memory

Up to 1 MB of flash memory for code/data

Up to 256 KB of low leakage RAM for code/data

16kB 1 or 2-way Associative Cache

Ultra-low power interface for off-chip sensors

14 bit, 15-channel, up to 1.2 MS/s ADC

Voltage comparator

Temperature sensor with +/-2ºC accuracy

Serial peripherals – 6x I2C/SPI master,1x I2C/SPI slave,2x UART, PDM for mono and stereo audio microphone

Clock sources

32.768 kHz XTAL oscillator

Low frequency RC oscillator – 1.024 kHz

High frequency RC oscillator – 48 MHz

RTC based on Ambiq's AM08X5/18X5 families

Wide operating range – 1.8-3.6 V, –40 to 85°C

Package –  2.5 x 2.5 mm 49-pin CSP with 34 GPIO; 4.5 x 4.5 mm 64-pin BGA with 50 GPIO
You can check the product page to know more about Apollo2, but for further information and documentation you have to contact Ambiq Micro.
Source: Ambiq Micro, CNXSoft