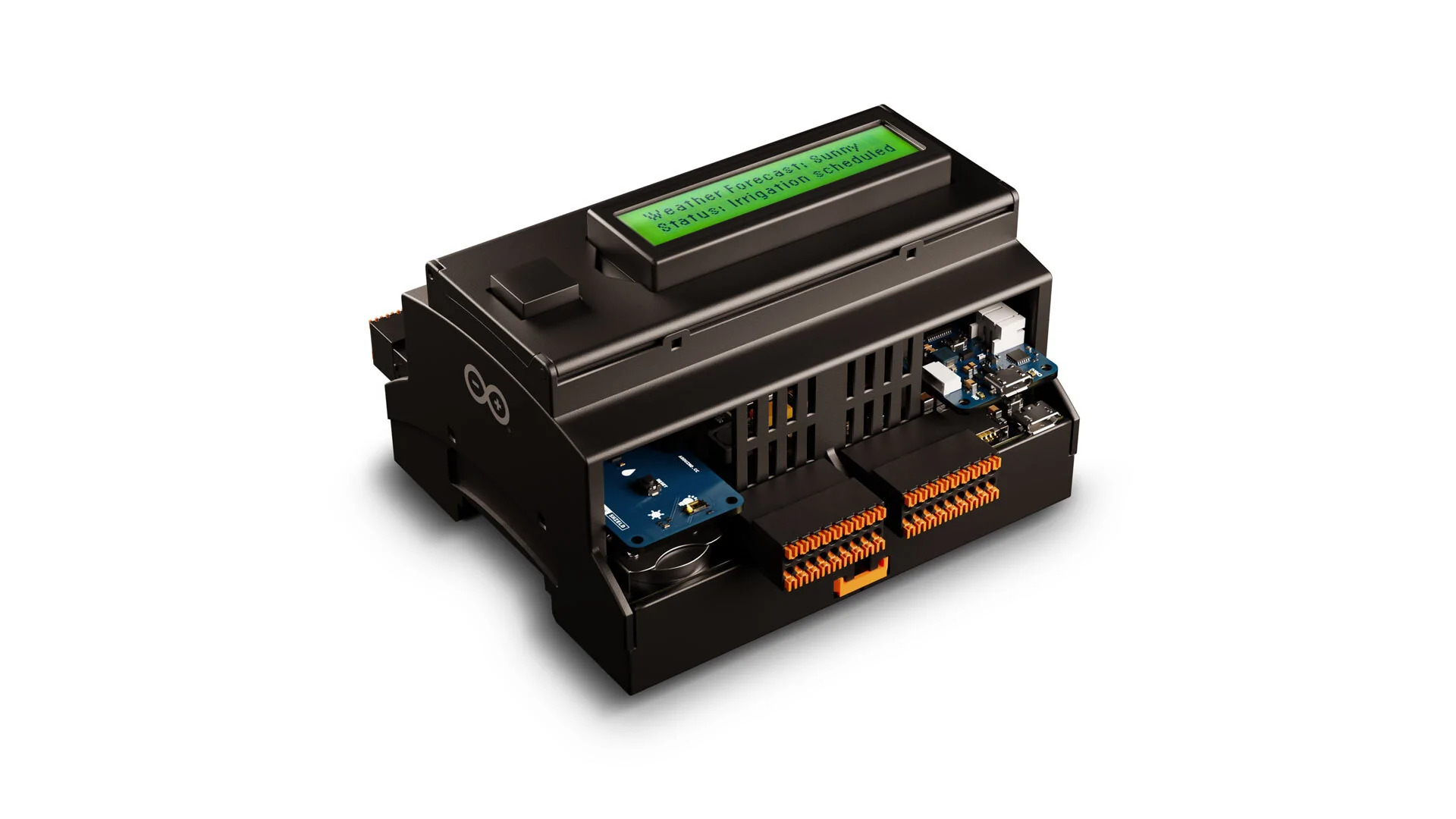 Arduino Edge Control Enclosure Kit is IP40-certified and fits DIN rail
After more than a year of Arduino Edge Control introduction, the team has unveiled an enclosure kit, which is IP40-certified and compatible with DIN rails, to make it easy to fit into any standard rack. The edge control enclosure kit will be operating at industrial temperature ranges of -40°C to +85°C and does not require any external cooling system. The cover is IP40-rated which means it protects the edge control against solid objects of over 1 mm. Also, the enclosure kit includes a breakout board with an LCD display and a push-button so that the developer can use this to display data in the 2×16 LCD display and interact through the push-button.
Arduino Edge Control is designed for precision farming, smart agriculture, and other applications that require intelligent control in remote areas. Hardware supports power to be supplied through solar panels and DC inputs. The hardware platform can be controlled using Arduino Cloud or third-party services of your choice for various connectivity options. Arduino Edge Control features built-in Bluetooth wireless connectivity and other options can be expanded with 2G3/3G/CatM1/NB-IoT modems, LoRa, Sigfox, and Wi-Fi by adding MKR boards.
Specifications of Edge Control Enclosure Kit:
Type: Arduino Edge Control Enclosure Kit
Standard: IP40-certified
Mounting system: DIN rail
Operating temperature: -40°C to +85°C
Weight: 165 grams
Dimensions: 11x9x6 mm
Breakout:

LCD: 2×16 pixels
Button type: Push-button
Flat cable: IDC cable wires both display and push-button
Arduino Edge Control comes with an nRF52840 microcontroller featuring Arm Cortex-M4F clocked up to a frequency of 64MHz. The integrated memory is 1MB onboard flash and 2MB onboard QSPI flash memory with an interface for SD card connector through expansion port only. The peripherals include full-speed 12Mbps USB, Arm CryptoCell CC310 security subsystem, high-speed SPI, quad SPI interface, ADC, and 128-bit AES co-processor.
Arduino Edge Control enclosure kit is available for purchase at $54.00 and more details are available on the official product page.
Subscribe to Blog via Email
Join 97,477 other subscribers
Archives