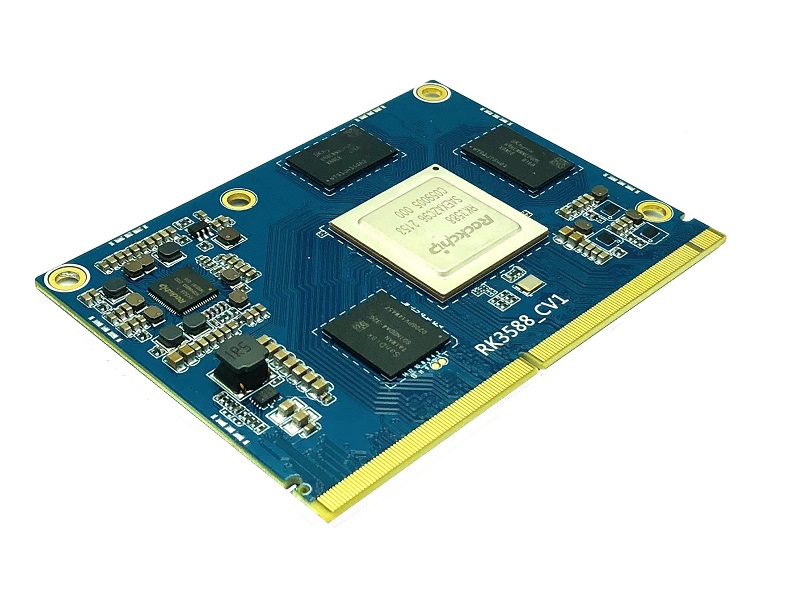 Banana Pi Announces System-on-Module with RK3588 and its Carrier Board
In simple terms, system-on-module (SoM) is an integrated printed circuited board with core components consisting of processor cores, communication interfaces, and memory blocks etc. Famously known as the Raspberry Pi (RPi) Compute Module (CM) is an SoM that can be interfaced on a suitable carrier board depending on the target applications. Similar to the RPi CM, Banana Pi has unveiled a new system-on-module integrated with the Rockchip RK3588 and requires a carrier board for input/output interfaces.
Rockchip RK3588 is a low-power, high-performance processor for edge computing devices that integrated a quad-core Cortex-A76 and a quad-core Cortex-A55 processor core with a separate NEON co-processor. The Arm Cortex-A76 has a big CPU cluster for high performance and the Arm Cortex-A55 has a smaller cluster that is optimized for low power. For image signal processing, the SoC comes with a hardware-focused 48-MP ISP to implement algorithms such as HDR, 3A, LSC, 3DNR, sharpening, fisheye correction, gamma correction and many more.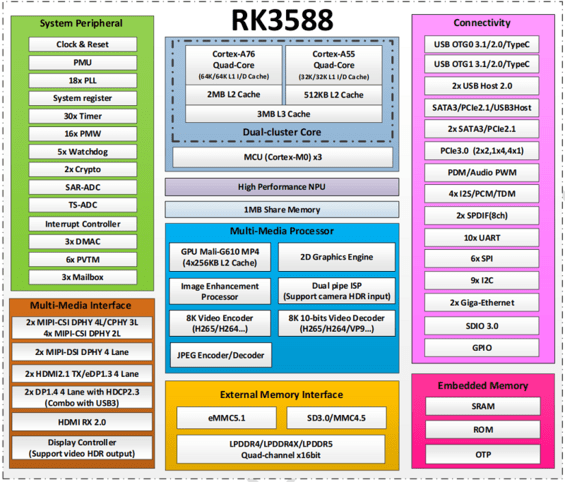 In terms of video processing, the hardware will provide optimized high-performance through the support for H.265 and VP9 decoder by 8K at 30/60 frames per second, H.264 decoder by 8K at 30/60 frames per second and AV1 decoder by 4K at 60 frames per second. The embedded ARM Mali-G610 GPU makes the hardware compatible with OpenGLES 1.1, 2.0 and 3.2, OpenCL up to 2.2 and Vulkan 1.2. The built-in NPU has a computing power of up to 6TOPs supporting a series of frameworks such as TensorFlow, MXNet, PyTorch, and Caffe.
For high-performance, the system-on-module will support a range of LPDDR4 RAM– 2GB, 4GB, and 8GB, while for eMMC flash storage, you can get 32GB, 64GB, and 128GB options. The top version with 8GB LPDDR4 RAM and 128GB storage will make the SoM outperform many of the existing boards in the market, making it optimum for high-end edge computing applications. To provide all the I/O connections, the SoM will fit on the carrier board that will be shipped with 3x HDMI ports (possible 2x for video output and 1x for video input), 1x USB 3.1 port, 2x USB 2.0 ports, 1x USB Type-C port, and a MicroSD card slot. For interfacing camera and display, there is MIPI CSI and DSI interfaces while for increasing the storage, a horizontal PCIe slot is present.
We don't have a clear picture about wireless connectivity, however, CNX-Software notes that
"I can also see what looks like WiFi + Bluetooth module plus three u.FL antenna connectors."
On the software side, Banana Pi will provide Android 12.0 and Linux BSPs for the RK3588 SoM and development kit.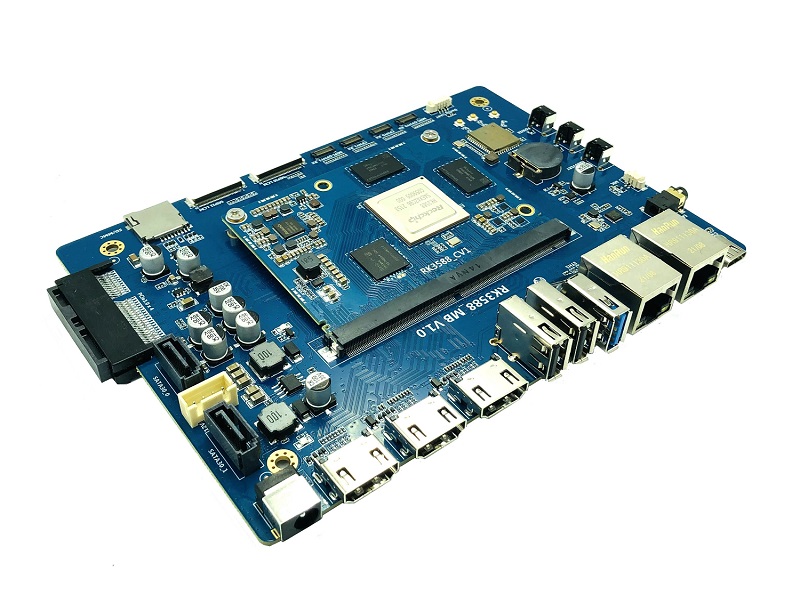 Analysis
As one of the latest Rockchip SoC, it was obvious to see an SoM with Rockchip RK3588 system-on-chip, unlike, we recently covered the Orange Pi 4 LTS design that comes with the early Rockchip RK3399 SoC. For a long-time, after the release of RK3588 SoC there was no datasheet and intricate information on the CPU and GPU benchmarks, but at the Rockchip Developer Conference 2021, the manufacturer provided more information as spotted by CNX-Software. This gives us a sense of understanding that Rockchip expects more attention around the RK3588 system-on-chip, as recently we witnessed Radxa Rock5 Model B.
At the end of the announcement, Banana Pi claims the hardware samples to be ready, but the BSP is still in the development process. Understanding the complex RK3588 system-on-chip, we are expecting a decently more time for the hardware to hit the market with the earliest being Q3/Q4 2022. Since it's a long way from the market launch, we do not have any information on the pricing.
Join 97,426 other subscribers

Archives