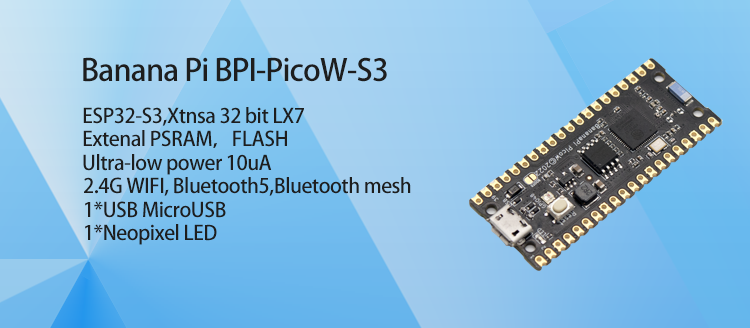 Banana Pi BPi PicoW-S3 ESP32-S2 Board Launches for $5.5
SinoVoip Co, the company behind some of the most recent microcontroller boards including the Banana Pi BPi Leaf-S3, has just launched a new Banana Pi's BPI-PicoW-S3 low-power board designed for IoT development.
The $5.50 IoT board is based on Espressif System ESP32-S3 MCU – a dual-core XTensa LX7 processor capable of running at 240 MHz and integrated with 512 KB internal SRAM, 2.4 GHz WiFi 4 and Bluetooth 5 connectivity. The board also features an on-chip 320 KB RAM, one micro USB slot, up to 27x GPIOs, one Neopixel LED, one temperature sensor, a wide variety of interfaces and support for Arduino and Micropython.
The new Banana Pi BPi Pico W-S3 board looks like one of Raspberry Pi's full-fledged mini PCs, the Raspberry Pi Pi Pico W IoT board launched earlier this year. You can call take them as perfect alternatives to each other especially as they have almost the same size and shape despite being powered by different processors. The Banana Pi Pico W-S3 measures 51.88 by 21.03 mm while its Raspberry Pi variant measures 51.3 by 21 mm — close enough to be roughly interchangeable in hardware applications.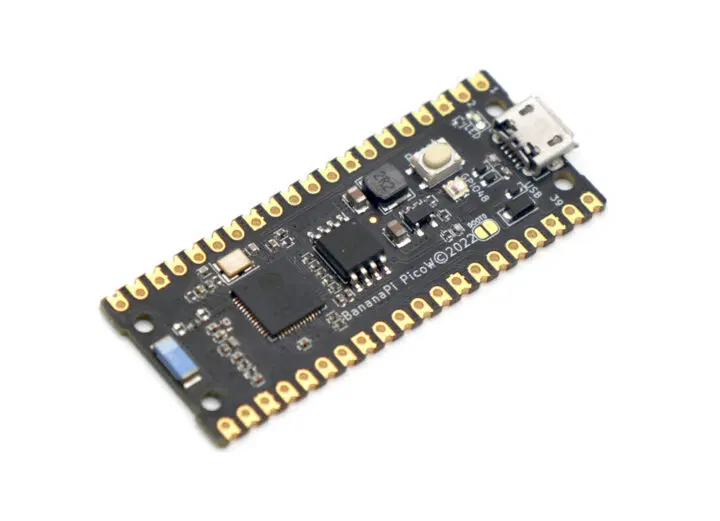 Here are some of the key features and specifications of the BPi Pico W-S3 Board:
Processor: 32-bit ESP32-S3 dual-core Tensilica LX7 up to 240 MHz
On-chip 384 KB ROM
On-chip 320 KB RAM
Onboard 2MB Flash ROM
On-chip 8MB PSRAM
2.4 GHz 802.11 b/g/n WiFi 4
Bluetooth 5.0 and Bluetooth Mesh with long-range support, up to 2Mbps data rate.
Support for 8-bit to 16-bit DVP image sensor interface
Support for 8-bit to 16-bit parallel RGB
1x micro USB
Up to 27x GPIOs including 8x 14-bit PWM, 18-bit analog inputs, 14x Touch, 2x MCPWM, 3x UART, 4x SPI, 2x I2C, 2x I2S, and 1x SDIO host interface
1x Neopixel LED
1x Temperature Sensor of -20°C to 110°C
40 MHz external crystal
Secure boot and flash encryption
Power: 3.3V to 5.5V; 10uA
Operating Temperature: -40°C to 85°C
Dimensions: 21 mm x 51.88 mm
Operating System: ESP-IDF, Arduino, Micropython
The table below shows how the Banana BPi Pico W-S3 compares with the Raspberry Pi Pico W and the Banana Pi BPi Leaf-S3:


Further details on the Banana Pi BPI-PicoW-S3 board are available on AliExpress where the board is currently selling for $5.50. The board ships for an extra $10 for customers in the United States and $6 for those in South East Asia.
Join 97,426 other subscribers

Archives