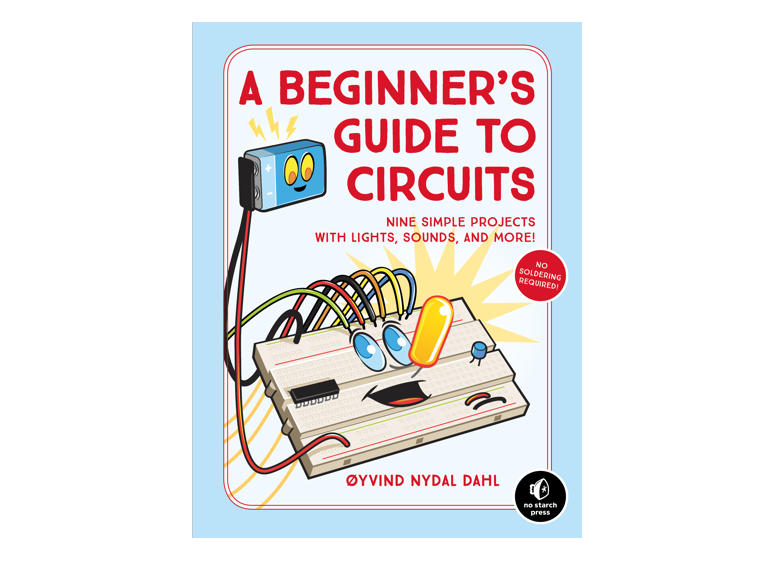 A Beginner's Guide to Circuits
First steps in circuit design for the budding electrical engineer.
San Francisco, CA (October 25, 2018)—A Beginner's Guide to Circuits ($17.95, 80 pp., October 2018) introduces beginners to the magic of electronics. With easy-to-follow instructions, it's sure to be the perfect book for young readers who want to understand the everyday electronics around them and gain the skills and confidence needed to venture into more advanced STEM projects.
The book opens with an introduction to reading circuit diagrams that shows readers how to connect components on a breadboard, a reusable board with holes for connecting circuit parts without soldering. The book's nine projects each include a parts list of inexpensive and readily available materials and a detailed diagram to orient the reader as they assemble the circuit step-by-step. Throughout the book, author Øyvind Nydal Dahl shows readers how to apply resistors, transistors, capacitors, and other components to their own circuit designs.
Readers can check their work and troubleshoot malfunctioning circuits by referring to the common mistakes section in each project. Calculations and additional diagrams at the end of chapters explain how circuit components work and ensure that readers fully understand the mechanics behind each project.
The book's projects include:
A touch-enabled light switch made from uninsulated wires
An operation-style game that teaches closed loop concepts
A blinking LED using an integrated circuit and the basics of digital electronics
A digital piano that plays four tones and uses speakers
An alarm that buzzes when the light-dependent resistor (LDR) detects light
A night-light with a circuit that turns on an LED when it gets dark
A Beginner's Guide to Circuits is sure to give readers a practical foundation in electronics that will take them further down the path from curious beginner-in-training to imaginative inventor.
Author Bio 
Øyvind Nydal Dahl built his first circuit at age 14 and has been building ever since. Øyvind has a master's degree in Electronics from the University of Oslo, helps companies develop new products, and travels the world teaching electronics workshops. He is also the author of Electronics for Kids (No Starch Press, 2016). Read more about Øyvind at http://www.build-electronic-circuits.com
About No Starch Press
San Francisco–based No Starch Press has published the finest in geek entertainment since 1994—bestsellers like Python Crash Course, Python for Kids, The Linux Command Line, How Linux Works, and Hacking: The Art of Exploitation. Our titles have personality and attitude, our authors are passionate about their subjects, and our editorial team puts every book through a rigorous process of developmental editing, tech review, design, and production
Join 97,426 other subscribers

Archives