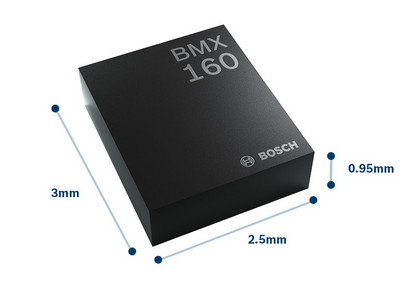 BMX160 from Bosch Sensortec, a New Smallest 9-axis Motion Sensor
Bosch Sensortec announced a new 9-axis motion sensor, the BMX160, on June 21, 2016. BMX160 targets smartphones, smartwatches and other wearables applications. It has a low power consumption (580 μA), which is proper for long working time on battery for this type of applications, also BMX160 is fully Android Marshmallow compliant.
BMX160 integrates 3-axis accelerometer, gyroscope and geomagnetic. This new sensor comes in 14-pin 2.5 × 3.0 × 0.95 mm³ LGA package and Sensortec claims that it's the world's smallest 9-axis motion sensor until now.
BMX160 is fully compatible to BMI160 to easy upgrade your design from the 6-axes measurement unit to the 9-axes one. It has 1024 byte FIFO buffer and a wide VDD voltage range from 1.71V to 3.6V and a VDDIO range from 1.2V to 3.6V.
More information:
Join 97,426 other subscribers

Archives