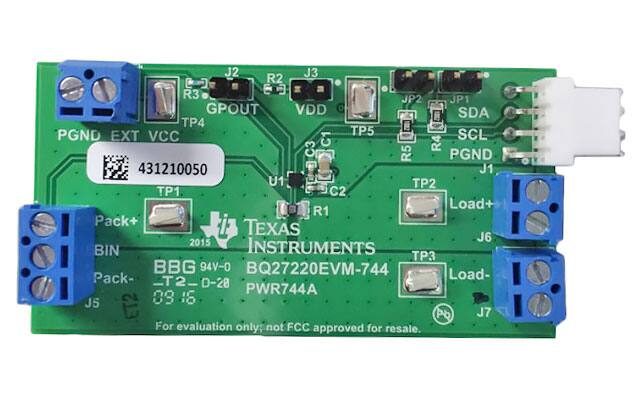 BQ27220 – Single cell pack/system-side CEDV battery fuel (gas) gauge w/pre-programmed chemistry profiles
The Texas Instruments bq27220 battery fuel gauge is a single-cell gauge that requires minimal user configuration and system microcontroller firmware development, leading to quick system bring-up. The bq27220 device uses the Compensated End-of-Discharge Voltage (CEDV) algorithm for fuel gauging and provides information such as remaining battery capacity (mAh), state-of-charge (%), runtime-to-empty (min), battery voltage (mV), temperature (°C), and state-of-health (%).
The bq27220 battery fuel gauge has ultra-low power consumption in NORMAL (50 μA) and SLEEP (9 μA) modes, leading to longer battery runtime. Configurable interrupts help save system power and free up the host from continuous polling. Accurate temperature sensing is supported via an external thermistor.
Customers can use preloaded CEDV parameters in ROM or can generate custom chemistry parameters using TI's web-based tool, GAUGEPARCAL. Custom-generated parameters can be either programmed in the device RAM by the host on power up of the system or customers can program the parameters to an onboard One-Time Programmable (OTP) memory.
Battery fuel gauging with the bq27220 device requires connections only to PACK+ (P+) and PACK– (P–) for a removable battery pack or embedded battery circuit. The tiny, 9-ball, 1.62 mm × 1.58 mm, 0.5-mm pitch NanoFree™ chip scale package (DSBGA) is ideal for space-constrained applications.
Features
Single-Cell Li-Ion Battery Fuel Gauge

Resides in Pack or on System Board
Supports Embedded or Removable Batteries
Powers Directly from Battery with Integrated LDO
Supports a Low-Value (10-mΩ) External Sense Resistor

Ultra-Low Power Consumption in NORMAL (50

 

µA) and SLEEP (9

 

µA) Modes
Battery Fuel Gauging Based on Compensated End-of-Discharge Voltage (CEDV) Technology

Reports Remaining Capacity and State-of-Charge (SOC) with Smoothing Filter
Adjusts Automatically for Battery Aging, Self-Discharge, Temperature, and Rate Changes
Provides Battery State-of-Health (Aging) Estimation

Microcontroller Peripheral Supports:

400-kHz I2C™ Serial Interface
Configurable SOC Interrupt OR Battery Low Digital Output Warning
Internal Temperature Sensor OR Host-Reported Temperature OR External Thermistor
Application Diagram

more information: https://www.ti.com/product/BQ27220
Join 97,426 other subscribers

Archives