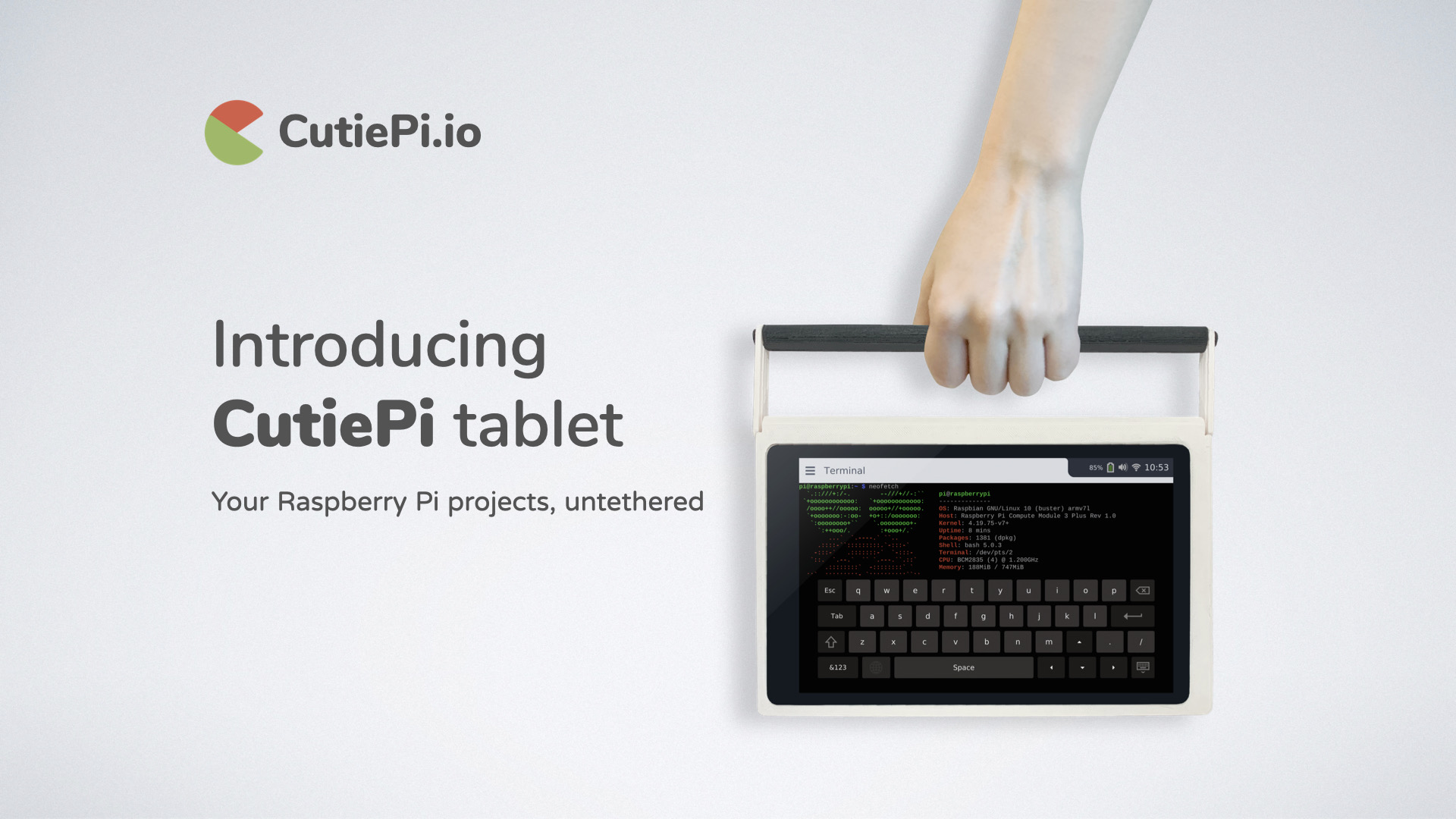 CutiePi Tablet For Your Raspberry Pi Project On The Go
CutiePi is an ultra-portable Raspberry Pi creation kit, in a tablet form factor. It is a tablet that helps you "liberate your Pi project from the desk, and start creating wherever an idea strikes you." The Taiwanese startup CutiePi, announced details about the 8-inch, Raspberry Pi Compute Module-based CutiePi tablet last year August. They have gone live on Kickstarter and they are almost meeting their $35K goal. At just 12mm thin, CutiePi is probably "the thinnest Pi tablet in the world." The battery level reading and power management features enable you to carry or recharge it like any other gadgets, and with the touchscreen and battery built-in features, there's no need to connect a keyboard, monitor or power supply to set up your Pi. About CutiePi the company says :
"We firmly believe people should have control over the technology they use. For that reason, everything about CutiePi, and we absolutely mean EVERYTHING, from the hardware design, firmware, enclosure, all the way to the user interface, is open source."
This means you can create your own flavor of the CutiePi tablet using the designs. Or build on it to make your next portable project.
The core of the CutiePi is a custom PCB, the CutiePi board. This CM3/CM3+ compatible carrier board comes with features for portable use and is a proud OSHWA-certified open-source hardware. The CutiePi features the Raspberry Pi Compute Module 3+, which has the same quad -A53 Broadcom BCM2837B0 SoC found on the Raspberry Pi 3B+. The absence of a PMIC, does not enable the 0.2GHz boost to 1.4GHz available on the SBCs, however they have some similarities like the 400MHz VideoCore IV GPU. There is a carrier board by CutiePi that enables a PMIC, and features a STM32 MCU. The CutiePi has similar features to the $25 "Lite" version of the CM3+. It enables 1GB LPDDR2 RAM. There is no flash memory however, it is equipped with circuitry for connecting to a microSD slot, which acts as the major storage connector on the CutiePi. The single USB 2.0 host port can serve as an auxiliary connector for storage.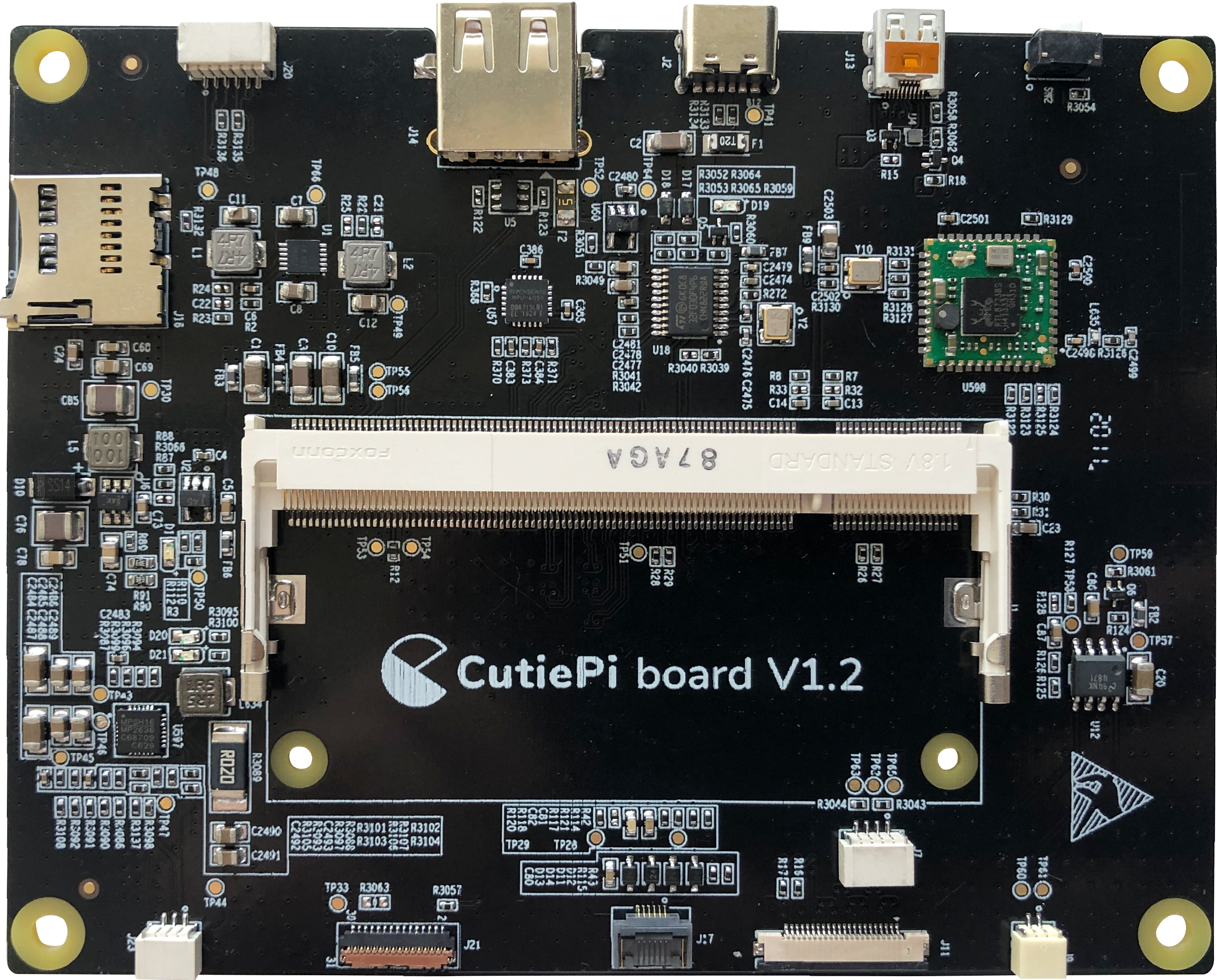 At 213 x 134 x 12mm in footprint, the tablet has an 8-inch, 1280 x 800, IPS screen with 5-point multi-touch capability. This makes it lighter than conventional tablets, and easy to carry around. The tablet is equipped with 5000mAh battery that charges via a USB Type-C port and has a battery life of up to five hours when set to 50 percent brightness, and with Wifi connection. The tablet is further equipped with a micro-HDMI port, 6x GPIO pins, 802.11b/g/n with Bluetooth 4.0, and a handle that also serves as a stand. It also features a 5-megapixel camera, a gyroscope, a 2W speaker, and a sleep/wake button. It provides everything you need on the go: from typing a command in terminal, connecting to a WiFi hotspot, to logging into webpages. For OS support, they say:
"Other than built-in apps and UI designed for the touch screen, we plan to support Raspberry Pi OS desktop and apps via XWayland."
The CutiePi is available on Kickstarter, and funding ends by Aug 14. The $169 and $179 early bird package is no longer available, but you can get the overslept bird for $189 before the price is increased to $199. Retail price goes for $229. Available also is a $89 package that offers two of the tablet's carrier boards without the Raspberry Pi CM3+ modules. Shipping should start in Q4 2020. "Shipping fees will be calculated and charged after the campaign. You can confirm the actual costs, including shipping, using Kickstarter's "Manage your pledge" function, before finalizing your orders."
You can find more information may be found on the Kickstarter page and CutiePi website.
Subscribe to Blog via Email
Join 97,902 other subscribers
Archives