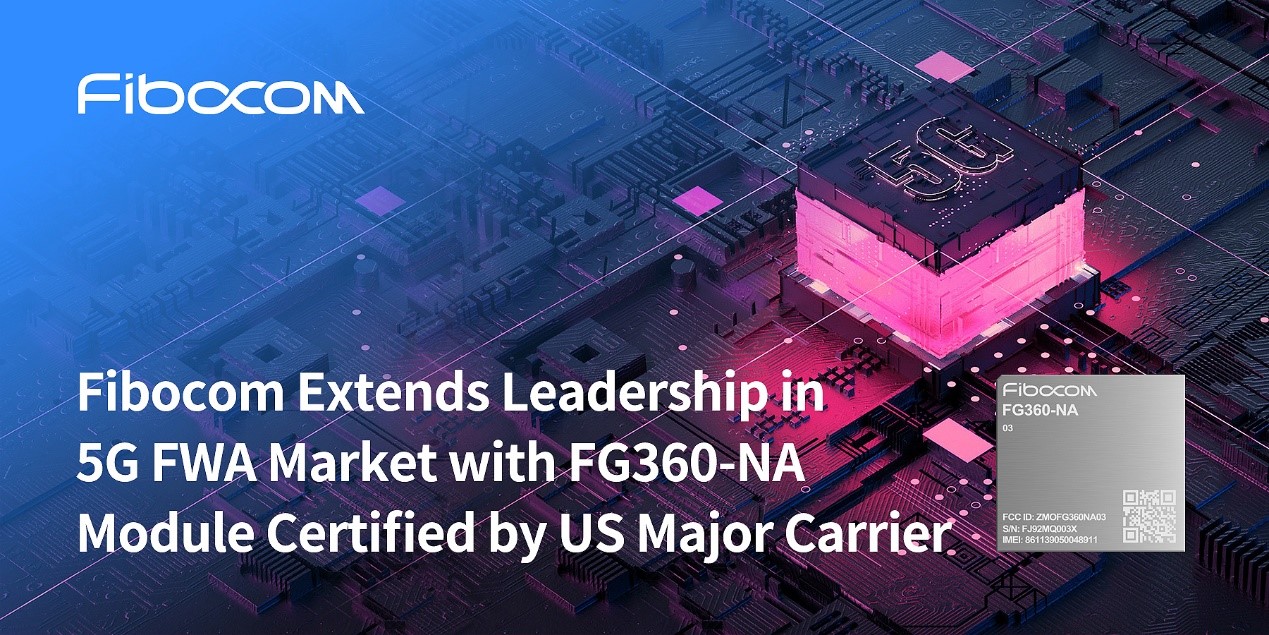 Fibocom Extends Leadership in 5G FWA Market with FG360-NA Module Certified by US Major Carrier
Fibocom, a global leading provider of IoT (Internet of Things) wireless solutions and wireless communication modules, announces that its 5G module FG360-NA has been successfully certified by a US major carrier. The module is now qualified to provide wireless connection services under the US 5G network, which accelerate the deployment of 5G FWA (Fixed Wireless Access) in the US market.
The 4G and 5G frequency bands in North America are diverse, the CA and ENDC of which are complex, and operator certification requirements are strict. Having overcome numerous difficulties and challenges, Fibocom's R&D and certification department has completed relevant regulations and carrier certification in 4 months. With the certification, the Fibocom FG360-NA module is able to empower a wide range of IoT applications by leveraging the high bandwidth and low latency 5G network, including FWA (CPE, ODU, gateway, router), MIFI, etc. Specially, the module supports full FWA software turnkey, realizing seamless plug-in and easy use.
"We are proud to see our 5G module FG360-NA receiving the certificate. The module is now fully capable to be deployed in the US IoT market, boosting the commercialization of 5G FWA at scale. Fibocom will continue to enable industry digital transformation with our advanced 5G technology." said Gene Santana, VP of Overseas Carriers Certification Dept., Fibocom.
According to a recent GSA report, the numbers and types of 5G devices announced and launched has increased rapidly, among which FWA CPE account for the second largest proportion. 5G FWA, with an average marketed speeds of 648 Mbps, has become one of the main options for operators worldwide to develop home broadband services. Fibocom is optimistic about the development potential of 5G FWA worldwide, and its 5G module FG360-NA has taken the lead in the 5G FWA market, supporting major overseas 5G Sub-6 and 4G frequency bands such as n66, n71, n77 and n78.
Based on the World's 1st FWA CPE customized 5G SOC chipset, MediaTek T750, Fibocom's FG360-NA module supports 5G NR Sub-6 band with up to 4.67 Gbps on the downlink and 1.25 Gbps on the uplink theoretically, enabling exciting 5G speed experience. It is worth noting that, integrated with MediaTek T750, the FG360-NA module has high integration and excellent performance that cover global main frequency band & ENDC (with NA and EAU Skus). Supporting 5G standalone network (SA) and non-standalone (NSA) network architectures, the module is also backward compatible with LTE/WCDMA network standards, which helps to reduce investment complexity in the initial stage of 5G construction.
Coming with a built-in quad-core & 2 GHz ARM Cortex-A55 CPU, Fibocom's FG360-NA module supports 5G Sub-6GHz 2CC CA (Carrier Aggregation) 200MHz frequency to improve the utilization of spectrum resources and ensure an extended 5G coverage. In addition, supporting Wi-Fi 6 AX1800/ AX3600 (Main stream)/ AX4200/ AX6000 configuration, the FG360-NA module allows end devices to enjoy the full benefits of high-speed 5G + Wi-Fi 6 connectivity. The module also supports GNSS, including GPS, GLONASS, Beidou, Galileo and QZSS.
The Fibocom 5G module FG360-NA has a rich extension of interfaces including 2.5Gbps SGMII, USB 3.1/3.0/2.0, PCIe 3.0, GPIO, I2S, UIM and so on. At present, Fibocom's FG360 module series has been globally certified by FCC/ CE/ PTCRB, and the commercial samples of FG360 are ready for massive production.
For more information, please visit:
Resources
Join 97,426 other subscribers

Archives