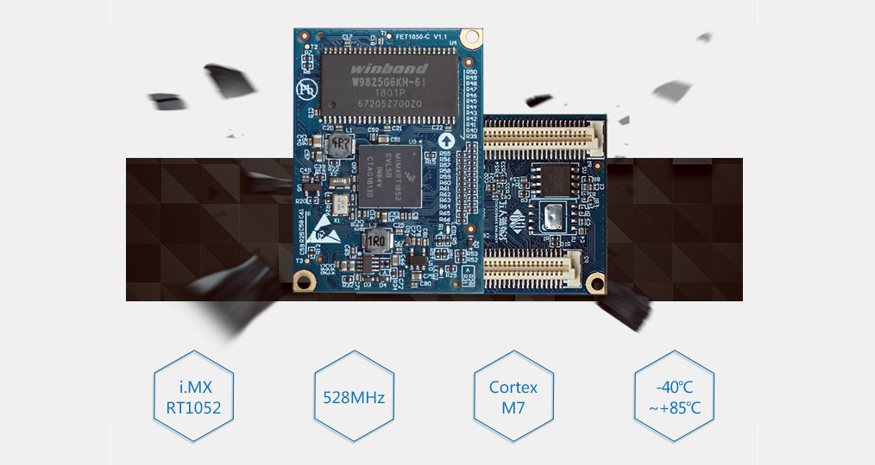 Forlinx OK1052-C Board Provides Same Real-Time Capability As Found In Microcontrollers
One thing about microcontrollers that will always be respected, is their ability to consistently provide real-time processing, low power, low cost, and most importantly a lot of I/Os. They excel quite well in those aspects, and in some cases they are indisputable, but when we deal with security and user interface comes into play, this is usually out of the question and designers usually result to an application processor which provides extreme performance but might also have some drawbacks.
How do we bring the best of both worlds together? Bridge the gap between performance and usability? Well, NXP launched the i.MX RT Series Crossover Processor family. The i.MX RT Series is the industry's first crossover processor, offering the highest performance Arm®Cortex®-M core, real-time functionality, and MCU usability at an affordable price. A  real-time response with latency as low as 20ns is what you get with these crossover processors.
The Forlinx Embedded OK1052-C board is a production-ready commercial solution that leverages the NXP i.MX RT series crossover processors. At the core of the Forlinx OK1052 is the NXP Cortex-M7 crossover processor i.MX RT1052 belonging to i.MX RT1050 series MCU. The i.MX RT1050 runs on the Arm®Cortex®-M7 core at 600 MHz with insane real-time response. The i.MX RT1052 processor has 512 KB on-chip RAM, which can be flexibly configured as TCM or general-purpose on-chip RAM. 16MB/ 32MB SDRAM, 4MB/ 16MB QSPI-NorFlash are optional.
Forlinx Embedded OK1052-C comes available as system-on-module and carrier board. They are both ready to be deployed in any terrain, capable of working in temperature ranges from -40℃ to +85℃ making in usable in the industry.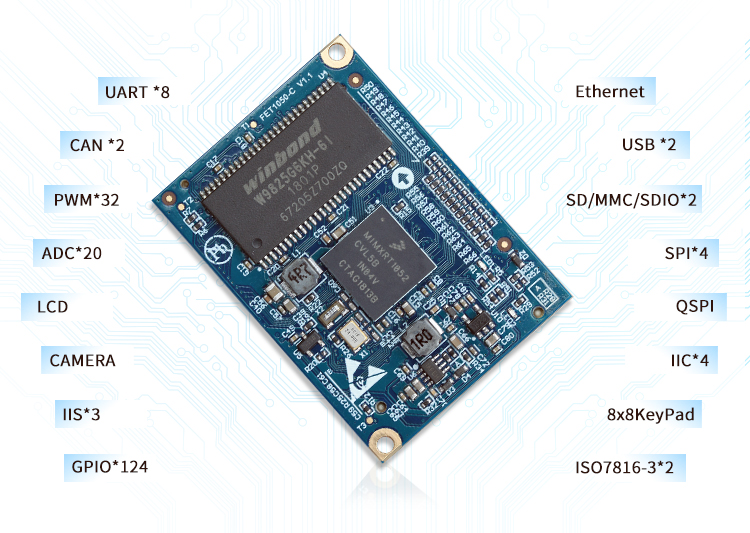 Below are the SOM (FET1052-C SoM) specifications:
SoC –  NXP i.MX RT1052 single core Arm Cortex-M7 crossover processor @ up to 528 MHz with 512KB SRAM/TCM
System Memory – 16MB or 32MB SDRAM
Storage – 4MB to 16MB QSPI Nor Flash
Board to board connectors – 2x 80-pin connectors with 0.8mm pitch:

Display – 1x RGB888 LCD interface up to 1366×768 resolution
Camera – 8-bit DVB interface for a 5MP camera
Storage – Up to 2x SD or SDIO card with 1-bit or 4-bit mode
Audio – Up to 3x I2C, 1x S/PDIF
Networking – 1x 10/100Mbps Ethernet
Up to 8x UART, up to 4x host/device SPI interfaces, up to 4x I2C
Up to 32x PWM, up to 2x CAN 2.0B buses
2x 12-bit ADC up to 20 channels
8×8 keypad
Up to 2x ISO7816-3 interfaces for smart cards
1x 16-bit parallel SEMC (Smart External Memory Controller) bus
Supply Voltage – 5V
Dimensions – 43 x 31 x 1.6 mm (4-layer PCB)
Temperature Range – -40 to +85°C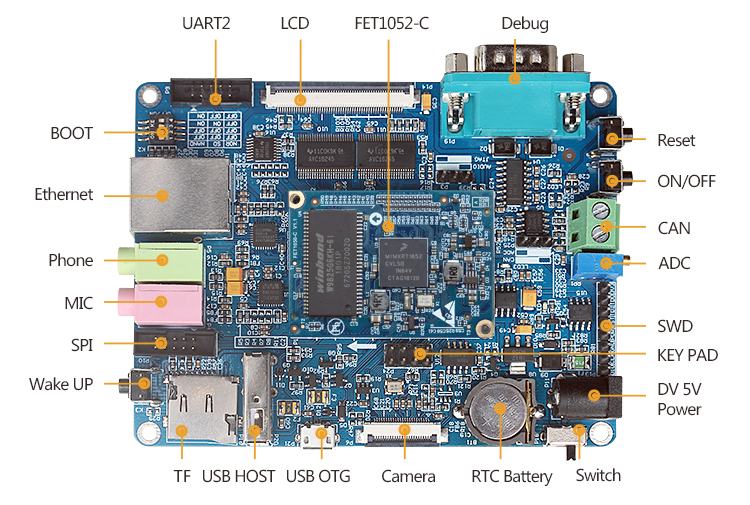 The OK1052-C Carrier Board extends out most of the device peripherals out. Below are its specifications:
Storage – Micro SD card slot, 256 bytes EEPROM
Display

LCD RGB565 I/F up to 1366×768 resolution
Resistive touch via TSC2007 chip, 4x ADC
PWM for LCD backlight

Camera – 8-bit DVP connector for 5MP camera
Audio – 3.5mm microphone and earphone jacks
Networking – 100Mbps Ethernet (RJ45)
USB – 1x USB host port, 1x micro USB OTG port
Expansion

10-pin UART2 header, a 10-pin SPI header, 8-pin keypad header; all 2.54mm pitch
CAN bus screw terminal
Resistor adjustable ADC

Debugging – RS232 DB9 connector for serial debugging, 8-pin SWD debug port
Misc – RTC + battery slot; 1x user LED; reset, wake-up and power buttons, power switch, BOOT DIP switch for booting mode selection
Power Supply – TBD via power barrel jack
The board supports uClinux, Keil IAR, ARM-GCC tools, FreeRTOS, ARM mbed, and some other related development tools. It's believed that Forlinx Embedded provides both MCU code samples and uClinux BSP with demos for all main functions of the board to their customers.
Although the module and carrier board are available for purchase, their prices are currently not being disclosed publicly, and you will have to contact them for purchasing information and support. More information is available on the product page.
Subscribe to Blog via Email
Join 97,930 other subscribers
Archives