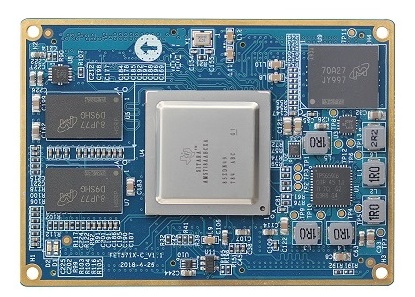 Forlinx OK5718-C comes with PRU Technology
Ever since its foundation in 2007, Forlinx Embedded Tech. Co., Ltd. has been a major manufacturer and distributor of ARM technology-based embedded products such as Single Board Computers (SBCs), development boards, and many more to major companies all over the world such as Samsung, TI, Freescale, etc. Some of their SBCs are TI (Texas Instruments) Sitara AM3354 based on OK335xS-II and the Forlinx i.MX6 SBC which are all Linux-Friendly, so there is no surprise about the release of a new board which runs Linux.
The new board is called OK5718-C and is based on the FET5718-C module which comes with a Cortex-A15 based TI AM5718 System on Chip (SoC). The Sitara based board comes in a sandwiched style and is 190mm by 130mm until the FET5718-C module is added, and then it becomes irregular due to external features sticking out awkwardly.  This implies that the FET5718-C module is an add-on.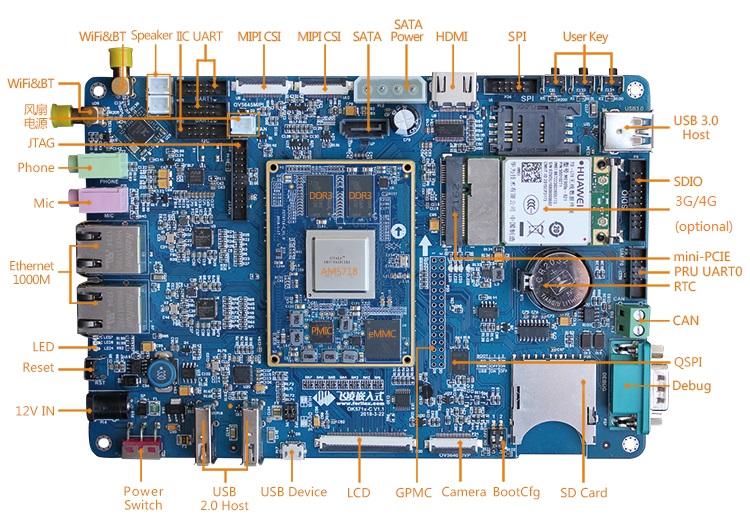 The FET5718-C module comes with a 750MHz TI DSP-C66X digital signal processor and video accelerator, and a 200MHz Programmable Real-time Unit Subsystem (PRUSS) which is impressive for systems that have real-time constraints. The presence of the module is the reason why the OK5718-C has specific features, and they include 1GB DDR3L, a power management unit, a 3-port Gigabit Ethernet switch subsystem, and 8GB eMMC.
The temperature range for the board is -40 to 85 degrees Celsius, it has two GbE ports, two micro USD  ports, an SD slot, USB  2.0 host ports, a USB 3.0 host port and even a mini-PCIe slot with optional 3G/4G. Coupled with the FET5718-C module, the single board computer supports machine vision, medical imaging, Industrial automation, Building automation, and facial recognition applications. Even Robotics applications are enabled.
Other features are an HDMI port, a CAN port, dual audio jacks, SATA 2.0 with power, DVP and 2x MIPI-CSI camera interfaces, onboard Wi-Fi and Bluetooth. Operating systems which are supported: Linux 4.9.41 plus QT5.6 and TI-RTOS, it also has a 12-layer EINT PCB designing.
Specifications of the board are given below:
Processor (via FET5718-C module) — TI Sitara AM5718 (1x Cortex-A15 core @ up to 1.5GHz; PowerVR SGX544 3D GPU; Vivante GC320 2D GPU; 750MHz TI DSP-C66X; IVA-HD image/video accelerator; 200MHz PRU-ICSS; 2x 213MHz Cortex-M4
Memory/storage:

1GB DDR3L (via FET5718-C)
8GB eMMC (via FET5718-C)
QSPI flash (via FET5718-C)
SD slot (SD, SDHC, SDXC support)
SDIO interface
SATA 2.0 interface with SATA power

Wireless — 802.11b/g/n with Bluetooth
Networking — 2x GbE ports
Media I/O:

HDMI 1.4a port for up to [email protected]
RGB 888 LCD interface
Dual display support
2x MIPI-CSI
DVP 8-bit 5MP camera interface
Mic and headphone jacks; speaker headers

Other I/O:

USB 3.0 host port
2x USB 2.0 host ports
Micro-USB 2.0 device port
3x UART
2x I2C
Serial debug port
CAN 2.0, SPI, GPMC, HDQ, JTAG

Expansion — Mini-PCIe slot with optional Huawei 3G/4G card
Other features — 2x LED; 3x user keys; RTC with coin-cell battery; boot config switch
Power — 12V DC input; power and reset switches
Operating temperature — -40 to 85°C
Dimensions — 190 x 130mm
Operating system — Custom Linux with Kernel 4.9.41, Qt 5.6, and Wayland
The board was announced in May in China; however, no prices or availability information has been provided for the OK5718-C development board or FET5718-C module. More information may be found on the Forlinx OK5718-C product page.
Subscribe to Blog via Email
Join 97,456 other subscribers
Archives