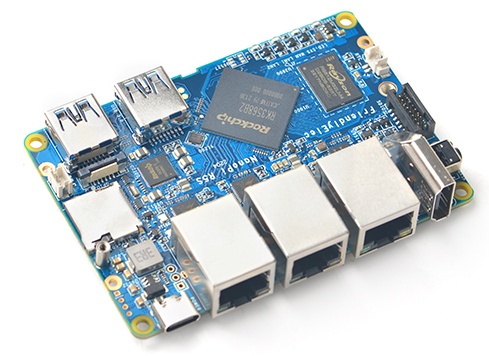 FriendlyELEC unveils NanoPi R5S single board computer fueled by RK3568
FriendlyELEC has announced its newest addition to the NanoPi range, the NanoPi R5S. The NanoPi R5S is a single-board computer that includes three Ethernet ports, of which two are capable of 2.5-gigabit operations, and one is capable of gigabit connectivity. Furthermore, it also provides M.2 NVMe facilitating storage expansion capabilities.
At the heart of the single-board computer is the Rockchip RK3568 which includes the quad-core Arm Cortex-A55 CPU, Mali-G52 GPU, and a VPU with 4K 60fps video decoding, 1080P 60fps video encoding, and a neural network coprocessor that offers up to 0.8 TOPS of performance. The SoC also facilitates wireless transmission by supporting Wi-Fi 6. Additionally, it provides a system memory of 2GB of LPDDR4X.
Specifications of NanoPi R5S
SoC: Rockchip RK3568 with quad-core Arm Cortex-A55 CPU
GPU: Mali-G52 GPU
Storage: Support for the M.2 2280 (PCIe 2.0 x1) NVMe SSD is offered with a key M socket, offers a MicroSD card socket, 8GB eMMC flash for the operating system, and supports network boot with an optional SPI flash
USB: Offers two USB 3.0 Type-A ports
HDMI: Supports HDMI 1.4 and HDMI 2.0 operation, up to 10 bits deep colour modes are supported, offers support for 3-D video formats
Power Supply: 5V/9V/12V input for USB Type-C port and supports USB power delivery
Weight: The board weighs 260g with a metal enclosure and 57.5g without the case
Dimensions of the board: Printed Circuit Board: 90 x 62 mm; Metal enclosure: 94.5 x 68 x 30 mm
Operating temperature range: 0℃ to 70℃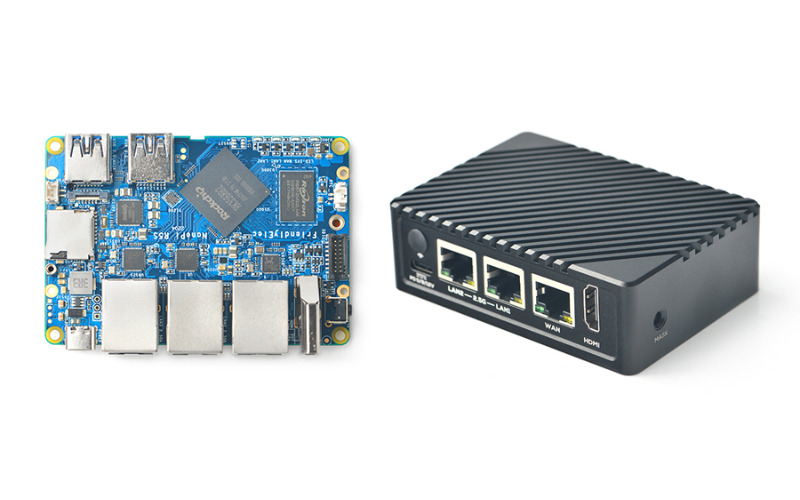 Compatible with NVMe storage and other PCI Express devices, the board provides a microSD port and an M.2 Key M slot on the underside allowing for storage expansion. Although the board doesn't have a readily available GPIO header, the available pins are carried out to a high-density FPC connector for use with a breakout board. This includes a single SPI bus, up to three UART buses, and eight GPIO pins, four of which enable pulse-width modulation (PWM). Furthermore, with the help of a second connector, the SDIO 3.0 and I2S signals are provided.
FriendlyELEC offers support for the FriendlyWrt 22.03 (64-bit) and FriendlyCore Focal Lite images based on OpenWrt 22.03 and Ubuntu 20.04, but with Linux 5.10 LTS and U-boot 2017.09. The firm has also emphasized its support for Docker and has included instructions for installing the Jellyfin multimedia applications on its wiki page.
More information on the technical specifications of the NanoPI R5S can be availed from the FriendlyELEC's wiki page.