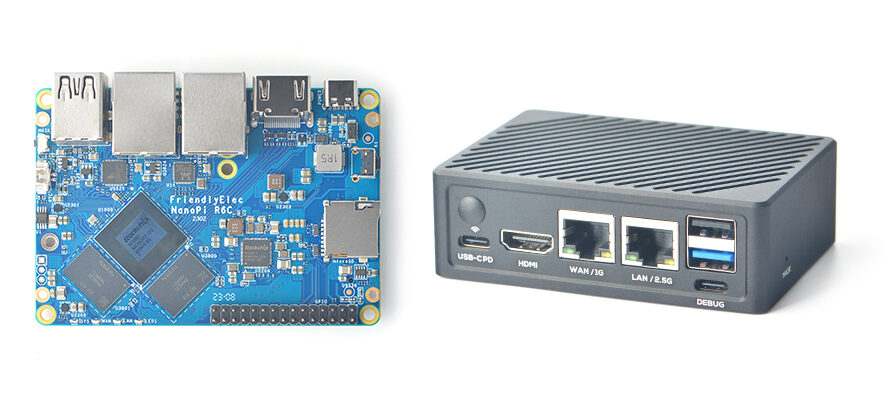 High Performance NanoPi R6C With Rockchip RK3588S
Features
Powerful Performance: FriendlyElec designed and built the NanoPi R6C (as "R6C"). It is an open-source mini IoT gateway with one 2.5G and one Gbps Ethernet port. It has a Rockchip RK3588S CPU, 4GB/8GB LPDDR4x RAM, and 32GB eMMC flash.
Multiple Software:  It works with operating systems like FriendlyWrt, Android, Debian, Ubuntu, etc., and it can boot from TF cards. It also works with headless systems. It comes with a built-in Docker. Docker Hub world's largest library and community to contain images, and enable users to create, manage, and so on. The user's application can run on FriendlyWrt via Docker.
Supports Decoding Video Stream of 8K Videos: It can decode video streams of 8K@60fps H.265/VP9 and 8K@30fps H.264 formats.
Storage capacity: The NanoPi R6C has one M.2 NVME port and two USB ports, and it can get power from a USB type-C port. It is a great portable way to store photos and videos. FriendlyElec has made a custom CNC housing for it that was carefully designed.
High Speed 2.5 G Ethernet port: It has one Gigabit Ethernet, and one PCIe 2.5G Ethernet overall, the NanoPi R6C is a board with multiple Ethernet ports, a light NAS, and the ability to play videos with a support upto 2.5 Gbps transmission rate.
32GB eMMC: This onboard 32GB eMMC flash serve as a bootable device to boot a Friendly-Elec-made OS. Running a system is made easier and more stable with this board.
Supports Multiple Methods of System Installation: There are three ways of system installation, for detailed information regarding installation is provided here.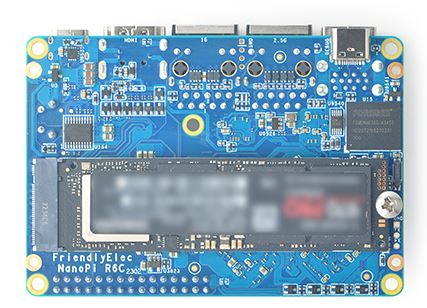 The NanoPi R6C has a small size of 90 x 62 mm and a lot of hardware resources. It has a 30-pin header to expose hardware resources for secondary development, such as GPIO, I2C, I2S, PWM, and SPI interfaces. It also has one HDMI port.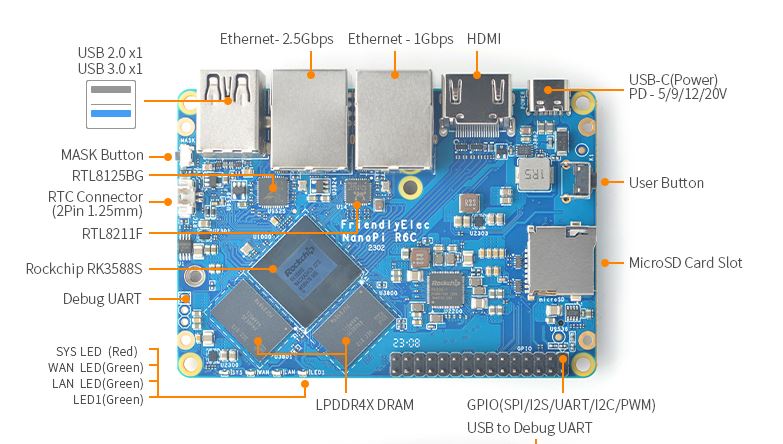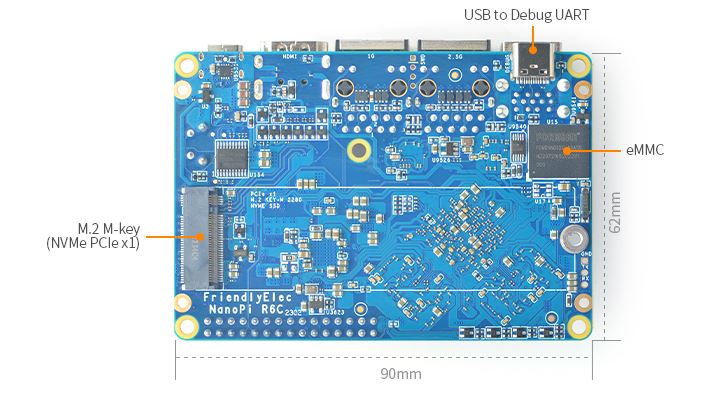 Specifications
SoC: Rockchip RK3588S
-CPU: Quad-core ARM Cortex-A76(up to 2.4GHz) and quad-core Cortex A55 CPU (up to 1.8GHz)
-GPU: Mali-G610 MP4, compatible with OpenGLES 1.1, 2.0, and 3.2, OpenCL up to 2.2 and Vulkan1.2
-VPU: 8K@60fps H.265 and VP9 decoder, 8K@30fps H.264 decoder, 4K@60fps AV1 decoder, 8K@30fps H.264 and H.265 encoder
-NPU: 6TOPs, supports INT4/INT8/INT16/FP16
RAM: 64-bit 4GB/8GB LPDDR4X at 2133MHz
Flash: 32GB/None eMMC, at HS400 mode
Ethernet: one Native Gigabit Ethernet, and one PCIe 2.5G Ethernet
USB: one USB 3.0 Type-A and one USB 2.0 Type-A
PCIe: one M.2 Key M connector with PCIe 2.1 x1
HDMI:
-compatible with HDMI2.1, HDMI2.0, and HDMI1.4 operation
-support up to 7680×4320@60Hz
-Support RGB/YUV(up to 10bit) format
microSD: support up to SDR104 mode
GPIO: 30-pin 2.54mm header connector up to
-1x SPI,
-3x UARTs
-3x I2C
-2x SPDIFs
-1x I2Ss
-3x PWMs
-20x GPIOs
Debug:
-UART via 3-Pin 2.54mm header or onboard USB-C to UART
LEDs: 4 x GPIO Controlled LED (SYS, WAN, LAN, LED1)
Others:
-2 Pin 1.27/1.25mm RTC battery input connector for low power RTC IC HYM8563TS
-MASK button for eMMC update
-one user button
Power supply: USB-C, support PD, 5V/9V/12V/20V input
PCB: 8 Layer, 62x90x1.6mm (without case) 68 x 94.5 x 30 mm (with case)
Ambient Operating Temperature: 0℃ to 70℃
Material: Aluminum
Weight: 53.1 g (without case) and 260g (with case)
See the Wiki page for detailed information.
Applications
It aids in the development of mini machine vision systems with multiple Ethernet ports and also helps the development of an embedded system to explore and implement prototype design.
Purchase Information
The product page sells NanoPi R6C for $85.00. For further information regarding product options purchase, combinations are all detailed on their webpage.
Join 97,426 other subscribers

Archives