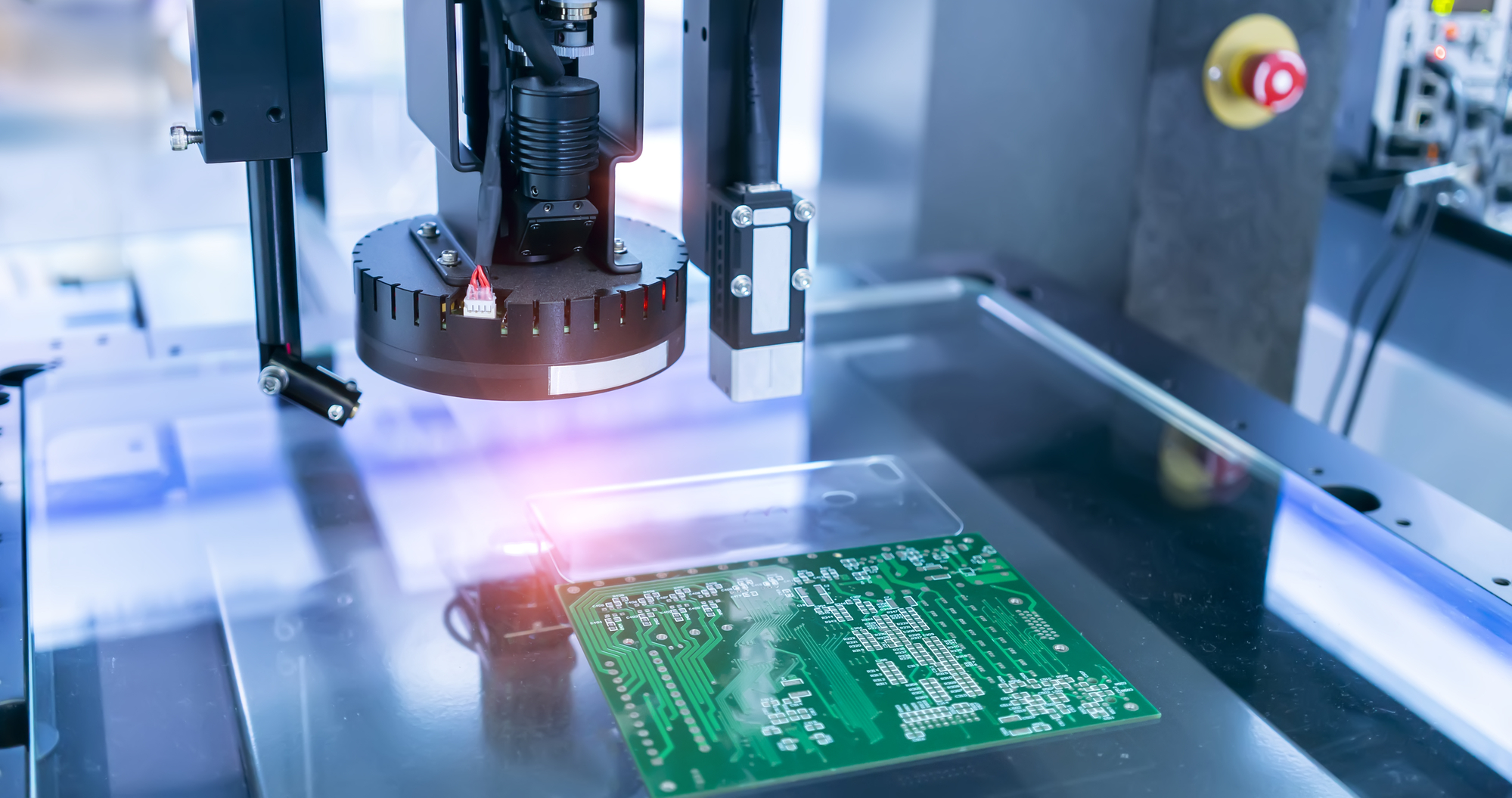 JLCPCB assembly for 2022 and the Future + 54$ Coupon
JLCPCB for faster electronics manufacturing, carrying out its new standard PCB assembly service as an ace project created by JLCPCB, has been committed to reducing PCB assembly costs, improving ordering experience, speed up SMT lead-time, therefore, it gives the hand for professional electronics engineers to focus on their electronics business which allows industrial companies to manufacture high-quality electronics product.
Although the SMT project of JLCPCB was officially launched in 2019, the foundation of the entire project started in 2006, and it has been stable for 16 years. JLCPCB is good at summarizing SMT industry standards. The components angle is an industry problem that plagues SMT. JLCPCB was one of the first companies to stand out and popularize the standard. The latest IPC-7351C may also adopt this standard.
The electronics industry people involved getting to say "…"
Procurement staff: I can't source complete parts
Electronics Engineers: JLCPCB helps me to save time and cost. I have more time available for validating scenarios.
Factory workers: Entire production line will arrange orders on the production line efficiently.
Entrepreneur: JLCPCB helps me to improve my business through time and cost-saving
How does the Global Parts Sourcing service greatly save time and money?
Building up parts lib by JLCPCB parts pre-order service (launched in 2021) and parts global sourcing service (launched in 2022) is PCB assembly technology innovation. Welding of more than 100 pieces has always been painful and difficult for the PCB manufacturing industry, this causes chip manufacturers to be unwilling or refused to provide such services for various reasons. JLCPCB pioneer another shortcut invests huge sums of money, and creatively adopts no replacement individual feeder models to cure SMT sample production pain. Sufficient-components SMT service for JLCPCB's new and forward-looking global parts sourcing service is on its self-developed and one-stop platform build up supply amid the global parts shortage problem which allows people to prepare parts in advance. Knowing
there is a keen demand for components hinders the industry's development. JLCPCB launches a global sourcing service in order to expand the parts supplying source for our customers, such a decision will provide customers with high-quality authentic components more stably, allowing them to achieve self-sufficiency on the JLCPCB SMT platform.
Compare to buy-as-you-go mode, pre-order parts allow people to get a favorable price. Pre-order service adopts real-time quotation service, and the price is transparent and open. JLCPCB does not earn any price difference, and also implements a policy of multiple refunds and multiple supplements for pre-purchased components. Customers can purchase on-demand without worrying about the loss of payment due to the failure of the pre-order service. JLCPCB is able to obtain more low-cost but high-quality parts from reliable global parts suppliers. And we know that component agents or original components will have corresponding purchase prices. In order to protect
their own interests, MOQ is a common method used by component suppliers. The bargaining power of JLCPCB can help small and medium-sized enterprises or individual customers reduce cost risks, collect various component needs, and negotiate prices with trusted component suppliers
first to obtain more favorable prices and to save customers money and effort.
What's the newest 1-6 layer double-side Assembly
JLCPCB newest standard PCB assembly service allows SMT batch production and double-sides soldering of boards (patch + plug-in). No limit on PCB quantity, no limit on PCB process, no limit on parts kinds, V -cut panelization.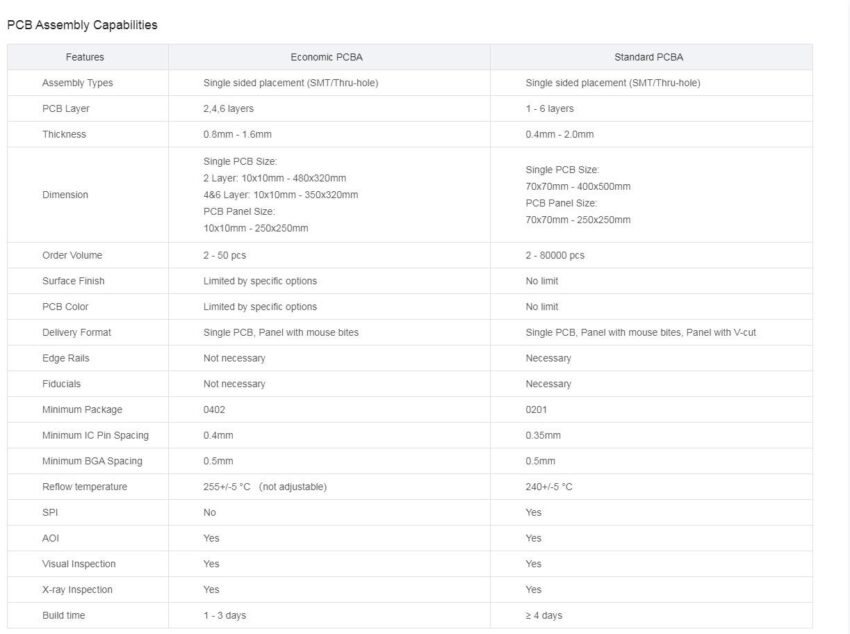 Standard PCBA service is more cost-effective
Assembly fee: $0.0017 per joint
Setup fee:$8 (JLCPCB $54 New User coupon free your setup fee)
Stencil Fee: Free
Example: There are 5 boards that require SMT, each with 200 solder joints, total: 10 solder joints assembly fee + Setup fee:$8 + $0 Stencil Fee
Standardized independent online ordering mode, real-time quotation of patch order, real-time display of patch effect, what you see is what you get, and short ordering process that you can master safely. In this era, disturbing users as little as possible in the pursuit of a good product.
Why is JLCPCB Standard PCBA Service faster easier cheaper?
JLCPCB integrated 4 major departments to improve SMT at full speed The 4: PCB, component, the stencil, and SMT are in the same industrial zone. Compare to other companies, JLCPCB transfer components, stencils, and SMT expressly, saving a lot of time through the AGV in the zone.
In order to ensure the most extreme SMT experience, JLCPCB Group also established a special working team for SMT lead-time and packaging in mid-March 2022. All businesses must take SMT as the highest priority.
JLCPCB Economic PCBA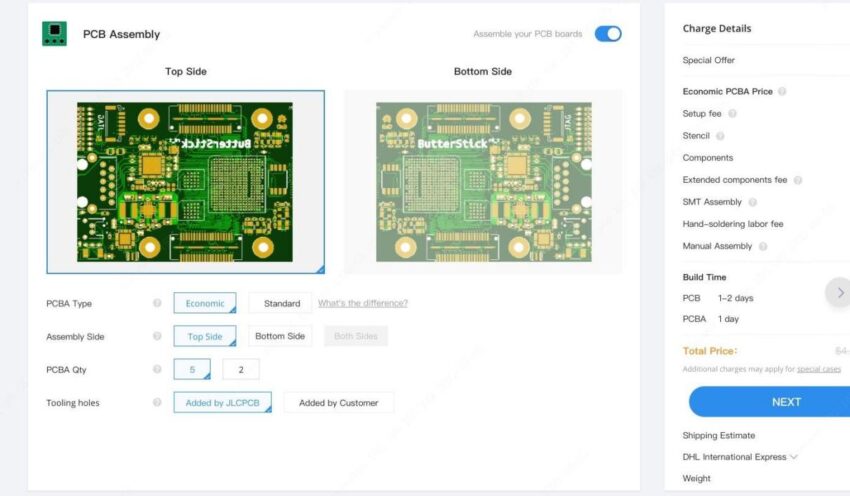 JLCPCB Standard PCBA: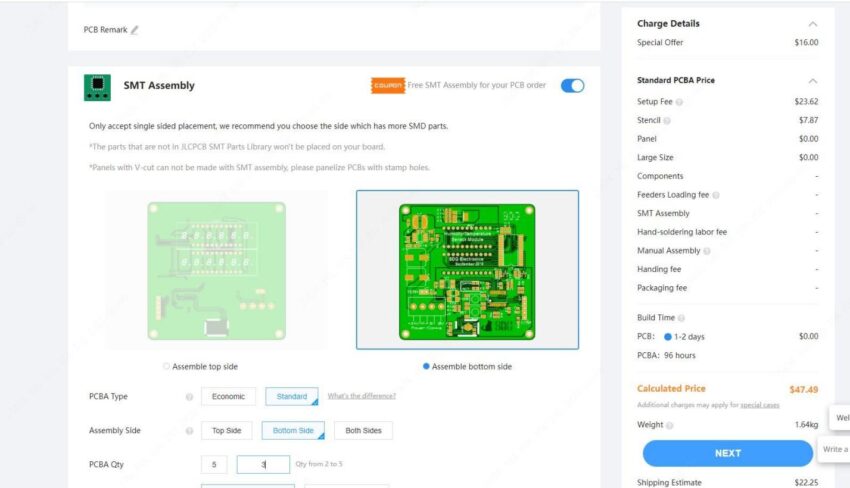 Quality-assured Standard PCBA service is faster and easier
The PCB stencil components are all self-operated, and they are all in the same production zone. This is the cornerstone to ensuring the quality, delivery time, and price of JLCPCB Assembly. Meanwhile by streamlining the entire process from ordering, parts sourcing and PCBA prototyping, you can get your products in hands as fast as one week. Allowing you to iterate, improve
and deliver on time or even faster:
Easier Ordering for Standard PCBA

Ordering process:
Place an order for PCB (circuit board)
Place an SMT (SMD) order
Payment
Production
QC
Shipping
What materials do you need to prepare?
Components: You don't need to provide it, JLCPCB provides the required components
PCB (Circuit Board): Use PCB order
What documents do you need to prepare? GERBER+BOM+CPL
90% of SMT orders only take half a day of production
We deeply think about the effectiveness of our offered services, that's why every single second counts, because the faster we go the more effective we become, through this equation, we could offer more reliable service to our customers. So we started thinking about the execution of the simultaneous task while producing the PCBs Assembly supporting lines are also getting ready simultaneously, such as components preparing, SMT stencils preparing. So, the overall construction period becomes shorter.
The following figure exemplifies the construction period of a 2-layer board:

Free $54 New User Coupon for Standard PCBA with 10M+ parts
Free $54 New User Coupon offered
Standard PCB Assembly supports double-side soldering, and unlimited quantity, order as many as you want
JLCPCB SMT Parts Library 200k+ in-stock components (689 Basic components and 200k+ Extended components); and 10M+ global parts
10M+ parts from reliable parts suppliers worldwide
Parts Pre-Order service from Global Reliable Parts Suppliers
Build Personal library Inventory, Save parts for current or future orders
How does JLCPCB keep Superior SMT quality by 6 self-operated industrial zones?
JLCPCB owns 6 Self-operated factories with high-end equipment quality process double-sided patch with plug-in wave soldering. Advanced Yamaha automatic placement machines and all equipped with electric mast, 10 temperature zone lead-free reflow soldering, automatic printing machine, mature and reliable management team, and self-developed supporting software. All LDI production equipment is used, with high precision, and there will be no line offset and assembly welding alignment offset. The four-layer board adopts LDI equipment, and the double-layer board adopts LDI+ automatic exposure machine equipment. JLCPCB only uses A-grade raw material
board, and never adopts less cloth, high filler, and non-flame retardant board. JLCPCB 4-layer PCB are all made of grade A-boards from real Taiwan Nanya and KB material, with real materials, and the price is around $72 / ㎡ ; The double-sided panels are all made of "true A-grade" boards, around $45.74 / ㎡.
"What you see is what you get" by free DFM checking
JLCPCB Free DFM file Checking offered a 3D simulation map of physical objects. After manual matching, you can see the patch effect from what you see and what you get. And one key Get a $54 New User Coupon. A special value-added service with a $24 SMT coupon every month.
After the matching, we will output a report (PDF can be exported in the upper right corner). Customers can use this PDF report for their project documentation and then they can determine the components that JLCPCB does not have and the components that can be pasted. Purchasing staff can search for missing materials offline and this will accelerate the process.
One-click alignment to solve the problem of components deviating from the pad. Due to incorrect automatic data processing or mismatch of component polarity, the loaded components sometimes deviate from the pad Taiyuan. At this time, manual adjustment is very time-consuming. In order to solve this problem, we provide a one-click adjustment:
For example, your design looks: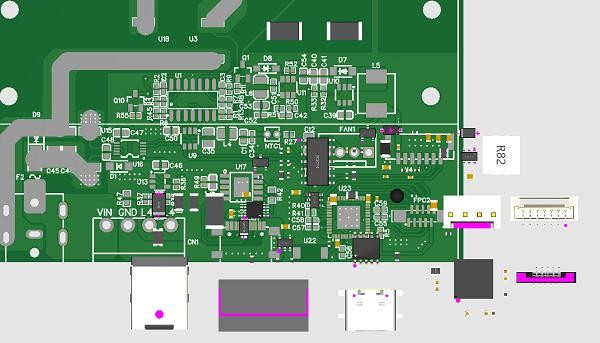 Press the Auto-Align button on the toolbar to automatically align all components: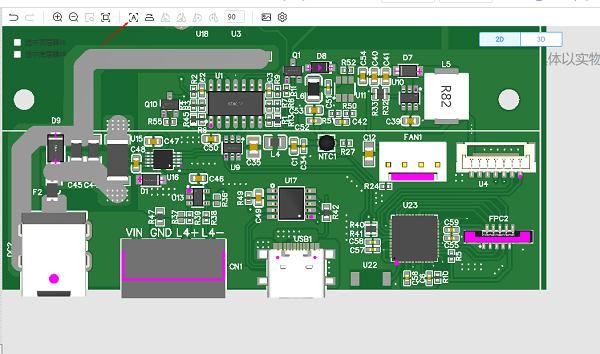 Does JLC PCB Assembly make progress in the Electronics Industry?


Absolutely! JLCPCB PCB Assembly sincerely helps electronics engineers stay healthy. Manual welding is time-consuming and labor-intensive, with a high error rate, and is the number one killer of health, lung disease, and blindness. You should quickly order from who will help you solder common components, and let your PCBA boards are ready to use, in an industrial-grade quality.JLCPCB Standard PCB Assembly service produces PCBA in double sides (patch + plug-in). You can get assembled boards as quickly as 7 days. The standard PCBA production line equipment is also adjusted, such as automatic solder paste printing machine, SPI (solder paste inspection), AOI, and other equipment to better ensure product quality which helps the electronic industry and electronic business make progress. Get 54 New User Coupon to redeem a unique double-side PCBA journey now!
Join 97,426 other subscribers

Archives