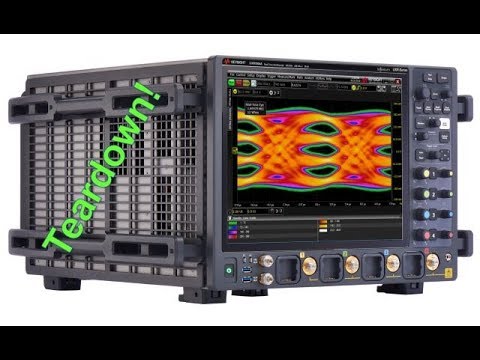 Keysight Keysight UXR 110GHz BW, 256GS/s, 10-bit, 4-Channel Real-Time Oscilloscope Teardown & Experiments
In this episode Shahriar takes a look at one of the most advanced electrical test and measurement instruments ever created. The Keysight UXR-Series Real-Time Oscilloscope brings 110GHz of analog bandwidth and 256GS/s real-time sampling at 4-channels simultaneously. To make it even more impressive, the entire data-conversion architecture is in 10-bits. This implies that the instruments captures, processes, stores and displays over 10Tb/s of information.
Various architectures of state-of-the art oscilloscopes from Keysight, LeCroy and Tektronix are examined and compared against the new real-time architecture of the UXR-Series oscilloscope. The teardown of the front-end 110GHz module along with the data acquisition board is presented and analyzed in detail. The instrument showcases a wide range of Keysight technologies implemented in various technologies such as InP, SiGe BiCMOS, 65nm CMOS and 28nm CMOS nodes. In combination with Hyper-Cube memory module, data can be captured at 256GS/S from all 4-channels at the same time. Several variants of the UXR-Series oscilloscope will be available from 13GHz to 110GHz bandwidths.
Keysight Keysight UXR 110GHz BW, 256GS/s, 10-bit, 4-Channel Real-Time Oscilloscope Teardown & Experiments – [Link]
Join 97,426 other subscribers

Archives