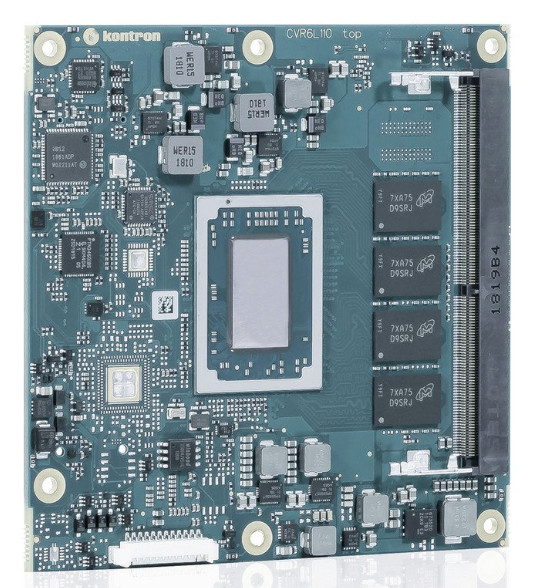 Kontron Introduces its First Compact Ryzen V1000 Embedded Module
Kontron a global provider of IoT/ Embedded computer Technology (ECT) introduces its Linux friendly "COMe-cVR6" Express Type 6 module, that comes with a Ryzen embedded V1000 SoC with up to 24GB DDR4, including 8GB soldered on board. The board also comes with a quad- display support and optional- 40 to 85-degree Celsius operation and security features.
The COM Express compact module's smaller form factor significantly saves space in comparison to most comparable solutions, allowing developers to create more compact designs with higher performance. Variants of the COMe-cVR6 (E2) are also resistant to vibration and shocks due to the permanently soldered memory, just as all other components, such as voltage smoothing capacitors, and controllers are selected for highest resistance to environmental stresses.
The new module is particularly suitable for applications in harsh environments, medical or industrial image processing systems. This product runs Linux or Windows 10. The new COMe-cVR6 adopts the 95x95mm COM Express compact Type 6 form factor. In COM Express Compact modules, external I/Os are placed next to the module instead of attaching them on the underside of the carrier board when using a larger basic form factor.
This allows the main board height to be reduced by up to 2cm. The new AMD Ryzen V1000 processor combines the extremely powerful Zen micro processor architecture with the new AMD Radeon Vega graphics supporting up to 11 compute units. The AMD Ryzen Embedded V1000 processor offers up to twice the performance than the previous versions and delivers up to 46% more multi- thread performance than competitive solutions. Other COM Express compact modules with the V1000 SoC includes Seco's COMe-B75-CT6. V1000 based basic modules include Congatec's Conga-TR4 and Advantech's SOM5871.
The new APU offers a comprehensive feature set for data and application security. The built in AMD secure processor handles hardware- accelerated data encryption and decryption for secure virtualization, secure encrypted virtualization (SEV) isolates the hypervisors and virtual machines without having to modify any of the code. The Ryzen Embedded V1000 competes with intel's 14nm- fabricated core processors.
The SoC offers up to four dual-threading Zen CPU cores for 8 threads total, as well as high-end Radeon graphics with up to 11 compute units. The COMe cVR6 supports all five quad and dual core models including the quad core V1404i model, which was missing from AMD's original announcement, but is supported by the Seco and Congatec modules.
The V1404i lacks the other SoC variants' dual threading but has a low 15W TDP. The COMe-cVR6 features dual SATA III interfaces, as well as an SDIO connection shared with GPIO. If you choose to skip the default GbE controller, you can get 6x PCIe 3.0 connections instead of the standard 5x interfaces.
There's also an option for a PCIe switch in place of one of the PCIe interfaces and an "on request" option for 8x PCIe x1 (4x PCIe 3.0 plus 4x PCIe 2.0), along with 1x PEG x8. Four independent displays are supported, tapping a special capability of the V1000's Vega graphics. Kontron did not mention resolution, but 4K should be available with the dual DisplayPort++ links if not the standard DisplayPort with optional VGA.
The fourth interface is a lower-resolution, dual-channel, 18/24-bit LVDS, which can be swapped out for eDP. The COMe-cVR6 is further equipped with 1x USB 3.0, 2x USB 3.1 Gen2, 5x USB 2.0, and 2x RX/TX only serial ports. Other interfaces include HD audio, I2C, LPC, SPI, and SMBus. You also get a staged watchdog timer, a real-time clock, TPM 2.0, and optional Kontron Apportect security. The latter includes a Wibu-Systems security chip and a software framework with IP- and copy/reverse engineering protection.
No pricing or availability information was provided for the COMe-cVR6. More information may be found in Kontron's COMe-cVR6 announcement and product page.
Subscribe to Blog via Email
Join 97,477 other subscribers
Archives