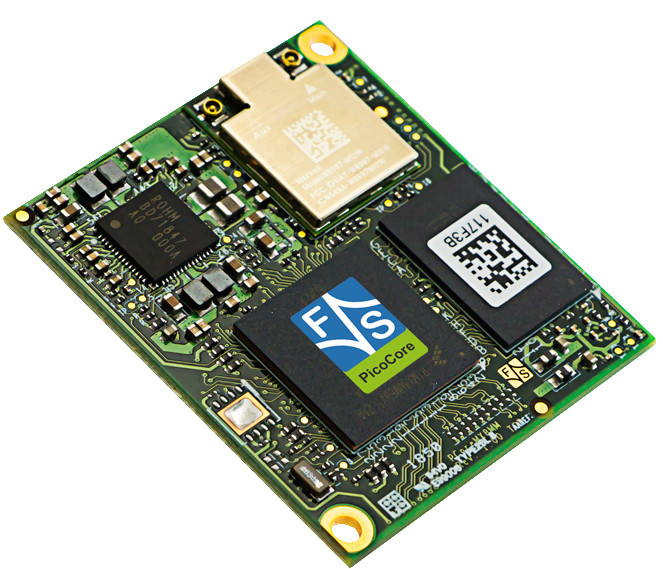 Linux-driven PicoCore™MX8MN module is tiny
COM modules with NXP i.MX 8M Nano CPU High performance in a compact format
Based on the NXP® i.MX 8M Nano applications processor, F&S Elektronik Systeme has developed an inexpensive CPU module (35x40mm) with many industrial interfaces and extensive software support.
The heterogeneous multi-core processor consists of up to four Arm® Cortex®-A53 cores (1.5GHz) and an additional Cortex®-M7 for real-time processing. Up to 2x Gbit Ethernet, CAN-FD, USB, 2x SDIO, 4x I2C, 2x SPI, 4x UART, audio (Line In/ Out/ Mic/ Headphone or I2S), GPIOs, PWM and MIPI-CSI for camera connection are available. Displays can be connected either via a MIPI-DSI interface (4 lanes) or via LVDS (2 channels). The maximum resolution is FullHD. The optional WLAN/ BT5.0 LE module with antenna socket also makes portable applications possible.
The i.MX 8M Nano is equipped with OpenGL 2.1/ 3.0/ 3.1 and OpenCL 1.2, providing sufficient performance for a modern user interface.
The PicoCore™MX8MN is offered with up to 8GB RAM, 512MB SLC NAND Flash or 32GB eMMC. A small NOR Flash for storing device parameters is of course also provided.
Besides Secure Boot (protection of the system against manipulation and protection of the software against decryption), an additional security chip (NXP A71CH Plug-&-Trust-Secure-Element) offers further security for IoT connections. The programming of the certificates can be done by the customer himself, alternatively F&S Elektronik Systeme offers this as a service.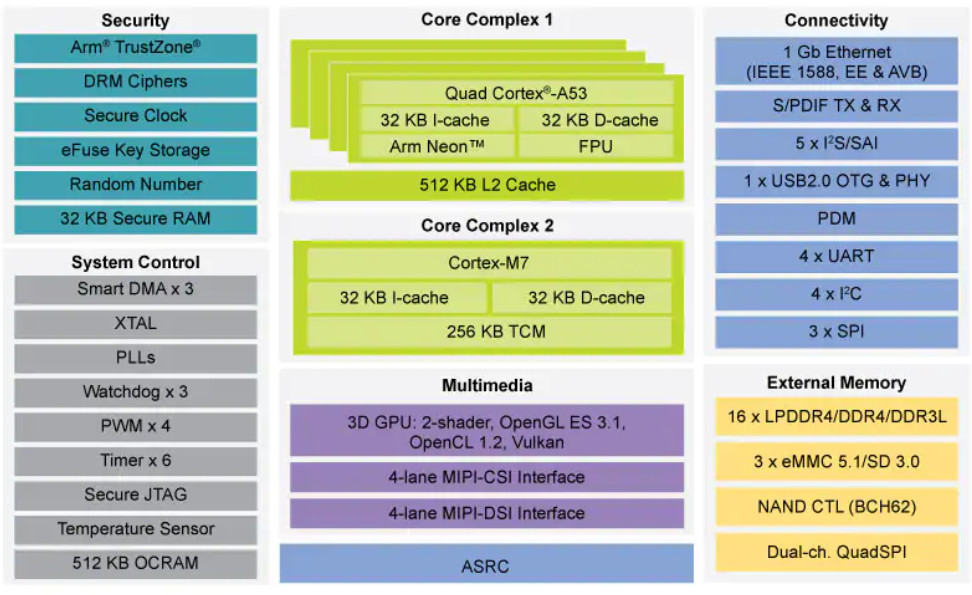 The operating system Linux® (with support for Buildroot and Yocto), was ported by the experienced software team of F&S Elektronik Systeme. For all interfaces the drivers have been adapted and tested. Different memory sizes and different displays are supported. For many touch controllers there are ready-to-use drivers. For the Cortex®-M7 an adapted FreeRTOS and various "Bare Metal" examples are available. The communication between Cortex®-M7 and Cortex®-A53 is implemented and tested. The Cortex®-M7 is able to process real-time tasks shortly after power-on.
Extensive documents explain the development on Linux side as well as on Cortex®-M7 side. With the help of the virtual machine provided for download, the development of the own application, e.g. under QT, can be started immediately.
The PicoCore™ standard (35×40 mm) uses two connectors (Hirose DF40C) with 100 pins each. This allows a compact design and a small board-to-board distance (1.5-4mm board) and is available in 0°C – 70°C but also down to -40°C – +85°C.
With the F&S project guarantee, F&S Elektronik Systeme accompanies the customer from the start of the project to the successful completion of the project. Starterkit (including 7″ touch display), workshops, documents for hardware and software development and free support by the experienced engineers of F&S Elektronik Systeme GmbH are available for this purpose.
The PicoCore™MX8MN is available at least until 2029 and in the meantime six PicoCore™ COM modules with NXP CPUs are available, more will follow.
The PicoCore™MX8MN can be obtained directly from F&S Elektronik Systeme or from one of the worldwide distribution partners.
Join 97,426 other subscribers

Archives