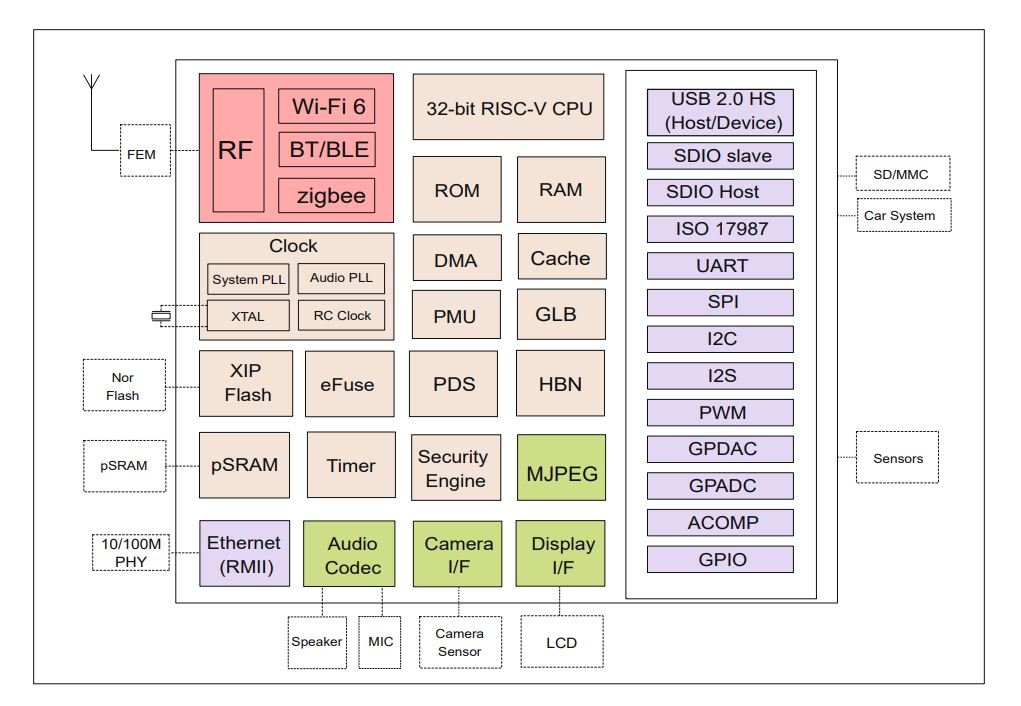 M0S Module TinyML Supported By Affordable RISC-V BL616
Sipeed released two embedded devices based on Bouffalo Lab's RISC-V BL616 microcontroller. The M0S module has interfaces for WiFi 6, Bluetooth 5.2, and Zigbee. It also works with DVP cameras, RGB LCDs, and Ethernet RMII.
On the product page, it says that the BL616(RV32GCP) has a BL6(RV32GCP) chip with a 32-bit RISC-V CPU with FPU and DSP unit (up to 384MHz) and 4 MB Flash. It has 480KB SRAM and L1 Cache as well.
BL616 block diagram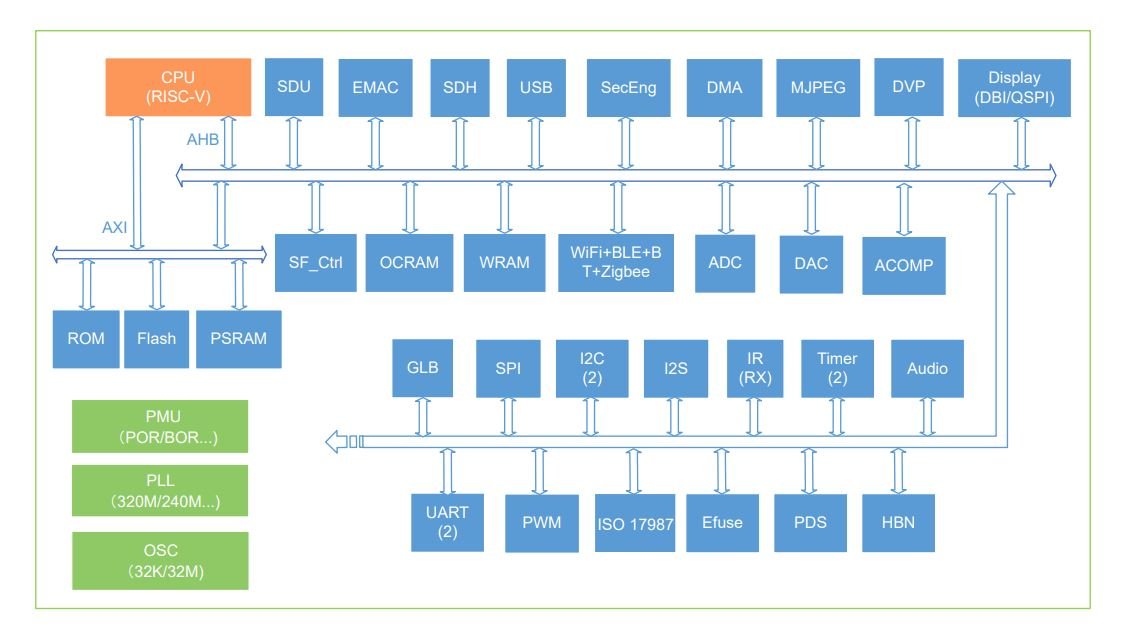 BL616 system architecture 
According to the datasheet, the MCU also has support for JTAG, XIP, and QSPI flash, in addition to two 32-bit general-purpose timers and an RTC timer with a maximum count of one year.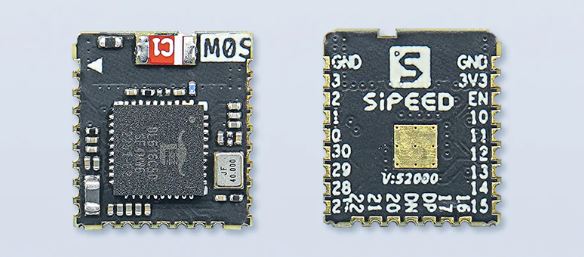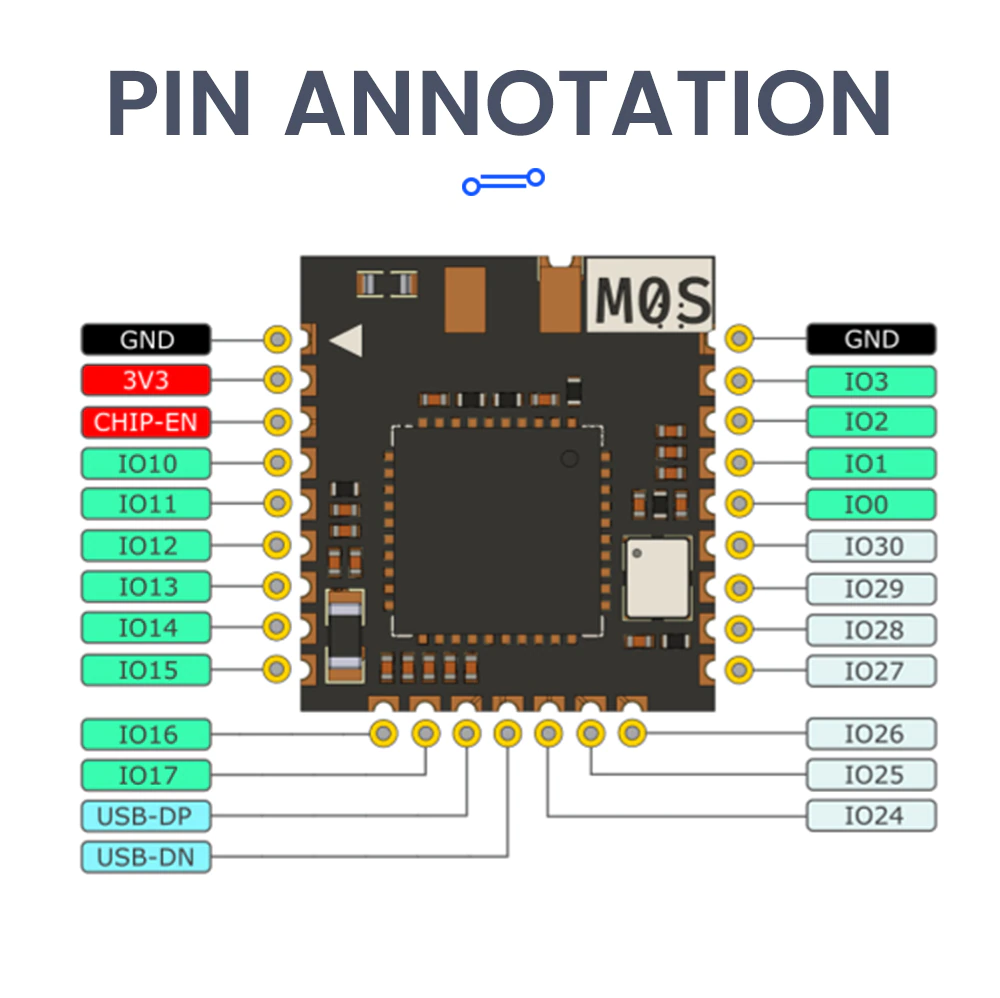 M0S module & pinout
The MCU can sample at rates of 8, 12, 16, 22,05, 24, 32, 44,1, and 48 kHz, respectively. The BL616 has the following capabilities for security: secure booting, secure debugging, XIP QSPI on-the-fly AES decryption, support for TrustZone, support for AES-CBC/CCM/GCM/XTS, a TRNG, and a Public Key Accelerator for RSA/ECC. All of these capabilities are implemented in hardware.
The product page features some available resources, such as the Bouffalo Lab Software Development Kit (SDK), the Sipeed Wiki, which appears to be empty as of the publication date, and a GitHub repository. The datasheet for the BL616 may be obtained in the GitHub repository maintained by Bouffalo Lab and is also accessible through the repository maintained by Sipeed.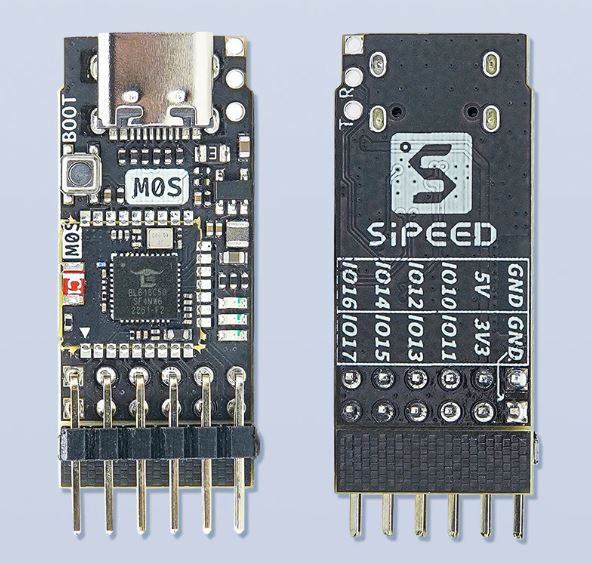 M0S Dock
The M0S module has a wide variety of features, including an RGB LCD and a DVP camera display. Connectivity options include Ethernet RMII, 2.4GHz Wi-Fi 802.11b/n/ax., BT/Bluetooth of 5.2, 802.15.4 (Zigbee/Thread), and an audio ADC (MIC, SNR>92dB) and audio DAC (Speaker, SNR>95dB). It supports USB on the go (OTG) from USB 2.0 devices (up to 480Mbps). TinyMaix, MaixHub, and the I/O protocols I2C, UART, and SPI are all included in the software. 10mm x 11mm is the size. Ultra-low power mode (1uA) at 3.3V provides power.
You can purchase a Sipeed M0S module for $3.19 On AliExpress, while the Dock model costs $4.39. There is also a $1.20 off one-item coupon that may be used at the store.
Join 97,426 other subscribers

Archives