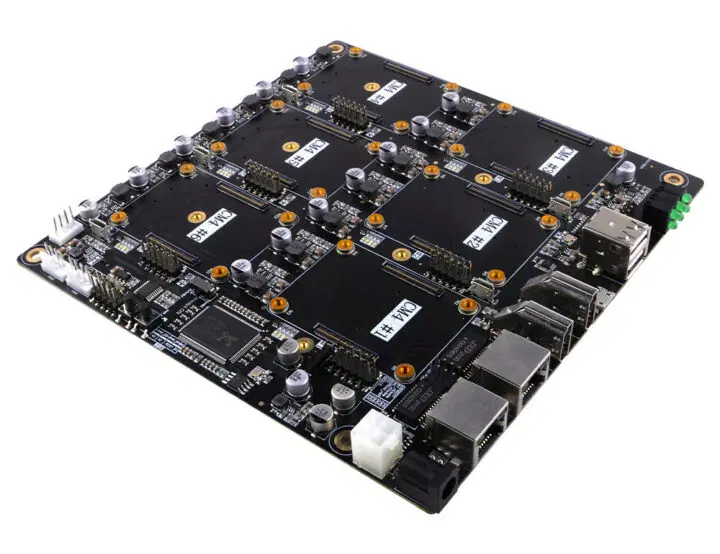 Meet DeskPi Super6C – a standard mini-ITX motherboard with up to Six Raspberry Pi CM4 Modules
DeskPi Super6C is a standard mini-ITX board designed to help users with learning cluster applications or distributed Machine learning computing under the vast ecosystem of Linux, cloud-native and Raspberry Pi.
The cluster board which can take up to six Raspberry Pi CM4 modules is now a close competition with the Turing Pi 2 mini-ITX cluster board launched some months ago. They both have the same form factor but the Turing Pi2 can only accommodate up to four Raspberry Pi CM4 modules. The Super6C also has its modules inserted horizontally which gives it a slimmer design than the Turing Pi2.
The board features 2x 1 Gbps RJ45 network interfaces,  3x 12V fan interfaces, 1x on/off switch, 1x reset button, 2x HDMI interfaces for the multiple displays, 2x power supply options for the users and rich PC case front panel headers. Each module on the board has its own peripheral interfaces to help enhance its functions such as a micro USB 2.0 connector, a TF card, an M.2 slot, and a 5V fan interface. The modules also communicate with each other through an onboard 1Gbps switch and each gets its own IP address.
Specifications of the DeskPi Super6C include:
SOM Support

Has support for up to 6x Raspberry Pi Compute Module 4 (CM4) with or without eMMC

Display

1x HDMI 2.0 output
1x HDMI 1.4a (connect to Primary CM4)

Network

2x GbE RJ45 LAN ports
GbE switch to interconnect all 6x SOMs

USB Interface

2x USB-A 2.0
2x Host 2.54 Pins (connect to primary CM4)
6x MicroUSB 2.0 (one for each CM4)

Fan

6x 5V FAN header (one for each CM4)
3x 12V FAN header

LED / Reset Button

6x LED indicators
Onboard ON/OFF and Reset Button

Booting Options

eMMC, SD card, or the network.

Expansion

6x M.2 2280 slots (one for each CM4)
6x TF card slot (one for each CM4)

Power

19V to 24V / 100W DC
12V ATX power supply

Dimension

170 mm x 170 mm x 21 mm (Mini-ITX)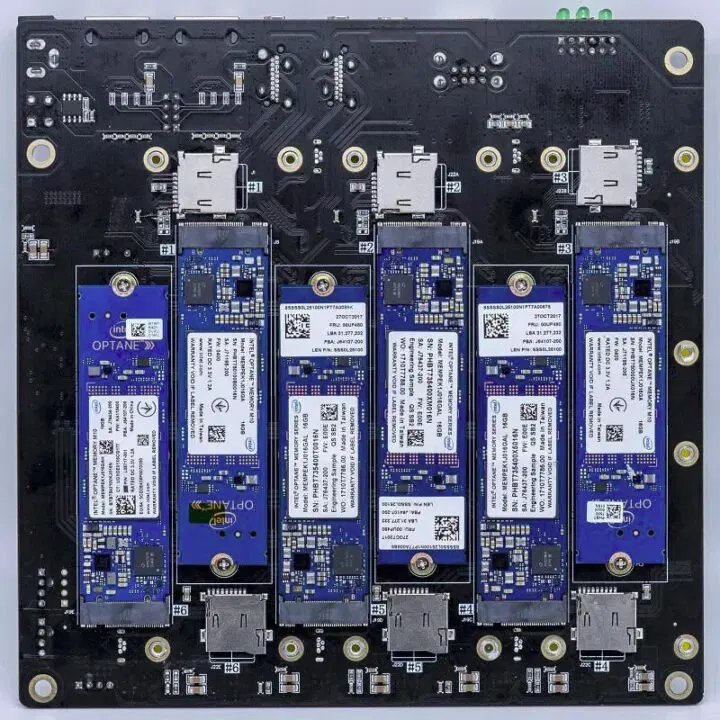 Applications
The DeskPi Super 6C can be used to:
handle a MySQL or Postgres database
install an Apache server
program and manage resources in Linux
make and manage your own cloud services
script in BASH, Python, and other scripting languages
Turn cluster nodes' resources into one superior server (supercomputer) with the help of simultaneous processing software
learning concepts of distributed Machine learning apps
More Details
The board is currently available and sells on three different sites: Seeedstudio and Deskpi online stores sell for $199 while Amazon sells for a much higher price of $249.
More useful details on the cluster board including schematics and setting up instructions can be found on GitHub.
Join 97,426 other subscribers

Archives