MPLAB® ICE 4 In-Circuit Emulator, Programmer and Debugger
Microchip Technology has announced its next-generation in-circuit emulator for its microcontrollers and microprocessor, including Atmel-created parts such as AVR and SAM.
The MPLAB ICE 4 in-circuit emulator system boosts productivity with feature-rich programming and debugging for PIC®, AVR® and SAM devices and dsPIC® Digital Signal Controllers (DSCs). It offers a flexible development environment combined with the capabilities to develop power-efficient code while reducing the debug time. It debugs and programs with a powerful and easy-to-use graphical user interface that uses the latest version of MPLAB X Integrated Development Environment (IDE), version 6.00.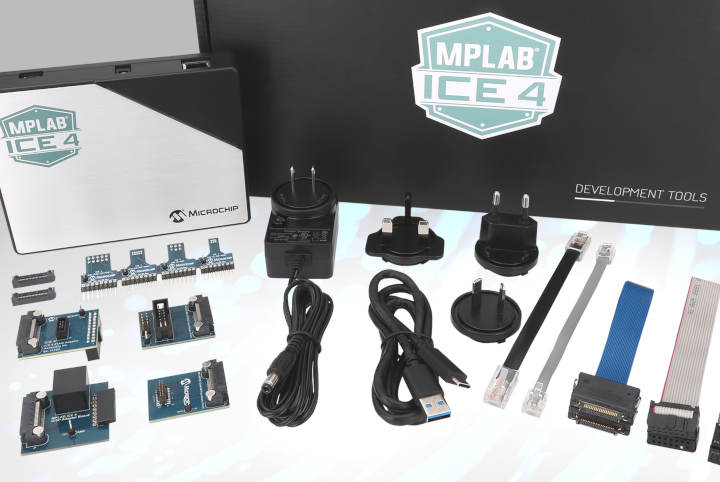 It is compatible out-of-the-box with multiple Microchip connectors, and has adapter boards for the legacy target connections including:
JTAG adapter for SAM MCUs
ICSP adapter board for AVR MCUs:
JTAG  10pin
10pin mini
6pin
6pin mini
ICSP adapter board for PIC and dsPIC
Arm Cortex-M trace adapter board for SAM MCUs
PIC32 trace adapter board for PIC32M MCUs
The MPLAB ICE 4 in-circuit emulator connects to a host PC using a SuperSpeed USB 3.0 interface and easy-to-use wireless connectivity options for much greater flexibility. By using Ethernet or Wi-Fi® access point interfaces, you can enable wireless connection to the tool for debugging, programming and more. At one end, the MPLAB ICE 4 in-circuit emulator connects to the target using a high-speed 40-pin rugged edge rate cable assembly and at the other end, it connects to adapter boards tailored for supported device communication.
more information: ICE 4 product page is here
Join 97,426 other subscribers

Archives