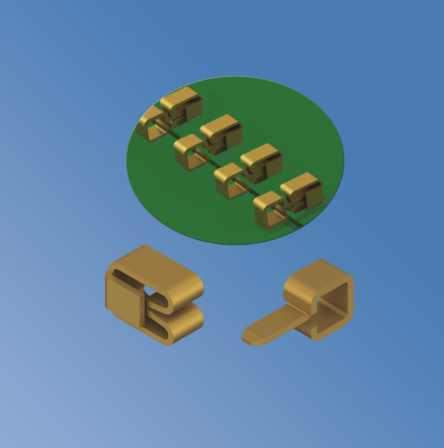 New SMT PCB Connectors to Transmit Signals or Power Across PC Boards
New, Low Profile, SMT PCB Edge Connectors from Keystone.
New Hyde Park, NY, A new series of SMT PC Board Connectors designed to transmit signals or power across PC Boards are the latest connectivity devices available from Keystone Electronics Corp.
Quickly and easily set-up, these space-saving SMT connectors have a horizontal orientation mak¬ing them uniquely suitable as parallel board-to-board or board-to-component alternative options for power or signal transferring. These new connectors are designed to provide ideal low profile circuit linkage and minimal footprint for high-density, high current PCB packages on power and aluminum backplanes. All PCB soldering applications, including reflow, may be utilized.
Manufactured from Phosphor Bronze with Gold Plate, Connectors are available in a Male (pin), Cat. # 6100 (bulk) or Cat. # 6100TR (tape and reel) and a Female (socket) Cat. # 6102 (bulk) or Cat. # 6102TR (tape and reel). The female sockets are equipped with side guides for additional reinforcement to minimize PCB movement when installed.
All tape and reel parts are packaged per ANSI/EIA-481 standard for compatibility with most vacuum and mechanical pick and place assembly systems. Delivery is from stock for all Keystone connectors via the company's global distribution network and online.
A major manufacturer of interconnect components and electronic hardware, Keystone's capabil¬ities include Stamping, Machining, Assembly, CNC and Injection Molding services. Application and Engineering team assistance is available for product modifications and special designs. ISO- 9001:2015 certified and RoHS compliant, company headquarters are in the USA with offices in Canada, Europe, Australia and Asia.
For complete details and specifications contact Keystone Electronics Corp., E-mail: kec@keyelco.com; website: www.keyelco.com.
Subscribe to Blog via Email
Join 97,592 other subscribers
Archives