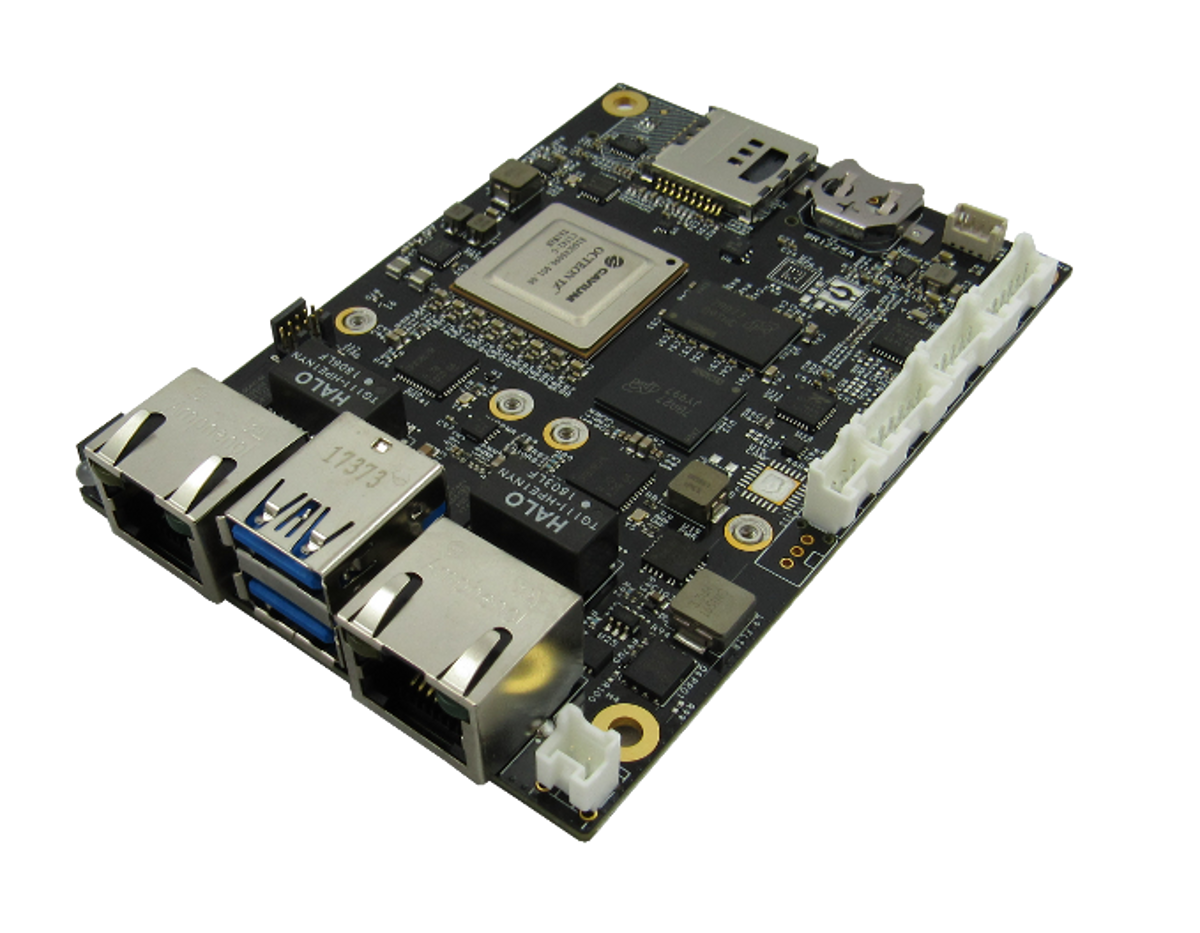 Newport GW6200 Networking Single Board Computer
High Performance Single Board Computer for Networking with 2x Mini-PCIe Sockets, 2x Gigabit Ethernet Ports, and USB 2.0/3.0
The GW6200 is a member of Gateworks 6th generation Newport family of single board computers targeted for a wide range of indoor and outdoor networking applications. The single board computer features the Cavium OcteonTX™ Dual Core ARMv8 SoC processor operating at 800MHz, 1GByte of DDR4 DRAM, and 8GBytes of eMMC System Flash. Two Mini-PCIe expansion sockets support a combination of 802.11abgn/ac wireless radios, LTE/4G/3G CDMA/GSM cellular modems, mSATA drives and other PCI Express peripherals. Additional peripherals include two Gigabit Ethernet ports and two USB 2.0/3.0 ports. The Gateworks System Controller provides embedded features such as real time clock, voltage and temperature monitor, fan control and monitor, serial EEPROM, and advanced power management with programmable board shut-down and wake-up for remote sensor applications. A wide-range DC input power supply provides up to 10W to the Mini-PCIe sockets for supporting the latest high-power radios and up to 10W to the USB 2.0/3.0 jacks for powering external devices. Power is applied through 2-pin connector or an Ethernet jack with either 802.3at or Passive Power over Ethernet. Both OpenWrt and Ubuntu Linux Board Support Packages are supported.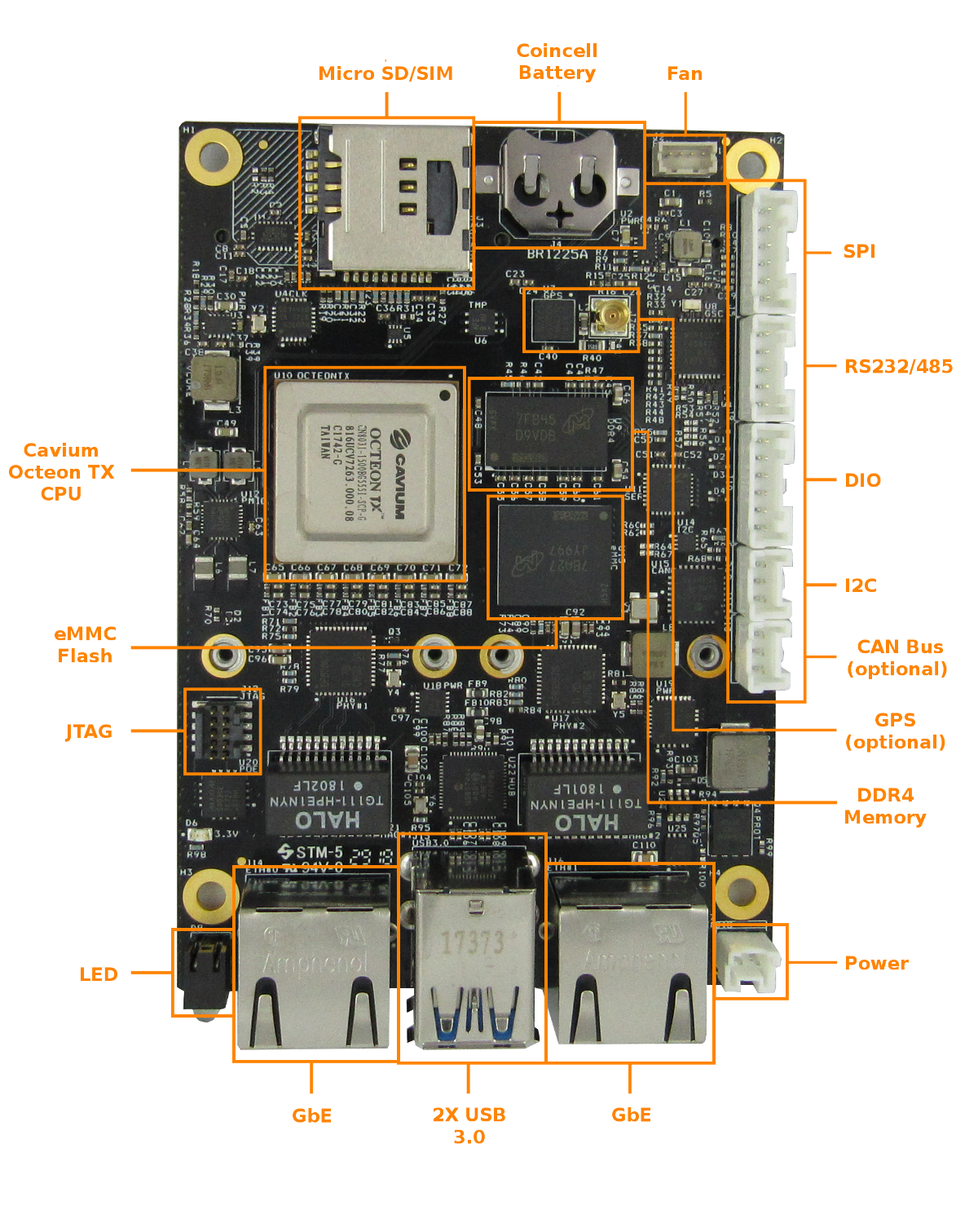 Features
Cavium OcteonTXTM Dual Core ARMv8 800MHz SoC Processor
1GByte DDR4 SDRAM Memory and 8GBytes eMMC Flash Memory Standard
Micro-SD™ Flash Expansion Socket
Two High-Power Mini-PCIe Sockets
Socket 1: PCIe or USB3.0, USB2.0, SIM Socket
Socket 2: PCIe or mSATA, USB2.0
Two Gigabit Ethernet Ports
Two USB 2.0/3.0 Ports up to 5Gbps Super Speed
Two RS232 or One RS232/422/485 Serial Port
Digital I/O, SPI, and I2C Expansion
Real Time Clock with Battery Backup
Voltage and Temperature Monitor
Serial Configuration EEPROM
Programmable Watchdog Timer
Programmable Fan Controller with Tachometer Support
Programmable Shut-Down and Wake-Up
Tamper Switch Support
Optional Ublox ZOE-MQ8 GNSS GPS Receiver with PPS Support
Optional Microchip MCP25625 2.0B CAN Bus Controller
2-Pin Connector Input Voltage Range 8 to 60V
Ethernet Port Passive PoE Input Voltage Range 10 to 60V
Ethernet Port 802.3at PoE Input Voltage Range 37 to 57V
Input Voltage Reverse and Transient Protection
Typical Operating Power 5W@25C
-40C to +85C Operating Temperature
Form Factor Compatible with GW5200 Ventana Media SBC
OpenWrt and Ubuntu Board Support Packages
1 Year Warranty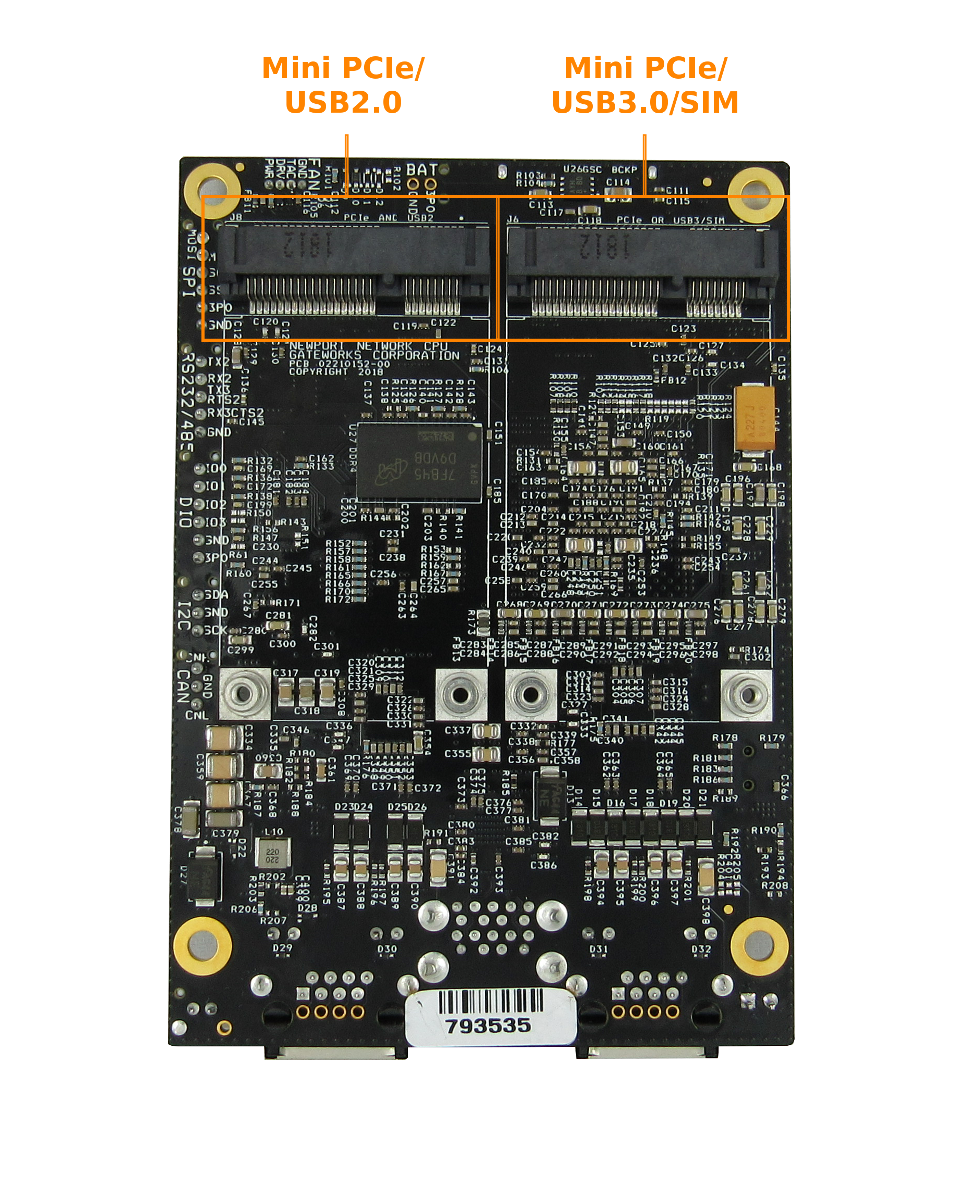 Block Diagram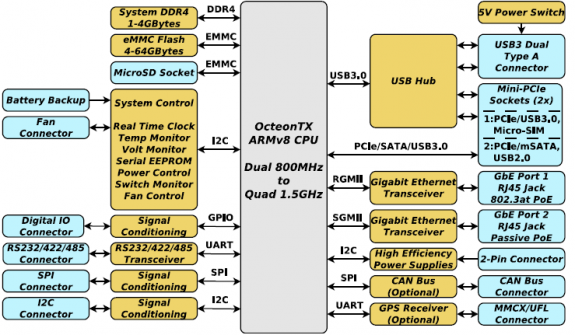 more information and support material can be found on Gateworks Newport Family Support  page and product page.
Join 97,426 other subscribers

Archives