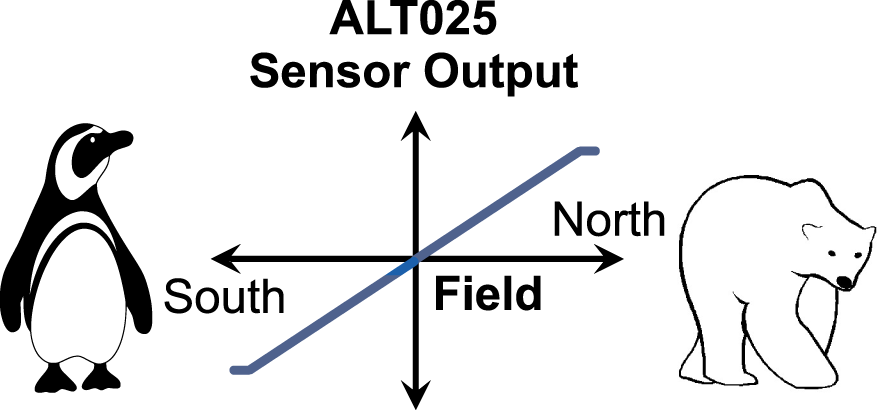 NVE ALT025 TMR Bipolar Bridge Sensor recognizes positive and negative field
The new revolutionary ALT025 analog bipolar bridge sensor by NVE utilises Tunneling Magnetoresistance (TMR) to achieve extraordinary amount of signal (typically 20mV/V/mT) and linear range (±10 mT (±100 Oe)). Unlike other magnetic sensors, the ALT025 is able to recognize positive and negative field (South and North pole) and change the output sign accordingly, making it ideal for current sensing and proximity sensing applications where AC waveforms are expected or where the signal changes sign. The bridge signals in ALT025 are stable over the temperature range from -40°C to +125°C and the sensor is available in a miniature TDFN6 package.
Feautures
Analog TMR differential bridge sensor
Bipolar output – able to recognise positive and negative field and changes the output sign accordingly
Capable of handling large signals, typically 20 mV/V/mT
Linear range of ±10 mT (±100 Oe)
Ultra-low temperature coefficient of output (±0.1 %/°C)
Operating temperature range of −40°C to +125°C
Up to 300 kHz frequency bandwidth
20 kΩ typ. device resistance for low power
Ultraminiature TDFN6 package
ASR002 sensors feature Wheatstone bridge configuration, allowing them to operate as purely ratiometric devices; operating at extremely low supply voltages, their output signal is proportional to the supply voltage.
more information: www.rhopointcomponents.com
Subscribe to Blog via Email
Join 97,902 other subscribers
Archives