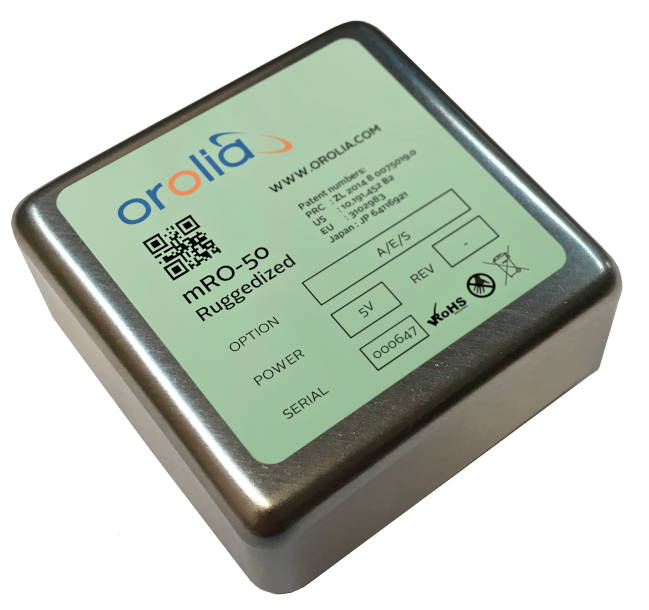 Orolia ruggedises mini rubidium atomic clock
Orolia has introduced a ruggedised version of its mRO-50 miniature (51 x 51 x 20mm) rubidium atomic clock.
Called 'mRO-50 Ruggedized', its vibration rating has been raised from 4Grms to 7.7Grms (lock retained, MIL-STD-810H method 514.8 annex E – was annex C), and shock raised from 30G to 50G (MIL-STD-202G 11ms half sine) – qualification to the shock rating is still on-going, according to the datasheet.
Maximum temperature of the thermal chamber (with air flow around unit) is now -40 to +80°C, which was an option on the standard model – which is normally rated only -10 to 60 or +65°C.
Timing specifications include one-day hold-over <1µs, said Orolia. Lock is <2 minutes at over the full temperature range.
The unit weighs 80g and consumes 45mW (1.5W at start) in the 5V version and 360mW (1W) in the 3.3W version.
Underwater, military communications, radar, low earth orbit, electronic warfare, airborne and unmanned vehicle applications are forseen.
Based in Neuchatel Switzerland, Orolia was founded in 2006 and has supplied timing products to ESA, NASA, JPL, Space-X, Blue Origin, NPL, CNES, DLR and JAXA. ESA awarded itcontracts to provide atomic clocks for the first 12 satellites for the Galileo 2nd generation. – each satellite will contain three of its Rubidium atomic frequency standards and two of its atomic clock physics packages integrated with Leonardo's passive hydrogen masers.
more information: mRO-50 Ruggedized product page
Join 97,426 other subscribers

Archives