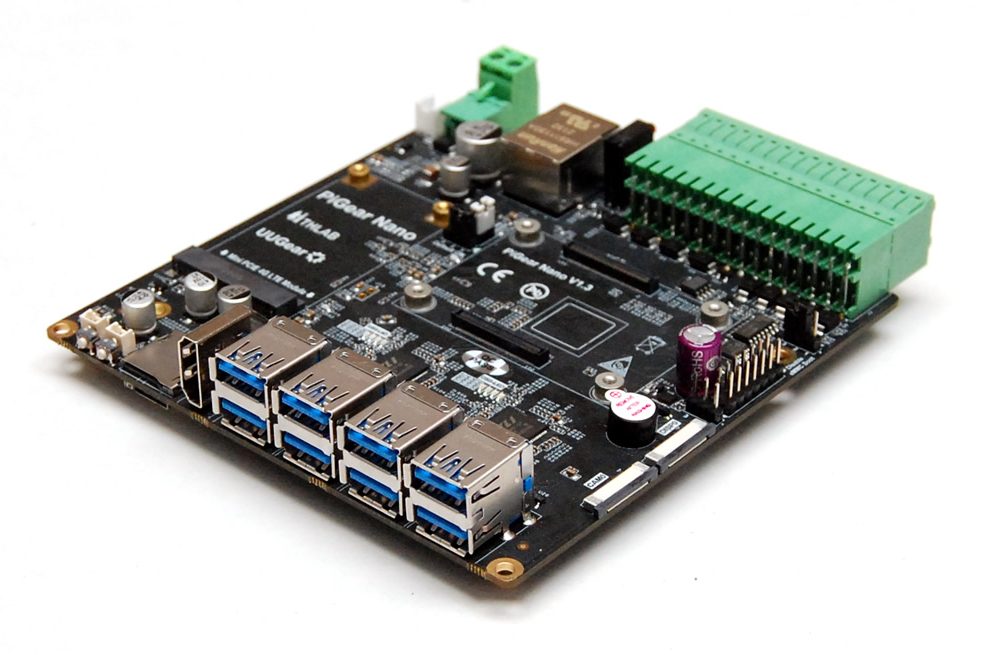 PiGear Nano – A Nano-ITX (12x12cm), Raspberry Pi CM4 Carrier Board Designed for Industrial Applications
Dutch Company; UUGear has announced the release of its newest product in the year; the PiGear Nano – a Nano-ITX carrier board for Raspberry Pi compute module 4, designed specifically for industrial use while still maintaining functionalities for DIY, gaming console and small computer applications.
Designed to work with all models of the Raspberry Pi CM4 including the CM4Lite, the PiGear Nano features Gigabit-Ethernet RJ45 socket, PCIe LTE/4G/GPRS interface, on-board Sim slot, 18-bit ADC input pins, several digital input and output terminals, four configurable digitals I/Os, RS232, RS485, CAN, and wire interface for networking, signal interfacing and read/write functions. It also comes with an HDMI Type-A connector, MIPI DSI, and MIPI CSI interfaces for displays and camera interfacing.
The board embeds a USB 2.0 Type-C connector for power or flashing the CM4 module, NVME SSD M.2 interface, and micro-SD card slot (for CM4Lite only) for system expansion, storage, programming, and debugging purposes.
The board also features several other integrated resources such as a real-time clock, buzzer, programmable LED indicator, 5V fan interface, and power and reset buttons.
To support a wide range of operating conditions and facilitate its deployment in industrial applications, the board runs with 7V – 30V DC supply. provided over a DC Jack or 5V DC via a USB-C connector and supports an operating temperature range between -30°C and 80°C. For better temperature management, PiGear Nano is delivered with a heatsink to protect the VL805 chip embedded on the board, to manage the heat that may be generated from processing USB Data from many devices at the same time.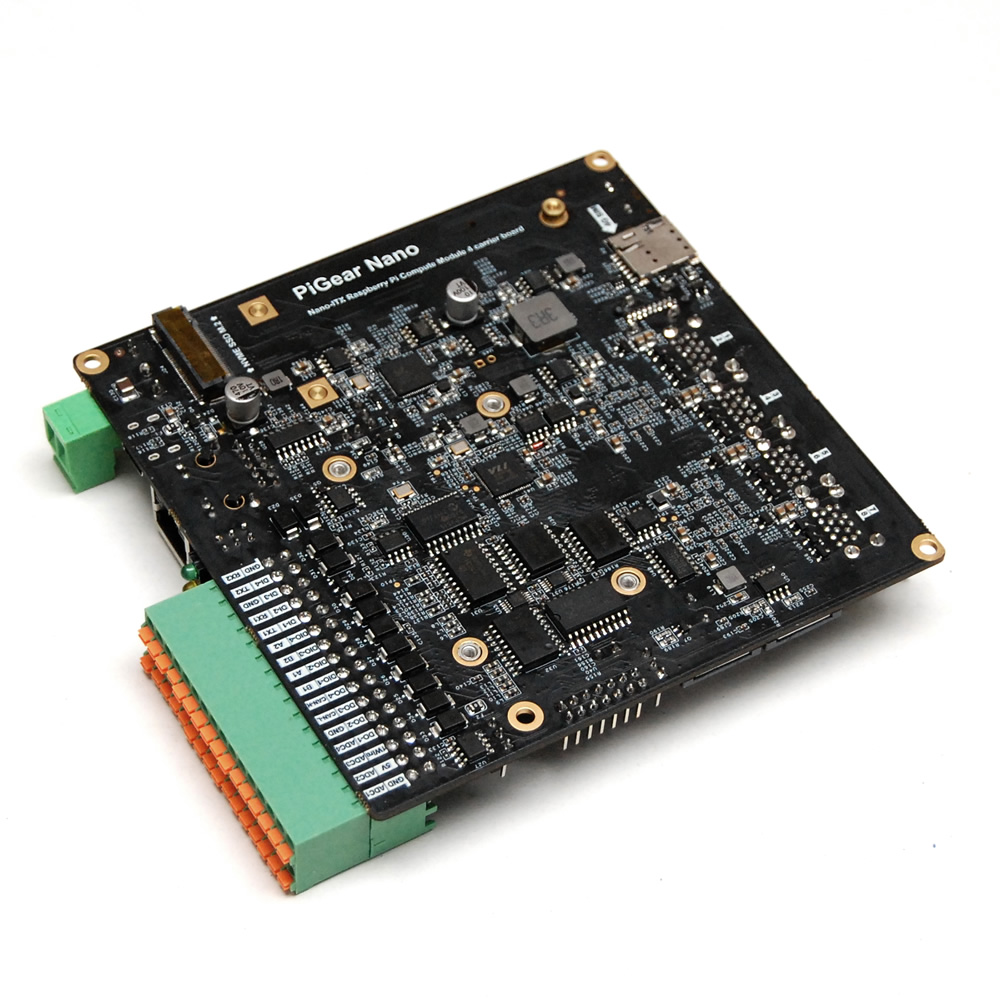 Key Features and Specifications:
Key Specifications and features of the Pi Gear Nano are provided below;
SoM: Raspberry Pi CM4/CM4Lite
Storage:
1x NVME SSD M.2 interface, 1x Micro SD card slot (for CM4Lite only)
Network/Signal:
2x RS232, 2x RS485, 1x CAN, 1x Gigabit-Ethernet RJ45 socket, 1x mini PCIe LTE/4G/GPRS interface, 1x SIM card slot, 1x Wire interface
Expansion/Connection:
Input/Output – 4x 18-bit ADC input, 4x Digital input, 4x Digital output, 4x Configurable digital I/O
USB – 8x USB-A 3.0 connector, 1x USB-C 2.0 connector (for flashing CM4 or powering the board)
5V fan interface (PH2.0 connector)
Display/Camera:
1x HDMI Type-A connector, 1x MIPI CSI interface, 1x MIPI DSI interface
Power Supply:
Takes 7V~30V DC (with reverse polarity protection)
Takes 5V DC (via USB Type-C connector)
Operating Temperature: -30°C ~ 80°C
Misc:
1x RTC (with supper capacitor for off-power timekeeping), Buzzer, 1x Power Indicator, Programmable LED indicator, 1x Power button, 1x Reset button
Dimension: NANO-ITX (12 x 12 cm)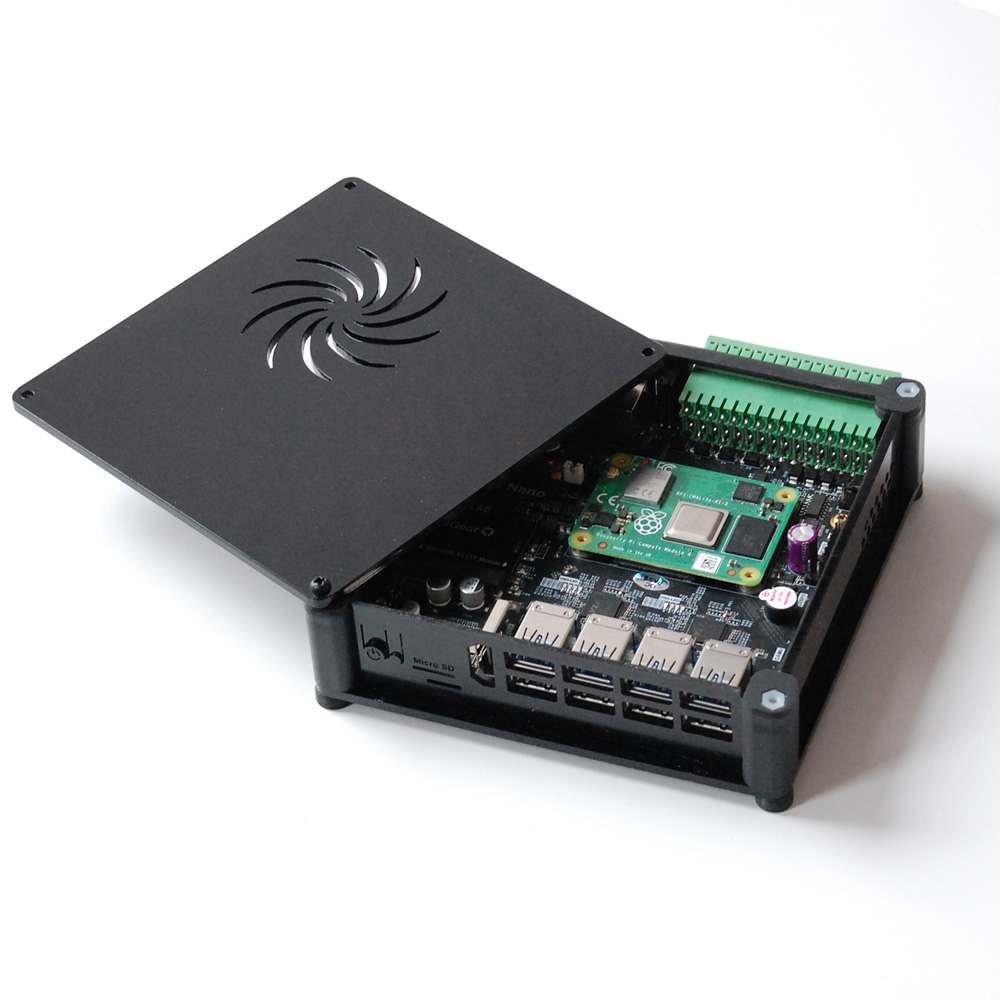 The PiGear Nano is built to run Raspberry Pi OS and like with the Pi, you will need to flash the OS image into the Compute module's eMMC or on an SD card. On bootup, install the UUGear Script in the home directory and run it with sudo. The Script will create a backup of the current config.txt and cmdline.txt file, make changes to config.txt and cmdline.txt to correctly support the hardware, then create a daemon script to initialize the hardware, when done install the PiGear Nano.sh application, along with the UUGear Web Interface (UWI) so you can access, monitor and control your PiGear Nano via mobile phones, tablets or PCs easily.
More information about the PiGear and its Setup is available in its User manual.
Alongside the PiGear Nano, UUGear announced a 15.00 EUR/17.88 USD Case Kit for PiGear Nano, while the carrier board itself retails for 169.00 EUR/201.45 USD.
Join 97,426 other subscribers

Archives