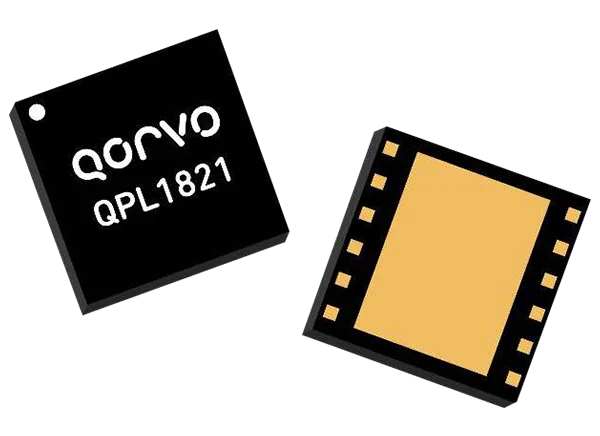 Qorvo QPL1821 75Ω CATV Amplifier
Qorvo QPL1821 75Ω CATV Amplifier is an ultra-linear GaAs (Gallium Arsenide) pHEMT (Pseudomorphic High-Electron-Mobility Transistor) differential RF amplifier offering up to 19dB of flat gain with very low distortion. The QPL1821 features a 50MHz to 1800MHz frequency range providing an ideal solution for Broadband CATV DOCSIS 4.0 applications, such as nodes, amplifiers, and remote PHY devices, as well as Fiber to The Home (FTTH), home gateways, and cable modems. The device is powered by a single 5V supply at 260mA, which provides an output of 63dBmV TCP at a Modulation Error Ratio (MER) of 45dB.
The Qorvo QPL1821 75Ω CATV Amplifier is available in a compact, 12-pin 5.0mm x 5.0mm laminate module well-suited for space-constrained designs.
Features
50MHz to 1800MHz frequency range
5V to 8V single power supply
63dBmV TCP @ 5V
67dBmV TCP @ 8V
19dB gain typical
3.5dB noise figure @ 50Mhz to 1800MHz
Adjustable bias using external resistors
12-pin 5.0mm x 5.0mm laminate module
-40°C to +100°C operating temperature range
Lead-free, halogen-free, and RoHS compliant
more information: https://www.qorvo.com/products/p/QPL1821
Join 97,426 other subscribers

Archives