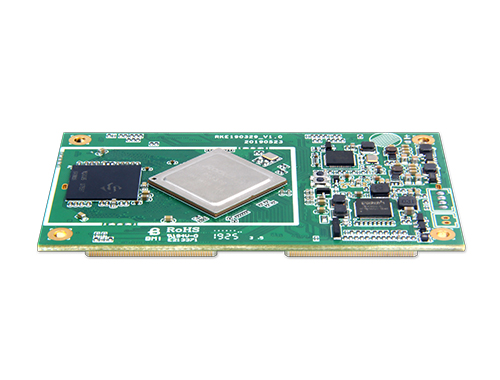 RK3399 compute module and carrier follow 96Boards SOM spec
Geniatech and Linaro announced a "SOM 3399" module that adopts the 96Boards SOM spec and runs Linux on a Rockchip RK3399. There's also a "CBD96-3399" carrier for the module.
Linaro Ltd, the open source collaborative engineering organization developing software for the Arm® ecosystem, and 96Boards Manufacturing Partner Geniatech today announced the launch of another Rockchip RK3399 Board and Carrier Board.
The module adopts the 96Board Computing SOM specification launched in April 2019. The SOM specification is based on a standard form factor and is compatible across SoCs. This means more choice and flexibility for developers, who can seamlessly plug and play between a range of different SOM solutions. The launch of the RK3399 provides yet another SOM solution, delivering low power consumption and high efficiency, with a CPU frequency up to 1.8 GHZ and excellent image processing ability. The RK3399 SOM can also be combined with the carrier board to form a complete industrial application motherboard, which can be applied in various embedded Internet of Things fields.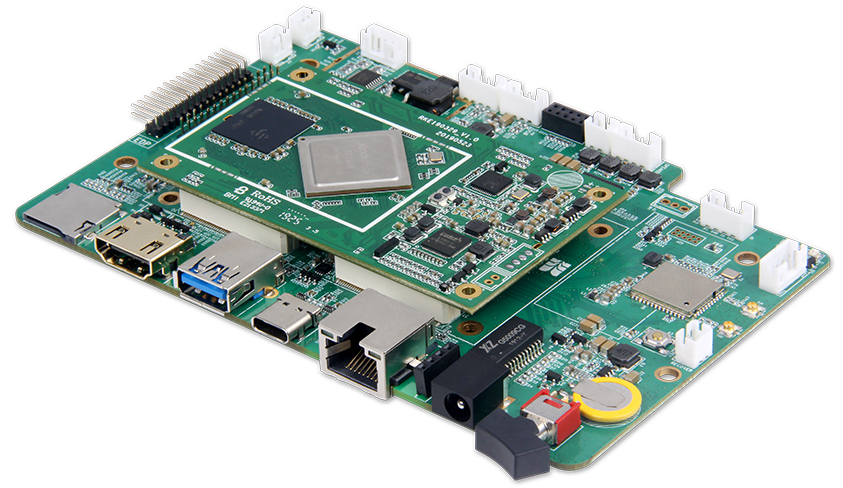 The SOM 3399 includes the following features:
6-Core CPU provides high-speed processing capability
High performance Dual-core Arm Cortex-A72 MPCore and Quad-core Arm Cortex-A53MPCore processors. Big cluster with dual-core Cortex-A72 is optimized for high performance and little cluster with quad-core Cortex-A53 is optimized for low power.
T860MP4 Quad-core GPUdeliversexcellent image processing ability
3D Graphics Engine:ARM® Mali-T860 MP4 Quad-core GPU Support OpenGL ES1.1/2.0/3.0 and OpenCL 1.2, DirectX11.1. Supports AFBCEmbedded 4 shader cores with shared hierarchical tiler.
4Kx2K up to 60fpsHD Resolution
Supports 4Kx2K (VP9H.265/HEVC/H.264/AVC), 1080P @ 60fps multi-format video decoding (MPEG-1,MPEG-2,MPEG-4,VC-1),and video encoder for H.264 up to [email protected] 4.1, MVC and VP8.  Multiple video input and output interfaces
2 MIPI-DSI input interfaces with two ISP image processors, and Embed two VOPs. Supports dual-screen simultaneous/dual-screen display.
Ultra-high integration – ultra-small size
The core board integrates RK3399, CPU DDR, eMMC, a power management module, and Ethernet PHY chip. It has high integration, which greatly reduces the design difficulty of the application backplane and helps enterprises to quickly develop mass production specific application products.
Specifications listed for the CBD96-3399 carrier with SOM 3399 module include:
Processor (via SOM 3399) — Rockchip RK3399 (2x Cortex-A72 cores @ up to 1.8GHz, 4x Cortex-A53 cores at up to 1.4GHz); 28nm fab; Mali-T860 GPU
Memory/storage:

2GB (or optional 4GB) LPDDR4 RAM (via SOM 3399)
8GB (or optional 16/32/64GB) eMMC (via SOM 3399)
MicroSD slot

Networking:

Gigabit Ethernet port
802.11b/g/n/ac (2.4GHz/5GHz) with Bluetooth 4.2
GPS

Other I/O:

HDMI port for up to 4K UHD H265/H264/VP9 or 3x [email protected]
USB 3.0 host port
USB Type-C port

Expansion:

96Boards 40-pin low-speed (UART x2, SPI, I2S, I2C x2, GPIO x12, DC)
96Boards 60-pin high-speed (LVDS, 4L MIPI-DSI, 2L+4L MIPI-CSI, USB, I2C x2)
60-pin secondary (4L MIPI-DSI, SSC serial, TSIF)
2x analog (headset, speaker via sound-wire, mics, line-outs)

Power — 12V DC jack
Dimensions — 126 x 124mm
Operating system — Android 7.1; Linux
Boards can be purchased directly from Geniatech's website https://www.geniatech.com/product/som3399/
No pricing or availability information was provided for the SOM 3399 and CBD96-3399. More information may be found in Linaro's announcement and Geniatech's SOM 3399 and CBD96-3399 product pages. More details should eventually appear on Linaro's 96Boards SOM page.
Join 97,426 other subscribers

Archives