SimpleLink MCU platform Launched By TI For Scalable Product Development
Texas Instruments has announced the SimpleLink MCU platform, which is transforming the pace of product proliferation by uniting a robust set of hardware, software and tools under a single development environment.
The SimpleLink MCU platform offers a new software development kits (SDKs) based on a shared foundation of drivers, frameworks and libraries to enable scalability with 100% code reuse, which will reduce design time and allow makers to invest once and leverage across multiple products.
Developers will be able to choose from any of the 32-bit wired and wireless ARM-based MCU devices, making their products easily adapted to changing design or application requirements.
Features of SimpleLink SDK:
100 percent code compatibility across SimpleLink MCU portfolio
TI Drivers offers standardized set of functional APIs for integrated peripherals
Integrated TI-RTOS, a robust, intelligent kernel for complete, out-of-the-box development
POSIX-compatible APIs offer flexible OS/kernels support
Encryption-enabled security features
IoT stacks and plugins to add functionality to your design
At the same time, TI also announced a new generation of Wi-Fi chips and modules, the SimpleLink Wi-Fi CC3220 wireless MCU and CC3120 wireless network processor.
The CC3220 features a 80MHz Cortex-M4 application processor, with 256k of RAM and 1Mbyte of flash, and a network processor with a hardware crypto engine. While the CC3220 supports Wi-Fi, the range will be extended in the coming months with devices supporting Bluetooth Low Energy and sub GHz communications, as well as a Bluetooth LE/sub GHz dual band part.
"Developers need to ask what needs to be protected, what they are protecting against and what are the exposure points. The CC3220 provides more than 25 security enablers to handle such aspects as key management and code protection." Mattias Lange, general manager of embedded connectivity solutions, noted.
The SimpleLink platform delivers the most security features, along with the broadest connectivity protocol support and advanced analog integration, combined with the industry's lowest power wireless MCUs. Bringing together all of TI's low-power, connected ARM MCUs, including MSP432™ devices, the platform offers:
Bluetooth® low energy: CC2640R2F and CC2640R2F-Q1 wireless MCUs
Dual-band (Sub-1 GHz and Bluetooth low energy): CC1350 wireless MCU
Host MCU: MSP432 MCU
Sub-1 GHz: CC1310 wireless MCU
Wi-Fi: CC3220 wireless MCU, CC3120 wireless network processor
The CC3220 wireless MCU LaunchPad development kit [CC3220SF-LAUNCHXL] is available for $49.99 and the CC3120 wireless network processor BoosterPack plug-in module [CC3120BOOST] is available for $29.99. The CC3220 will be priced at $4.99 in 1,000-unit quantities.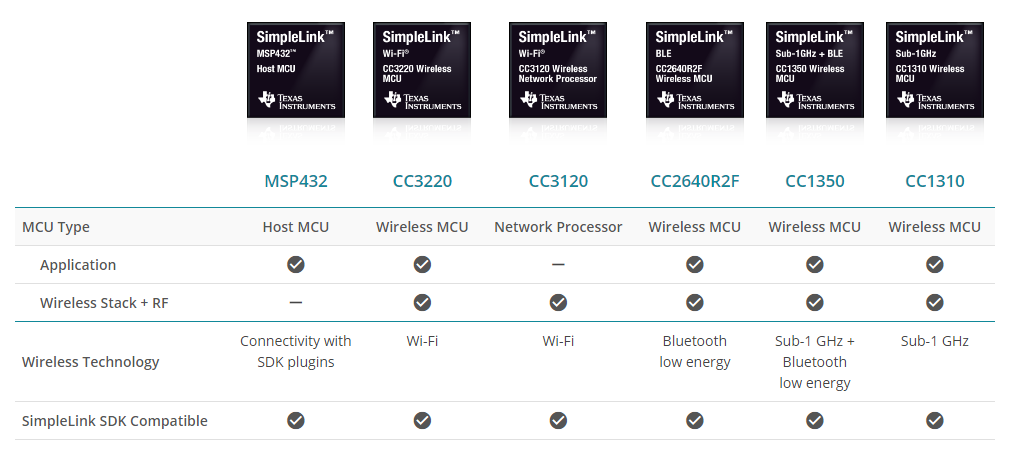 You can learn more details and discover all SimpleLink processors, development kits and tools at the official website.
Join 97,426 other subscribers

Archives