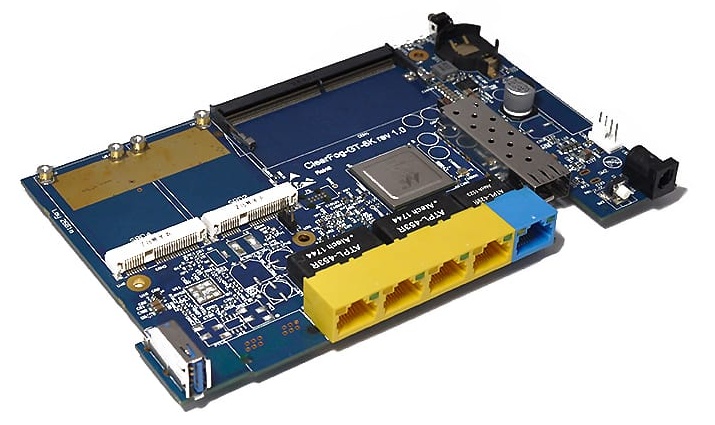 Latest ClearFog SBC offers four GbE ports and a 10GbE SFP+ port
SolidRun releases ClearFog GT 8K; a high-end computing, Virtual Customer Premises Equipment to deliver network services such as routing, firewall security and virtual private network connectivity to enterprises. The Clear Fog family has the Clear Fog Pro, Clear Fog Base and now the Clear Fog GT 8K which has taken a little of the other SBCs (Single Board Computers) in the family and has made certain modifications.
At the heart of the ClearFog GT 8K is the quad-core Marvell's ARMADA A8040 SoC, running at a speed of 2GHz and some other co-processors like DMA, XOR, and, others. Ideally, it is expected for the ClearFog GT 8K to share some similar traits with its other ClearFog boards, but it has less in common with them. The Marvell's Armada 8040 SoC features a networking accelerator with a security co-processor, enabling the ClearFog GT 8K with "full" virtualization support as claimed by SolidRun.
The launching of ClearFog GT 8K means that SolidRun has now upgraded its entire ClearFog family with this newer networking board, powered on the same ARMADA A8040 processor as on the community board, and offering support for up to 16GB RAM, 6 network interfaces, including one 10GbE Small Form-Factor Pluggable Transceiver (SFP+) cage which is useful for telecommunication or data communications applications, and three PCIe slots. There is also the presence of a small RTC or CMOS battery that maintains the time, date, hard disk and other configuration settings in the CMOS memory when the main battery is removed.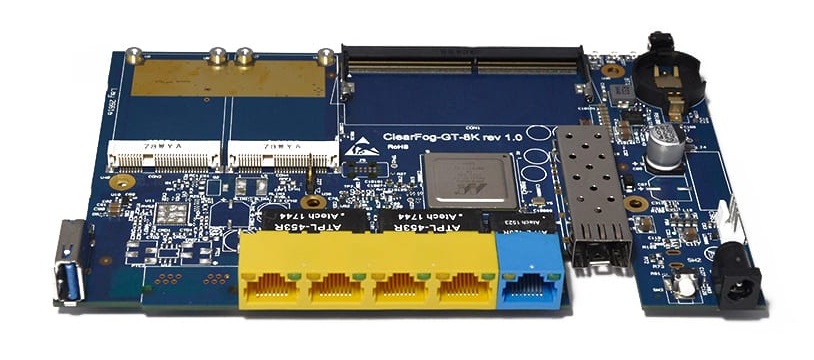 ClearFog GT 8K offers vast application potential as a versatile networking solution with a large variety of interfaces. It also allows network functions virtualization and high-end edge computing. The 177 x 110mm measured ClearFog GT 8K is larger than the ClearFog Base but smaller than the ClearFog Pro. It offers an extended 0 to 70°C operating range and adds a -40 to 85°C option. Showing its difference with its family, the ClearFog Pro has a 12V DC input as compared to the wide-range input found on the ClearFog Base and Pro.
This Single Board Computer is capable of running the Linux Kernel version 4.4x, Ubuntu 16.04, and Google IoT Core for easy connection to the Google Cloud Platform.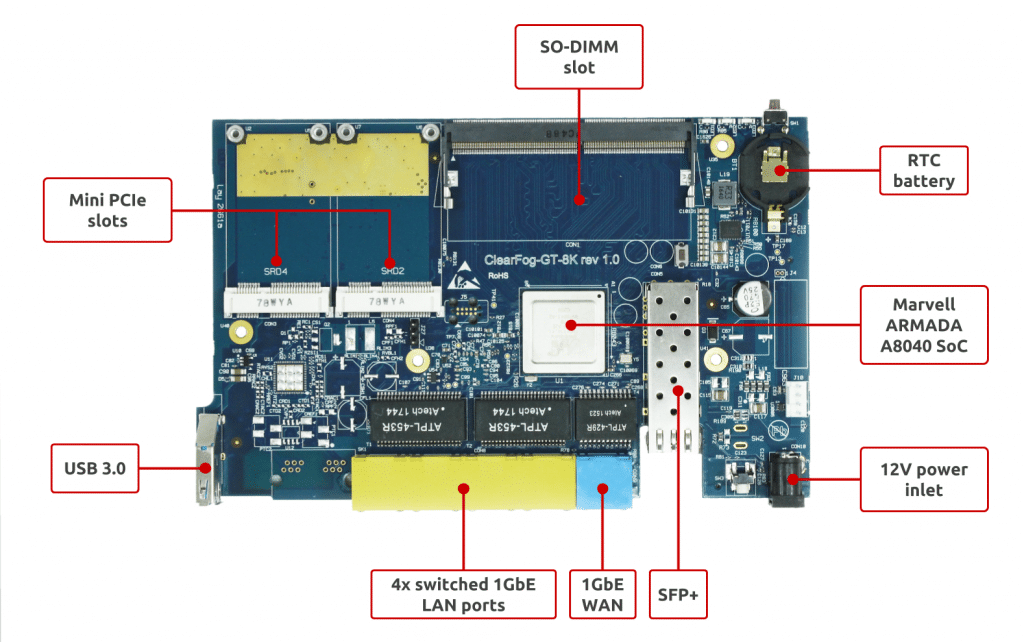 Below are specifications for the ClearFog GT 8K SBC
Processor — Marvell Armada 8040 (4x Cortex-A72 cores @ up to 2GHz); packet, security, DMA, and XOR co-processors
Memory/storage:

Up to 16GB of single-channel DDR4 RAM
64Mb SPI flash
MicroSD slot
Optional up to 128GB eMMC
Optional M.2 (via adapter) for SSDs

Networking:

1x 10GbE port via SFP+
4x switched GbE ports with a 2.5GbE uplink to SoC
Dedicated WAN GbE port

Other I/O:

USB 3.0 port
Debug UART
GPIO

Expansion — 3x PCIe slots (USB 2.0 + PCIe); optional M.2 for SSD
Other features — User push buttons; LEDs; heatsink; RTC with battery; optional enclosure
Power — 12V DC input
Operating temperature — 0 to 70°C or -40 to 85°C
Dimensions — 177 x 110mm
Operating system — Linux 4.4x; Ubuntu 16.04; Google IoT Platform
There are four different models available. They vary in price due to the kind of eMMC and RAM embedded in each one. The starting price is $209 which comes with 8GB eMMC, the next type comes with 128GB eMMC, and it costs $304, the third one costs $526 and has 8GB eMMC with 16GB RAM, and the last one which goes for $621 has 128GB eMMC with 16GB RAM. As compared to most SBCs in the market, the ClearFog GT 8K is a closed-spec, commercial board. More information about the product can be found on the SolidRun's ClearFog GT 8K product, wiki, and shopping pages.
Subscribe to Blog via Email
Join 97,461 other subscribers
Archives