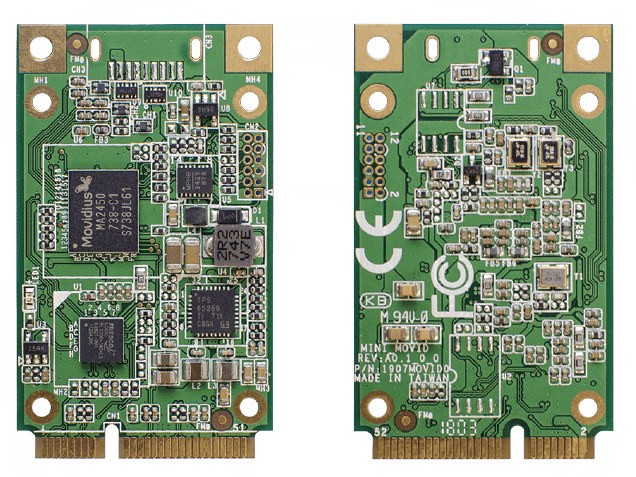 The UP AI Core – Mini-PCIe Board For Machine Learning
Popularized as the "first embedded ultra-compact artificial intelligence processing card," and built around the same Intel Movidius™ Myriad™ 2 2450 VPU as Intel's own Neural Compute Stick. UP's AI Core is a mini-PCI Express module that enables Artificial Intelligence on the Edge.
The UP AI Core has 512MB of DDR SDRAM and 4 GB of onboard storage. It is a standard looking PCI-e board measuring 51×30 mm. The onboard Movidius™ chip supports the use of both TensorFlow and Caffe frameworks, both are symbolic math libraries used for machine learning applications such as neural networks.
In order to support the board, the host computer needs to have at least 1GB of RAM, and 4GB of free storage space. Right now, only 64-bit x86 boards running Ubuntu 16.04 are fully supported. None the less that is an only requirement for the Movidius™ VPU rather than something essential in the design of the UP board itself.
However, there's been a lot of effort since the release of the Movidius™ Neural Compute Stick to get it working on the Raspberry Pi. It's possible now that it can be used with an Arm-based board with an appropriate PCI-e slot like the Pine H64. But without official support, it is limited to an extent.
The UP AI Core is now available for $69. It is compatible with the UP Core Plus but should work with any single-board computer that has a mini-PCIe interface. Although the user has to be careful about toolchain support for the Movidius™ chip.
Specifications for the AI Core
SoC: Intel® Movidius™ Myriad™ 2 VPU 2450
Supported Frameworks: TensorFlow, Caffe
Form Factor: Mini PCI-Express
Dimension: 51 X 30 mm
System Requirements:

x86_64 computer running Ubuntu 16.04
Available mPCI-E slot
1GB RAM
4GB free storage space
More information about the board can be found at UP AI Core's Order Page.
Join 97,426 other subscribers

Archives